BACK TO BACK EVENT WEEKENDS IN THE MIDWEST! COME JOIN PROCHARGER AND THE FUN!
The next two weekends here in the Midwest are going to be jam-packed with racing action, so if you are close DO NOT MISS OUT!
ProCharger will be attending both events–here are the details so you can come by and join us in the fun.
This weekend (May 16th-17th) the Street Car Takeover will be hosting their first of four events right here in Kansas City. This event will be home to some of the highest hp street cars in the Midwest, with a car show and dyno runs on Friday, followed by grudge racing on Saturday at Heartland Park, Topeka.

Who will bring home the crown for one of the fastest street cars around? Who knows, but ProCharger will be there with a camera in hand to check out the action. We will also have one of the ProCharger i-1 supercharged LS3 Camaros on display, so be sure and stop by and check it out. 1320Video.com will also be at the event, so if you can't make it out in person, watch their facebook for up-to-date reports.
For more details on this event, go to:
www.streetcar-takeover.com
***************************************
Then on Memorial Day weekend (May 23rd-25th), the NMCA invades St. Louis for the Quick Fuel NMCA Muscle Car Nationals, and Procharger will be on display! We will be bringing the ProCharger race trailer out with multiple ProCharger supercharged cars and trucks for everyone to check out. So make sure to find us in the manufacturer's midway, and come say "Hello" to the staff.
(Click for Larger Image)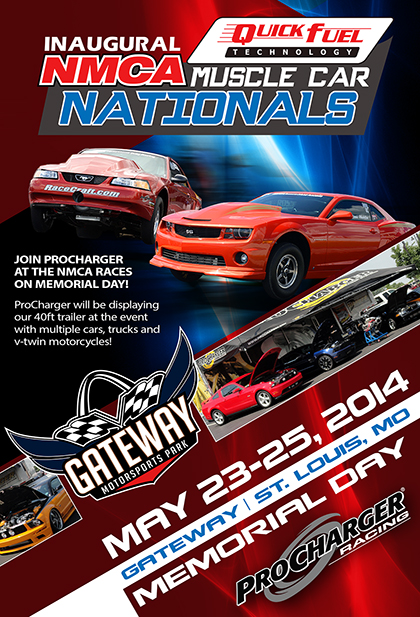 Two ProCharger-powered champions from 2013 have already confirmed they will be on the property (Ronnie Hackleford and Phil Hines) ready to do battle down the quarter mile, with lots of other ProCharger-powered racers. So lets cheer them on and wish them the best to bring home more wins for the season.
This event will be HUGE, with a little something for everyone: Heads Up Racing, Car Show, Swap Meet, and the added bonus of the The Dave Duell Nostalgia Super Stock Classic, where vintage muscle from the 60's battle side by side for their chance at a national title!
Check out this Video from ProMedia to give you a taste of what you're in for!
After these events, check out our ProCharger Facebook page, for photos and updates from both events!