ANOTHER SUPERCHARGED RACING UPDATE!
With the season well underway, and lots of racers getting all the winter "bugs" worked out of their cars/combos the wins, records and points are really starting to tally up. With so many ProCharger powered racers adding their names to the record/win books, its almost hard to keep up with. We are going to do our best here to put up some of the highlights, but feel free to contact us if we have missed any.
Starting with NMRA, Phil Hines moves into the points lead in the NMRA Street Outlaw, after his Winning finish at the SCT Ford Nationals in MD, followed by a runner up finish this weekend in Norwalk OH. Looks like once again Phil is using the consistency of ProCharger power to follow up a dominating championship in 2013 with another incredible season.
(Phil, 2013 champion, on his way to the win in Street Outlaw)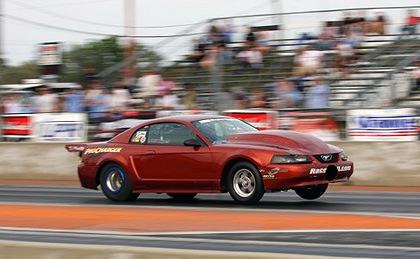 More big news in the NMRA Street Outlaw world, Andy Manson makes the switch to a ProCharger supercharger just before Norwalk, and takes home the win! It takes one heck of a crew and driver to make a new combo work right out of the gate, even more so to take home an event win. Way to go guys!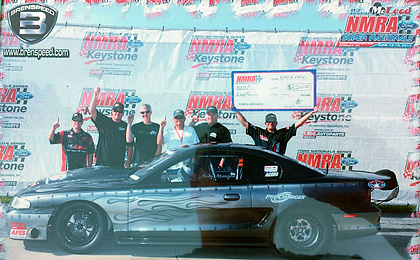 Bart Tobener is not only living the joy of back to back wins in NMRA Renegade these past two races (OH and MD), but also setting the new class record AND breaking down the 7 second barrier in this class. Congrats to Bart for the Wins and the Record, and welcome to the 7 second club. Overall, at Norwalk, four of the top six qualifiers in the Renegade class were ProCharged.
Link to Record HERE.
Link to DragZine story HERE.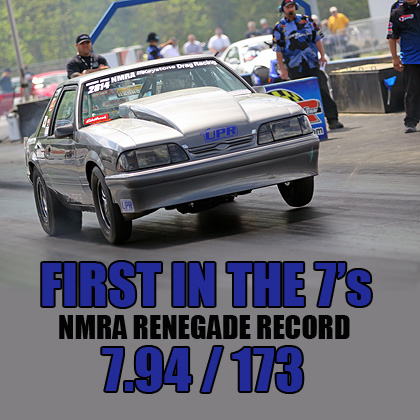 Another worth while mention is that of long time Real Street racer Craig Baldwin. Craig is making headway with his new combo entered in the Coyote Modified class. This F-1D Procharger powered machine grabbed the #2 qualifying spot, as well as the runner up finish this weekend in OH. Additionally, Joe Cram qualified #3 in Coyote Modified with his ProCharged combo and trailered Team Beefcake in the first round before falling to Baldwin in the second round.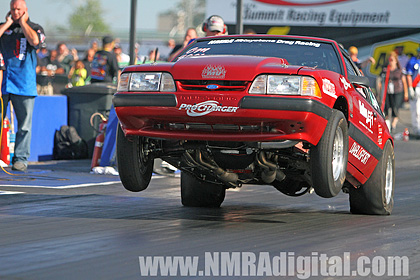 Next up we have to talk about the white Mustang of Eric Gustafson, that is not only tearing up the west coast 1/8th mile racing with wins, but now has switched over to 1/4 mile racing. On its first 1/4 mile pass ever, this Mustang set the new NMCA West Street Outlaw Record! Does it get any better then that for a race team? Talk about something to smile about. Eric's 460 cubic inch LSX powered Mustang has racked up 4 wins in a row, talk about a streak. This car also holds the 275 Radial record in for WCHRA 4.566 @ 165.66 in the 1/8th mile.
Check out the R&E Racing Facebook HERE
Great write up about Eric's Mustang HERE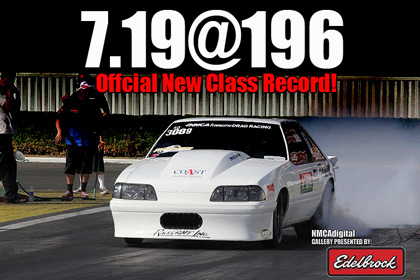 Another team racking up event wins and records is that of the American Racing Headers / Farks Super Cars Gen5 Camaro. Fresh off its event win at the Camaro 5 fest in Houston, the A.R.H team loaded up and headed to Chevy High Performance Nationals in GA and reset the Gen5 Camaro record! 8.20@169 (as well as took runner up in the class, with the F-1C headunit) Can this car go 7's with a 9″ ProCharger supercharger? Only time will tell, but we can't wait to see if its possible here in the office.
In Car Video of run HERE
Outside Video of run HERE
A.H.R. / Farks Facebook HERE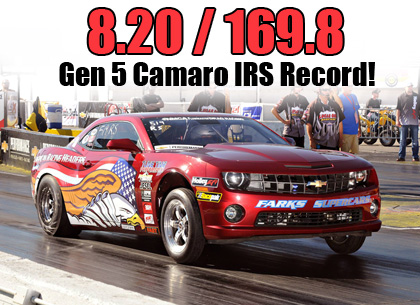 Another ProCharger supercharged racer putting away some wins, and bringing home the trophies is Kevin Young. Kevin and his team recently took home another win in West Coast Hot Rods 275 Radial Class. Here is an awesome shot of this 3rd gen taking those front tires to the sky. We look forward to Kevin adding to this accomplishment over the rest of the racing season.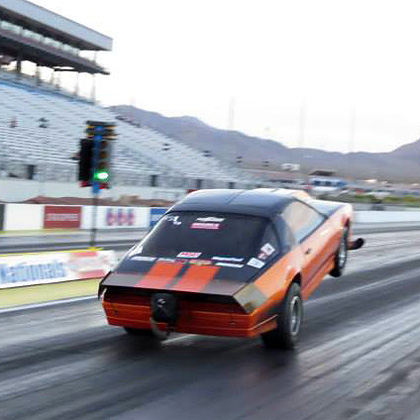 In addition to following all of these super impressive ProCharged racers and their accomplishments, hopefully some of you stopped by the ProCharger display at the NMCA event in St. Louis. We packed over 5,000+ rear wheel HP worth of supercharged street cars into the booth (not counting the two engines on display). Everything from the new upcoming Jeep JK supercharger system, to a F-2 converted 1,750hp Ford GT.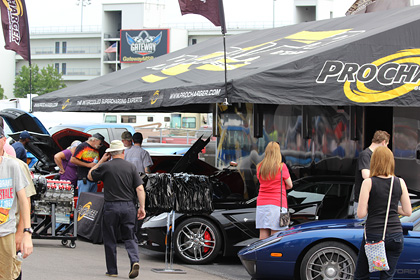 Jeep JK (P-1SC-1)
Corvette C7 (P-1SC-1)
Ford GT Supercar (F-2)
Harley (B-1)
Camaro (i-1)
Raptor (i-1)
Impalla (F-2)
If you want to see a LOT more images from this event, click HERE or the image below to view over 125+ images! Enjoy.