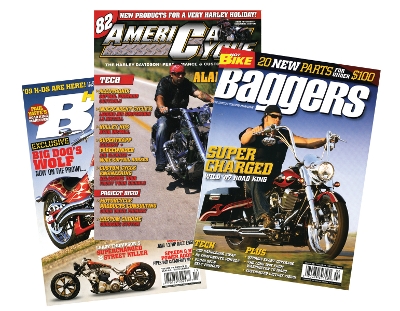 3 MORE MAGAZINE COVERS, V-TWIN EXPO
After being presented with the V-Twin Performance Product of the Year award in 2008, ProCharger V-Twin is already hard on the throttle in 2009 with our recent industry recognition including cover articles in magazines like Hot Bike, American Bagger, and Hot Bike Baggers, as well as several tech and feature articles in other Harley-oriented publications. It is ProCharger's commitment to power and quality that continue to raise the eyebrows of Harley riders everywhere. In fact, at a recent EasyRider's bike show this year a ProCharger supercharged Harley took home the "Best of Show" award which was voted on by the spectators at the show.
For the third year in a row, ProCharger will be exhibiting at the annual V-Twin Expo at the Duke Energy Convention Center in Cincinnati, OH. Dates for this year's show are February 7 – 9. Be sure to stop by our display – larger and right in the middle of the main floor – booth number 583. Saturday morning, the ProCharger display will host the official "unveiling" of a significant, production custom Harley – you won't want to miss it! Of course, there will also be an interesting assortment of ProCharger supercharged and intercooled Harley's inside and outside our display.
Want to see how you can win $5,000 cash from ProCharger? Click Here.
Visit the V-Twin Expo website here: http://www.vtwin-expo.com/