2020-2019 CHEVY/GMC 5.3L TRUCK SUPERCHARGER SYSTEMS SHIPPING NOW!
2020-2019 GM 5.3L TRUCK SUPERCHARGER SYSTEMS SHIPPING NOW. ADD 50% HP!
Last month we announced that 2020-2019 Chevy/GMC 6.2L truck supercharger systems were shipping out of ProCharger's doors, with the 5.3 kits coming soon. Well, that time is now: We have the 5.3 Chevy/GMC systems ready to ship to your front door! And ProCharger's industry leading availability means that kits are in stock so orders ship out very quickly, most within a few days.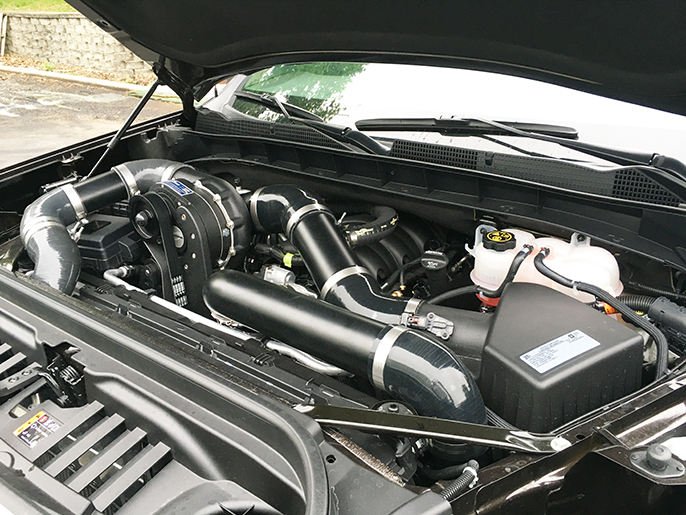 Transform your new Chevy or GMC pickup into a true performance rig with our easy-to-install supercharger system (which includes expert tuning) and increase power by 45-50% in a matter of hours. That's power you can feel, right now, adding loads of performace to an already stout vehicle! The 2020-2019 Chevy/GMC supercharger systems, like all ProCharger systems, feature the industry's coolest charge air temperatures, largest power gains, and have the easiest and fastest installation times. ProCharger technology delivers industry-leading power gains thanks to the combination of our highly effective air-to-air intercooling and the efficient P-1SC-1 ProCharger, which combined with optimal mounting locations avoids performance-killing heat soak. The High Output (HO) Intercooled System is designed with durability in mind and provides 7-8 psi of engine-friendly boost for years of trouble-free use. The dedicated belt drive provides maximum power transfer from the engine to the supercharger, giving you increased efficiency and durability.
---
SUPER EASY TO INSTALL WITH PHOTO-HEAVY INSTRUCTIONS!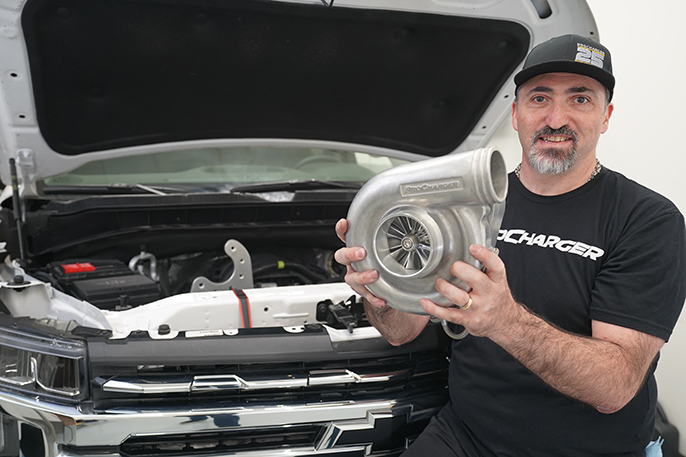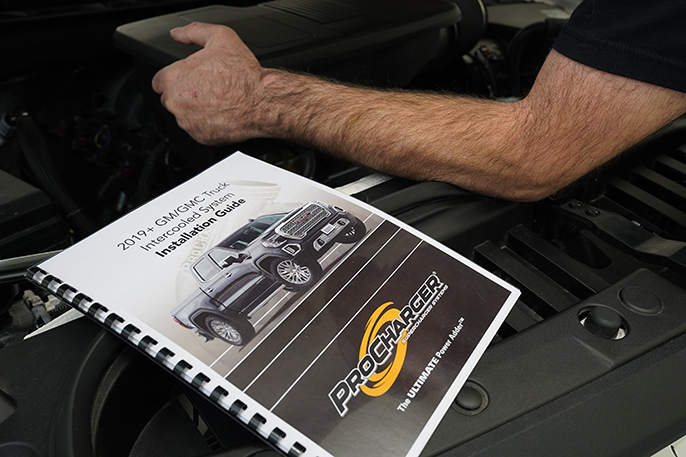 It's true: if you have average mechanical skills, a set of common hand tools and a couple of hours, you can install your ProCharger supercharger system in a day's time, max. You don't even have to remove the grille! Plus the systems are fully reversible, meaning you can take the truck back to stock with no permanent modifications if and when you trade it in on a newer model. That's right, it requires no cutting, bending, or anything that makes it hard to return to stock. Our installation instructions include detailed photographs to make it even easier.
---
WANT TO HAVE THE MOST POWERFUL AND EFFICIENT 2020-2019 CHEVY OR GMC TRUCK?
Check out all the options and more detailed information HERE. And give our sales staff a call or email us at the following contact methods below. Or you can click HERE to find a dealer nearby to help out with your vehicle. We will be happy to assist you with any technical questions about supercharger systems and the results you can expect.
Phone – (913) 338-2886
Mon – Fri 8am – 5:30pm CST
Sales Email – [email protected]
Tech Email – [email protected]
Sign up for our email newsletter HERE