2020-2016 CAMARO SYSTEMS NOW SHIPPING!
BOLT ON 170+ HP TO 2020-2016 CAMARO SS WITH PROCHARGER!
Chevy's Camaro has been a darling of the hot rod crowd since its inception back in 1967 (late 1966 in reality), becoming the go-to pony car for the horsepower-crazed crowd and still a favorite for performance enthusiasts and aftermarket parts manufacturers today. The 2020 Camaro SS is the best performer yet from the factory, but a little boost makes Camaro life so much better. ProCharger to the rescue!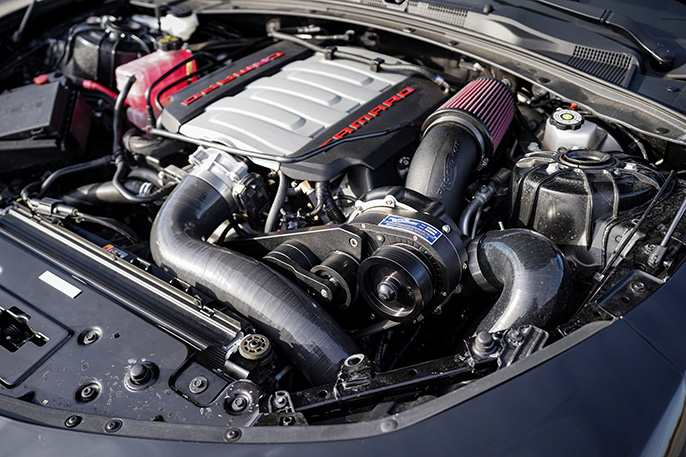 PROCHARGER SUPERCHARGERS FOR EVERY GENERATION OF CAMARO:
Which now includes complete systems for the 2020 models. We designed the 2020-2016 Camaro SS HO Intercooled System to be equally compatible with both stock or modified vehicles out of the gate, with a robust billet bracket design that utilizes strategic mounting points on the LT1 engine for maximum bracket strength and integrity. This system will firmly hold ProCharger head units ranging in size from the entry-level P-1SC-1 all the way up to an F-1A-94.
TWO SYSTEMS TO FIT YOUR CAMARO HORSEPOWER NEEDS:
Bolting on the ProCharger Camaro HO supercharger system is worth a big 150+ horsepower gain, with only 7 psi coming from a P-1SC-1 head unit, on pump gas, with the factory airbox.
For those wanting more or building a street strip monster, the Stage II intercooled system will net you another 20 horsepower, for a 170+ HP gain. That's power and torque that will plant your behind in the seat HARD! Plus we also have racing applications for those looking for 1,000+ HP and more!
INSTALLATION IS FAST AND EASY – WITH COMMON HAND TOOLS!
Time to install is greatly cut down due to no removal of any OEM parts needed with this bracket installation, which not only speeds up the installation but also ensures that all factory braking, cooling, and oiling systems on the car work just as GM intended.
OPTIONS
P-1X, D-1SC, D-1X, F-1A, F-1A-94 supercharger upgrades
Black or polished finish on supercharger and/or bracket
Sheetmetal aluminum intake/cover
10-rib belt drive upgrade
ATI balancer
8.25" crank pulley
Race intercooler
Stage II Air Inlet Upgrade Package
Race bypass valve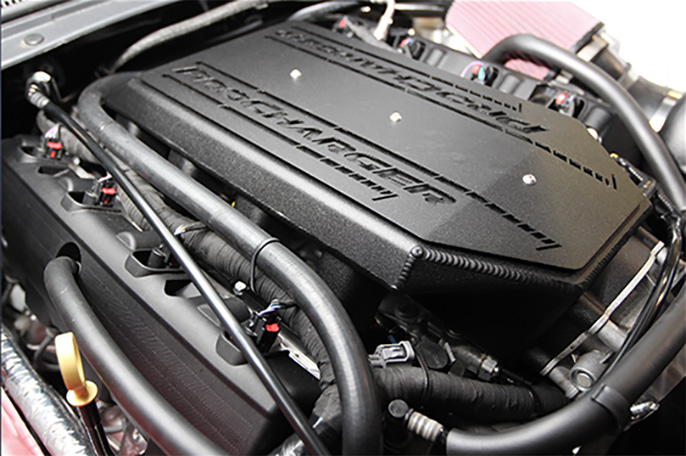 ---
Hot Rod magazine recently installed a Stage II kit on a 2019 Camaro SS and picked up 177 horsepower at the rear wheels on only 7 psi! Check out the complete story HERE.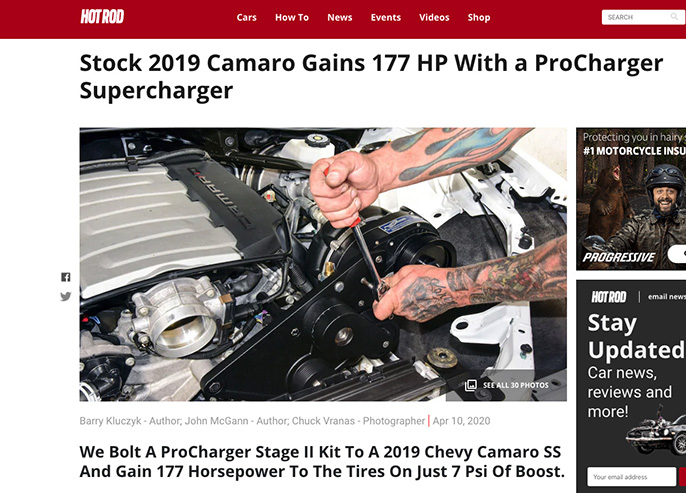 ---
GOT A 2016-2020 CAMARO? YOU NEED A PROCHARGER!
Check out all the options and more detailed information HERE. And give our sales staff a call or email us at the following contact methods below. Or you can click HERE to find a dealer nearby to help out with your Camaro. We will be happy to assist you with any technical questions about supercharger systems and the results you can expect.
Phone – (913) 338-2886
Mon – Fri 8am – 5:30pm CST
Sales Email – [email protected]
Tech Email – [email protected]
Sign up for our email newsletter HERE