2019 CHALLENGER SUPERCHARGER SYSTEMS, BOLT-ON 200+ PROCHARGED HP! (6.4L AND 5.7L)
AMERICA'S BIG BAD BURNOUT MACHINE GETS BOOST!
A nice helping of pump gas friendly ProCharger supercharged boost that is. ProCharger is pleased to announce we are now shipping supercharger systems for the 2019 Dodge Challengers for both the 5.7L and the 6.4L HEMI engine platforms. So if you wanna spice up your drive to work, keep on reading.
HUGE POWER GAINS ON PREMIUM PUMP GAS UP TO 200+ HP:
We aren't talking about 25 or 30 horsepower here…we are talking about a 160+ HP gain for the 5.7L cars and 200+ horsepower gain for owners that opted for the 6.4L version. Before we talk about that amazing bolt-on power gain, let's talk about driveability. The ProCharger supercharger system is so seamless with its power delivery and ECU calibration you will never know it's there. That is until you push down on the "loud pedal" just a bit. Other than tire destroying horsepower and torque, there is virtually no change in the driving manners of these 2019 Challengers. The best part, our systems are easy to install…
HEMI CHALLENGER BOLT-ON SUPERCHARGER SYSTEM:
We all love modifying our cars and adding horsepower. But the real treat is being able to do it ourselves, in our own garages. Well, the engineers here at ProCharger took the time to make this system the easiest supercharger to install ever. So if you have a set of common hand tools and a free weekend, installing 200+ horsepower is possible in your own garage.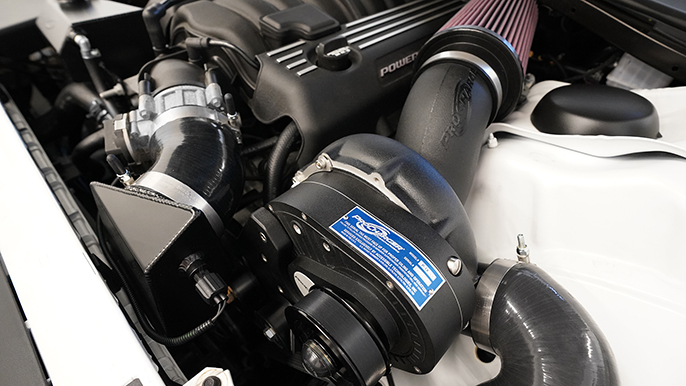 Not only is the system easy to install, it's also 100% not intrusive to the car. Meaning that there is no cutting, grinding, or permanent modifications of any kind to your Challenger. And if the car is being sold, the system can be removed and easily put back to 100% stock.
---
LONG-LASTING PERFORMANCE YOU CAN COUNT ON:
From the air-to-air intercooler system that has no moving parts, pumps, or wiring…to the military-grade supercharger head unit, ProCharger supercharger systems for HEMI's are built to last as long as this car will be around and even longer. We have loads of customers with over a quarter million miles on their supercharger systems, and some going on 20+ years of ownership!
Our billet bracket systems seamlessly integrate into the engine bay with no cutting or trimming required.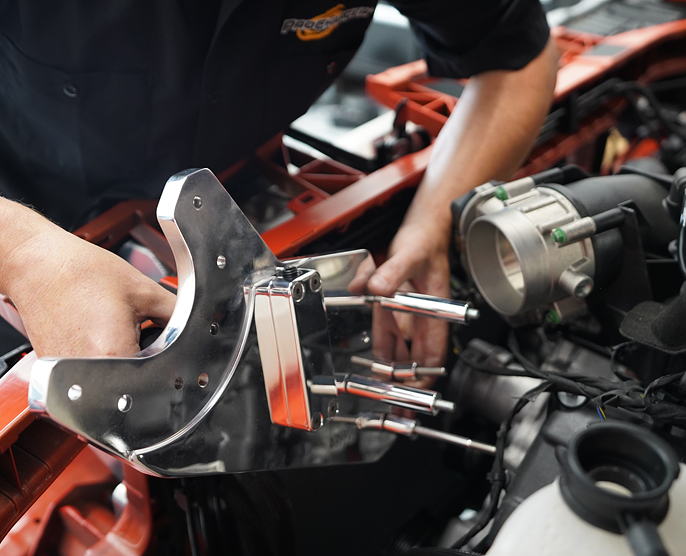 With multiple air-to-air intercooler systems, we have to perfect unit for any power level or budget.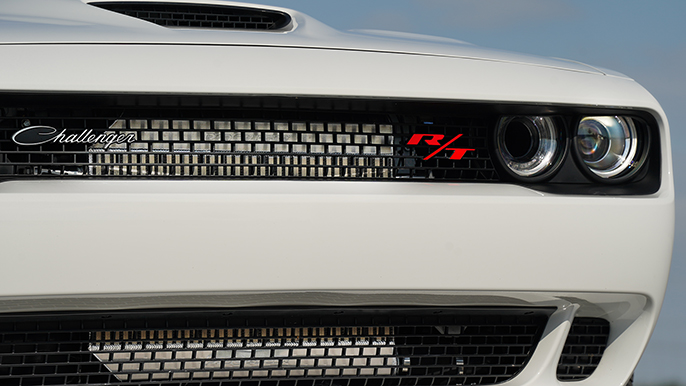 EVEN THE PROS LOVE INSTALLING PROCHARGERS (AND GIVING THEM AWAY):
The amazing guys over at Engine Power, recently installed a ProCharger supercharger system onto a 5.7L Challenger and you can WIN it! All thanks to its owners at Permatex. For your chance to win this car, click HERE. Otherwise, enjoy this teaser video
---
GET YOUR SUPERCHARGER FROM THE LEADER IN HEMI SUPERCHARGING!
Since the Gen III HEMI hit the scene in 2011, ProCharger has been building the baddest supercharger systems on planet earth for these new HEMI's. No matter whether we are talking about 6-second Gen III HEMI race cars setting records at the track, or the 1000hp streetcar in your garage. We also have the full Dodge/Chrysler/Jeep family covered for boost, from Jeep JL's to Ram trucks.
Additional Systems NOW SHIPPING:
Charger SRT 6.4L and 5.7L
Jeep Grand Cherokee SRT 6.4L and 5.7L
Jeep Wrangler JL, JK, and Gladiator
Dodge Durango SRT 6.4L and 5.7L
Ram 1500 5.7L
Ram 2500HD 6.4L
Chrysler 300C 6.4L and 5.7L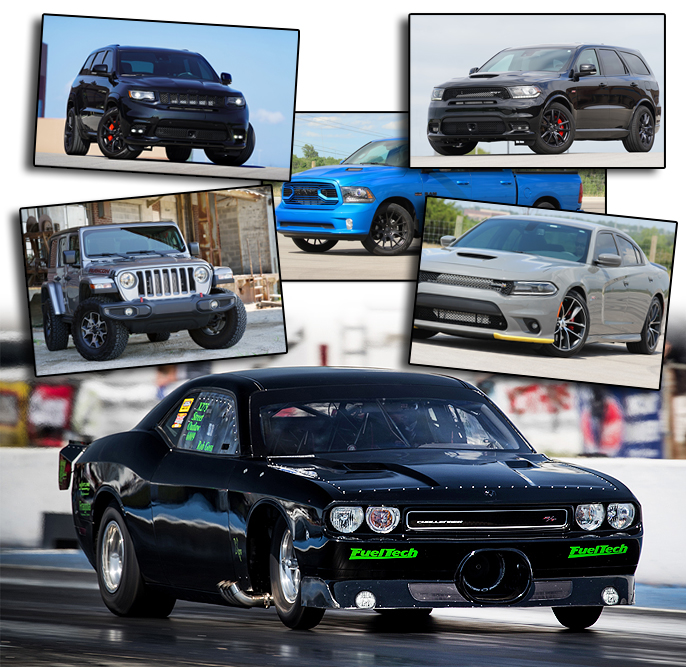 ---
READY TO SUPERCHARGER YOUR HEMI POWERED MACHINE?
Drop us an email below to or call us any time with comments and questions regarding these amazing new supercharger systems or any of our product lines.
Phone – (913) 338-2886 M-F 8:30am – 5:30pm CST
Sales Email – [email protected]
Tech Email – [email protected]