2018 MUSTANG + PROCHARGER SUPERCHARGER = 315+ HP GAIN!
CAN YOU SAY MEGA HORSEPOWER?
These new 2018 Mustangs are already an amazing piece of engineering straight from the dealership floor. The stock 460 Hp Coyote 5.0L and the new 10 speed Dual Clutch Transmission (DCT) really make this Mustang perform and shift like a Formula 1 race driver. But we know you could always use a little more power. Well, how about 70% more? At ProCharger our goals are massive power gains and more smiles per gallon, resulting in epic seat-of-the-pants enjoyment with our Mustang supercharger systems for these new 2018 Mustang GT's.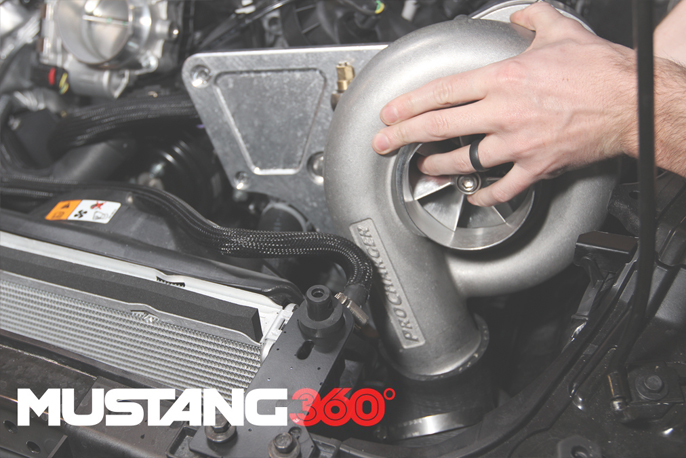 ---
NOW IMAGINE YOURSELF INSTALLING IT IN YOUR OWN GARAGE!
Thanks to the guys over at Muscle Mustangs and Fast Fords magazine, you don't have to imagine it, you can read all about it. They have done a full step-by-step install of a Stage 2 ProCharger supercharger system from start to finish. And the numbers are big: 276 Rear Wheel HP (RWHP) gained or approximately 315 Crank HP – with an otherwise stock 2018 Mustang, running only 8.5 psi with the Stage 2 system and 93 octane pump gas. That's more than the total HP from a Mustang Cobra just a few decades ago! This installation is simple and something one can perform using common hand tools over the weekend. And the best part is not a single piece of your new Mustang needs to be modified to make this system work. That means no cutting, bending, trimming, grinding, etc. Don't take our word for it, just click HERE or on the image below.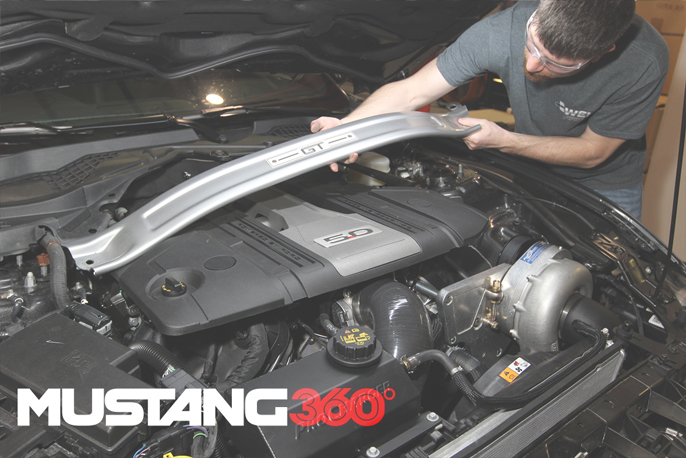 ---
FOR THOSE GOING FOR EVEN MORE HORSEPOWER, PROCHARGER HAS GOT YOU COVERED.
Even though our Mustang supercharger systems come with everything in the box that you need for a complete install, we know that many customers want to run MORE boost, upgrade to a different supercharger head unit, or use other fuels like race gas, octane boost, or even E85. For those customers we offer awesome "Tuner kit," options that allow a customer to take the supercharger kit to a tuner/dyno shop for custom fuel system and ECU tuning. For a list of recommended installers near you, visit our Dealer Locator by clicking here. And for more info on our Mustang Supercharger Systems and Tuner Kits, click here.
EXAMPLE: Below is Palm Beach Dyno making killer Hp with our Stage 2 Tuner Kit and F-1A-94 supercharger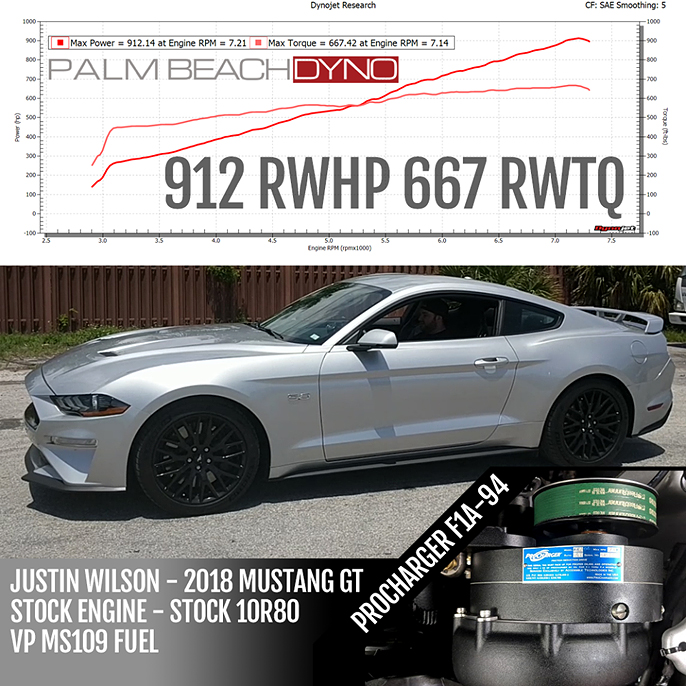 ---
READY TO ADD SOME BOOST TO YOUR STANG?
Here at ProCharger, we have an expert team ready to take your call regarding any questions you may have about our supercharger systems or kits.
Or you can click here to find a dealer nearby to help out with your vehicle. We will be happy to assist you with any technical questions about supercharger systems and the results you can expect (just don't blame us for needing to buy some sticky rear tires).
Phone – (913) 338-2886 M-F 8:30am – 5:30pm CST
Sales Email – [email protected]
Tech Email – [email protected]