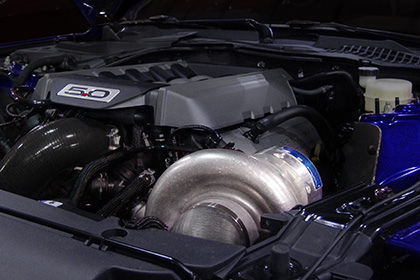 2015 MUSTANG PROCHARGER SYSTEM (SNEAK PEEK)
For every generation of Mustang (1965-2015), ProCharger has a supercharger system that is designed to be the absolute Ultimate Power Adder for it. And the brand new 2015 Mustang 5.0L ProCharger supercharger system is no different!
Once R&D started on the system design, it began with a 100% clean slate approach. This ensures that the ProCharger customer will have the best supercharger system possible, packed with many advantages to aid in reliability, reversibility, and the ultimate goal, HORSEPOWER!
We can't give away ALL of the secrets yet, however here are some huge advantages this system offers.
– Upgradable to 1,225HP F-1R Head Unit
– Belt can be changed without removing supercharger
– Pulleys can be changed without removing the blower
– No cutting of radiator hoses
– No cutting or modifications to cooling fan
– 100% reversible
– Large Cold Air inlet
– Massive air-to-air intercooler
– Largest pulley/boost options
– Self Contained oiling head unit
– CNC Billet Aircraft grade gear case, and impeller
Another hot item in the R&D office, is the soon to be released Jeep Cherokee 6.4L SRT8 system. Be looking for more info on this system soon as well!