2015 MUSTANG PROCHARGER KITS, SHIPPING NOW!
The new 2015 Mustang is a great step forward in the pedigree of horses that have come before it. However, if you are looking to turn your 2015 Mustang into an all out Clydesdale, a horse known well for its strength and power, then ProCharger can help you take it to the next level. If 600+ ground pounding horses sounds good to you, keep reading.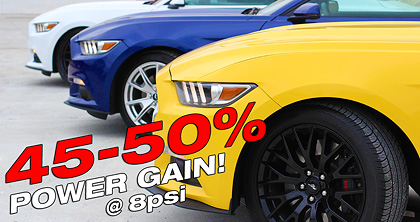 Maybe owning a 600+ HP supercharged Mustang wasn't on your New Year's resolutions list, but this blog might just change that. ProCharger systems are not only big power producers, but they are also easy on the wallet. Not to mention with an ultra-easy installation, about 5 hours, you will be out enjoying your supercharged Stang the SAME day you start putting it on! So if you have a set of these, you could be only a few hours away from 600+ HP!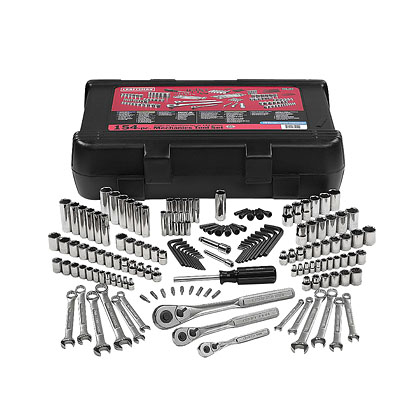 The "Black Finish" option, looks outstanding!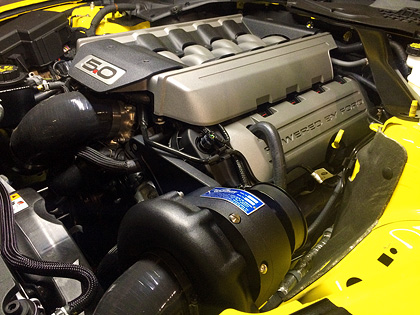 With the fleet of ProCharger "test" stangs (auto and stick), we put in the days and miles of R&D testing needed to ensure you would have a trouble-free system, for years of durable supercharger ownership. Lets dive into some of the details about what sets the ProCharger HO system apart from the rest of the "herd."
DRIVE SYSTEM:
When designing a shared-drive system, maximum belt wrap, belt tension, and optimum placement of the supercharger are all important parts of the equation, and the ProCharger drive system delivers. And for those wanting to modify the boost level to match other performance modifications to their car, we mad sure the drive belt and supercharger pulley can be changed in a few minutes, without having to remove the supercharger or any other parts.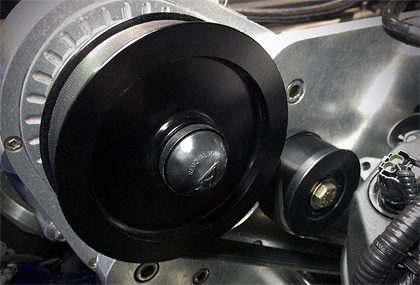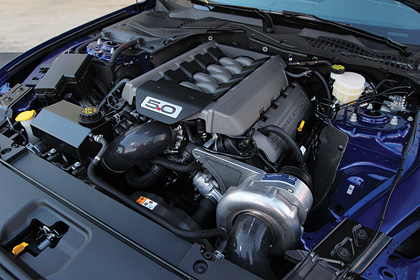 BRACKET DESIGN:
This ultra-rugged bracket is constructed from solid billet aluminum, carved out on our industrial CNC machines. The bracket is mounted using multiple mounting locations, spanning across the driver's side of the coyote engine to ensure strength and rigidity. All mounting locations utilize factory bolt holes, so no drilling or tapping is required.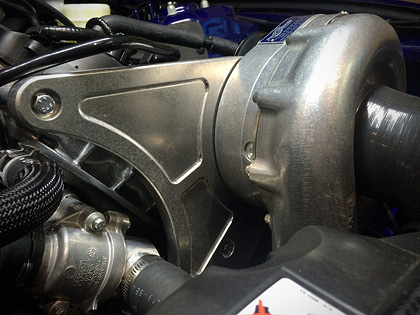 100% REVERSIBLE:
The ProCharger supercharger system was designed so that you don't have to cut, trim, modify any OEM part of your Mustang, so that the entire system can be removed, leaving no trace that it was ever even there. No cutting means your fan and radiator remain 100% unchanged to make sure the cooling system works 100% as intended. Thanks to ProCharger's proven and patented self-contained head unit, no oil lines are needed and you don't have to tap the oil pan. All this not only makes it easy to return to your 2015 Mustang back to stock, but it also ensures that your install with be fast and easy.
INTERCOOLER/INLET:
ProCharger engineers took their time coming up with the perfect air-to-air intercooler options for the new Mustang platform. They started by having two custom intercooler cores made to maximize the surface area available in the front end. Whether you install the HO system or the soon-to-be-released Stage II system, each air-to-air intercooler is designed to be the most effective possible. Also, thanks to the new front end design of this platform, we are able to utilize a huge 4″ cold air intake for the supercharger!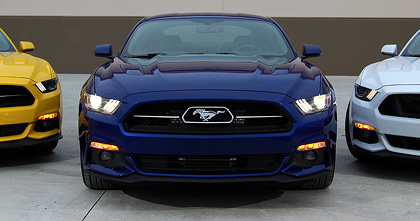 100% COMPLETE SYSTEM:
For the DIY crowd that likes doing their own supercharger installs at home, the ProCharger supercharger system comes with every part you need, from to easy-to-read, full color installation manual, to the ECU/PCM tuning and handheld programmer.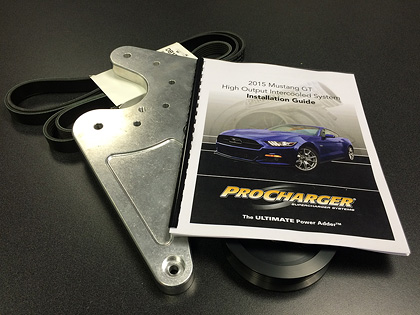 STAGE 2 SYSTEM: Shipping 01/30/15
– Dedicated 8-Rib drive system
– Upgradable to 1,225 HP F-1R Head Unit
– Larger and thicker air-to-air intercooler
For more details on how to take your "Steed" to the next level with the 2015 Mustang ProCharger supercharger system, please call us at (913) 338-2886 or email us at [email protected] so we can get you in touch with a dealer in your area.