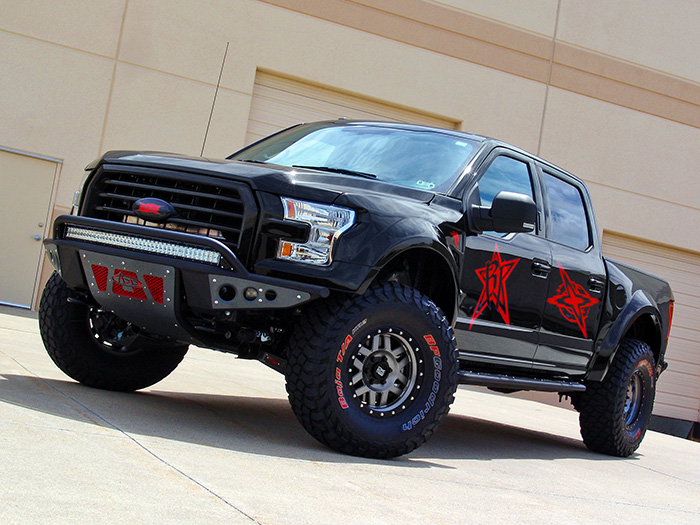 2015 FORD F-150 5.0L TRUCK SYSTEMS AVAILABLE SOON!
At ProCharger, we've found that old habits are hard to break. So as soon as Auto/Truck manufacturers launch new model years into the Truck and SUV market, ProCharger turns right around and launches them on the street with brand new supercharger systems and tuner kits, to the tune of 60-70% more horsepower with otherwise stock 2015 F-150 5.0L V8's running pump gas. To the tune of 60-70% more horsepower with otherwise stock 2015 F-150 5.0L V8's running pump gas–good news is worth repeating …

Ford redesigned much of the new F-150's with a new intake manifold, camshaft setup, and new exhaust manifolds to help bring more n/a power to the 5.0L platform, and ProCharger puts it through the paces with an extra helping of safe, yet decisive intercooled boost that turns a good truck into a great one.ProCharger's new High Output and Stage II Intercooled Supercharger systems will be available soon, and utilize the same, proven P-1SC-1 superchargers, brackets and highly-effective intercoolers that hundreds of Ford owners trust for their 2011-14 trucks. As always these kits come 100% complete with all hardware and tuning included, and there's nothing stopping you from installing the full system in your own garage in only a few hours. Or if you prefer to let the pros handle the project, with ProCharger's expansive network of installing dealers, you'll have no problem finding a quality installer in your area.
Either way, you're 2015 5.0L will be on the street in no time with an extra 45-55% of towing power on 6-7 psi (HO Intercooled Systems), or 60-70% more HP on 8-9 psi (Stage II Systems). HO and Stage II Intercooled Tuner Kits and higher boost levels are also available for modified engines.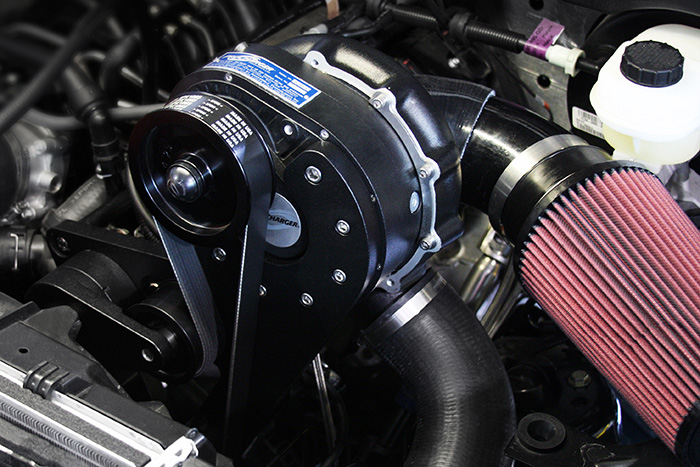 And what good is running your truck with all that extra passing and towing horsepower if you can't look good doing it? ProCharger F-150 supercharger systems are engineered to take a beating and keep on (blowing) with robust billet aluminum brackets and mounting hardware, OEM-quality fit and finish, professionally powder-coated tubing, and of course, our patented, proven, and self-contained P-1SC-1 or D-1SC head unit. Options for multiple finishes for the supercharger and brackets are also available, from satin and polished, to our popular black finish. You'll also have your choice of the standard, rear-facing air inlet system or the stylish forward-facing air inlet.
PROCHARGER FORD F-150 5.0L 4V SYSTEMS
• HO Intercooled Systems and Tuner Kits with P-1SC-1, 3-core Intercooler, 45-55% HP gain • Stage II Systems and Tuner Kits with P-1SC-1, 3-core Intercooler, 60-70% HP gain
Made in the USA, ProCharger systems for trucks and SUVs are backed by a standard 3-year warranty on the intercooler and 1-year warranty on the supercharger, with an optional 3-year supercharger warranty available by request. We stand by our products and we have sales, technical and customer service representatives available 5 days a week to answer any questions. For pricing, please see MSRP price pages at the end of our catalogs, use our dealer locator to find a ProCharger dealer in your area, or give us a call at (913) 338-2886, M-F, 8:30a to 5:30p, CDT.
---

For those of you of the GM persuasion, have no fear–we also have you covered with ProCharger Systems and Tuner kits for 2014-15 5.3L and 6.2L Trucks and SUV's. Click here for more details!
( ProCharger Systems also shipping for 2014-2015 GM Trucks with 5.3L/6.2L)