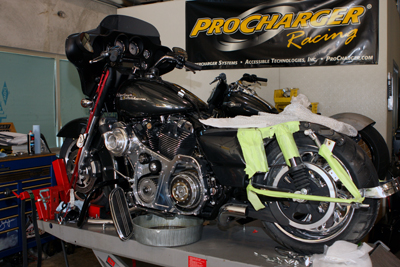 2009 V-TWIN SUPERCHARGER SYSTEMS COMING SOON
Continuing with the innovation the ProCharger V-Twin crew has become known for, we already have an '09 model Harley in the shop… ripped to pieces. Our engineers are hard at work to make sure no Harley owner has to go without that legendary ProCharger power. Current ProCharger V-Twin customers are bolting on 40-80 additional horsepower in a single day with our intercooled supercharger systems and soon these gains will be available for the 2009 models. We weren't named the 2008 V-Twin Performance Product of the Year for nothing!
Check back here often for more ProCharger V-Twin updates or Click Here to find a system for your bike.