2009-10 DODGE HEMI RAM: PROCHARGER SYSTEMS NOW AVAILABLE
Hey, does that thing have a ProCharger? The only thing better than being able to say that you have a HEMI®, is being able to say you have a ProCharged HEMI! Your HEMI Ram is about to grow some big horns. We are pleased to introduce the newly engineered self-contained, intercooled power adder for the 2009-2010 HEMI® Ram truck. Available for immediate order, this new product will begin shipping November 7, 2011.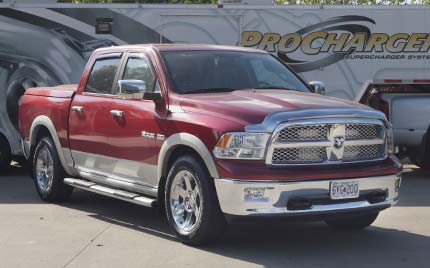 The highly efficient HO Intercooled System is 100% complete, and produces an industry-leading power increase of approximately 40% with 7 psi of boost. HO Intercooled Tuner Kits and higher boost levels are available for modified engines. HO systems and tuner kits both come standard with the industry leading P-1SC-1 ProCharger and 3 core air-to-air intercooler. Systems and tuner kits for 2009-10 model years begin shipping November 7. For 2011 model years, tuner kits begin shipping November 7, and complete systems should be available in the near future.