1,350+ REASONS WHY YOUR 2013 CHALLENGER NEEDS BOOST!
ATI ProCharger has stepped up again, and wasted NO time being the first to offer complete systems for 2013 Challengers, for both manuals as well as automatics!
675HP+ with either transmission!
7psi of boost with P-1SC-1 HO Intercooled System
(Click for Larger Image)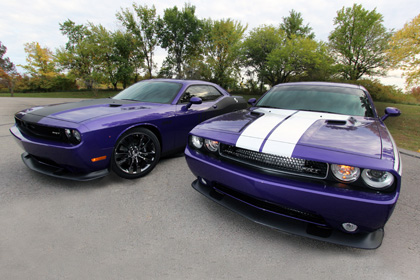 The photo above is of the 2013 testing cars, showing off what a combined 1,350HP worth of Dodge muscle looks like. Featuring perfect, 100% OEM drivability and street manners, performance numbers on these machines are astonishing: 11.37 @ 124mph in the quarter mile (blog article coming soon)! These cars are becoming a true "wolf in sheep's clothing," and serious contenders at the drag strip.
For those that want even more, ALL current options that were available for the 2011-12 models are now available for the 2013 cars as well (Tuner Kits, Polishing, Cog Race Kits, etc).
(Click for Larger Image)
**ADDED BONUS FOR ORDERS BEFORE 10/31/13**
1)FREE Diablo Sport Trinity Hand Held Tuner upgrade ($599 Value)
2)2013 model years, ordered on or before 10/31/13, are eligible for $500 Cash Back discount rebate!