1996-1988 F-150 OBS COYOTE SWAP KIT
BOOST FOR COYOTE SWAPPED OBS F-150 / GEN1 LIGHTNINGS!
We have heard the calls for a simple bolt-on supercharger solution for Ford OBS F-150's that have recently got a heart transplant done. Yes, we are talking about the now common Coyote engine swap that's been happening for many "First Gen" F-150 Lightnings and standard 1988-1996 F-150's commonly referred to as the "OBS Bodystyle". ProCharger engineers put together a full parts list to create a 100% bolt-on supercharger kit so that everyone can easily install some big-time power gains without any fabrication or hassle. Power gains will be similar to the 2015+ Mustang offerings due to it being the foundation for this F-150 kit. Carryover components are the rugged CNC billet bracket kit, ultra-high flowing intercooler, as well as 1000+ hp proven supercharger drive kit.
All of those items add up to the best bang for the buck supercharger kit that can be installed on these swapped F150's and Lightnings. Plus, no matter if you have a completely stock motor or a fully built race prepped block, ProCharger has the perfect supercharger to handle any power need. NOTE: The kit is designed to work with both F-150 and Mustang Coyote engines, as long as a Mustang front timing cover is used.
| DESCRIPTION | BOOST | HP GAIN | PART # |
| --- | --- | --- | --- |
| Stage II Intercooled Tuner Kit with P-1SC-1 | specify | specify | 1FA700-SCI |
Note: Tuner kits require custom tuning and a professional installer with custom tuning capability. These kits make sense for someone wanting to perform custom tuning of the car and push the envelope in performance. Will most likely be experimenting with alternative fuels such as 93 octane, race fuel, E85 fuel, and methanol supplemental fuel. In addition, possibly changing engine components like heads, headers, exhaust, and cams for the engine. Click here to find a professional ProCharger installer near you.
Want to learn about HO vs. Stage II, Tuner Kits vs. Systems, Intercooling tech and much more? Click the button below to visit the ProCharger 101 page.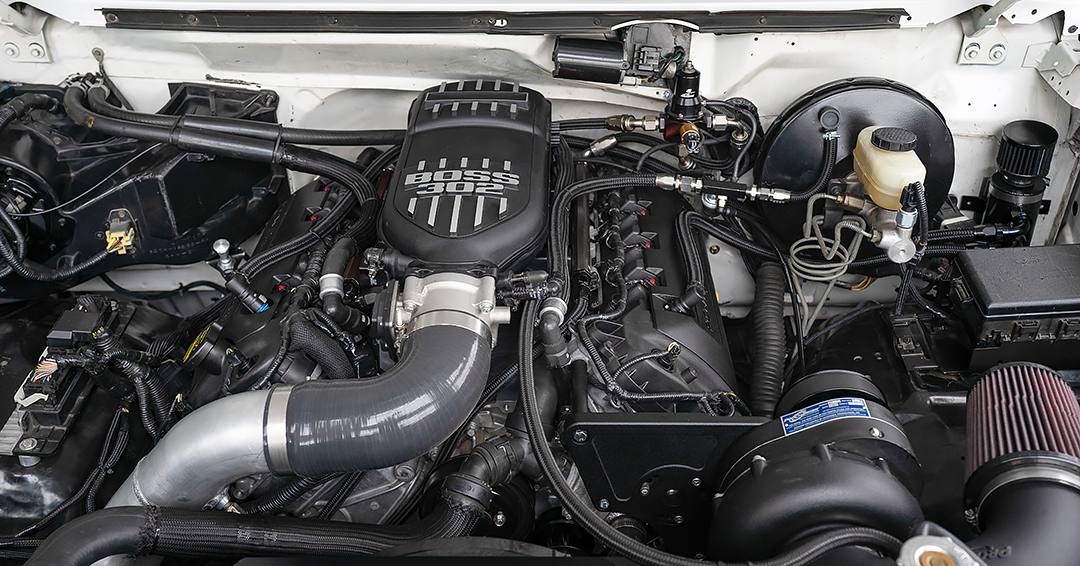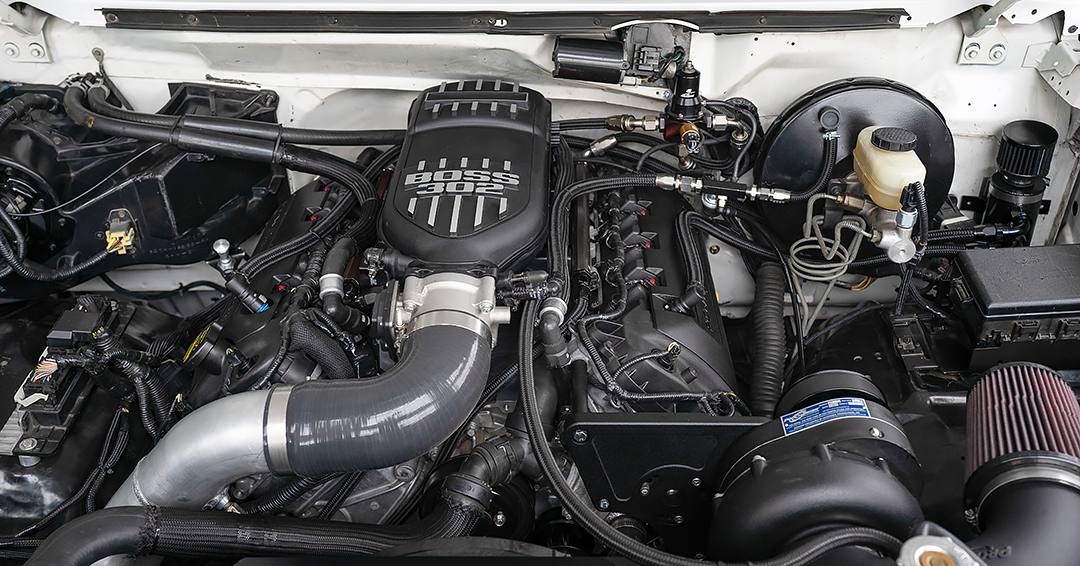 STAGE II INTERCOOLED KIT
P-1SC-1 ProCharger self-contained supercharger
Front-mounted 1,200hp air-to-air intercooler (1,103 cubic inch core)*
Provides boost/power on demand, which is great for on-road and off-road performance
Easiest installation, only requiring common hand tools
8-rib dedicated supercharger drive kit
CNC Billet Alum. Brackets and Tensioner kit
Fits under the stock hood
OPTIONAL UPGRADES INCLUDE
10 Rib Drive Kit for high HP applications
OP-1X through F-1A-94 Head-Units available
Helical Gear set for Noise Reduction (P & D series only)
Crank Support Kit for ultra-high HP applications, or high RPM
Compatible with stock balancers as well as aftermarket units
Polished, Black, and Satin finishes available
* – minor interior trimming to core support to fit intercooler tubing
Race Ready: Optional Coyote Crank Support
The coyote engine is amazing at producing horsepower and turning big rpm numbers. However, in racing conditions with high boost, and high rpm, means a lot of stress can be placed on the front of the crankshaft (even with a turbocharged application). To help reduce the stress on the crankshaft, ProCharger has a support system that is designed to work with our supercharger systems and turbocharged applications. Is the crank support absolutely mandatory? Not really, but consider it cheap insurance with the Coyote engine, just like billet oil pump gears.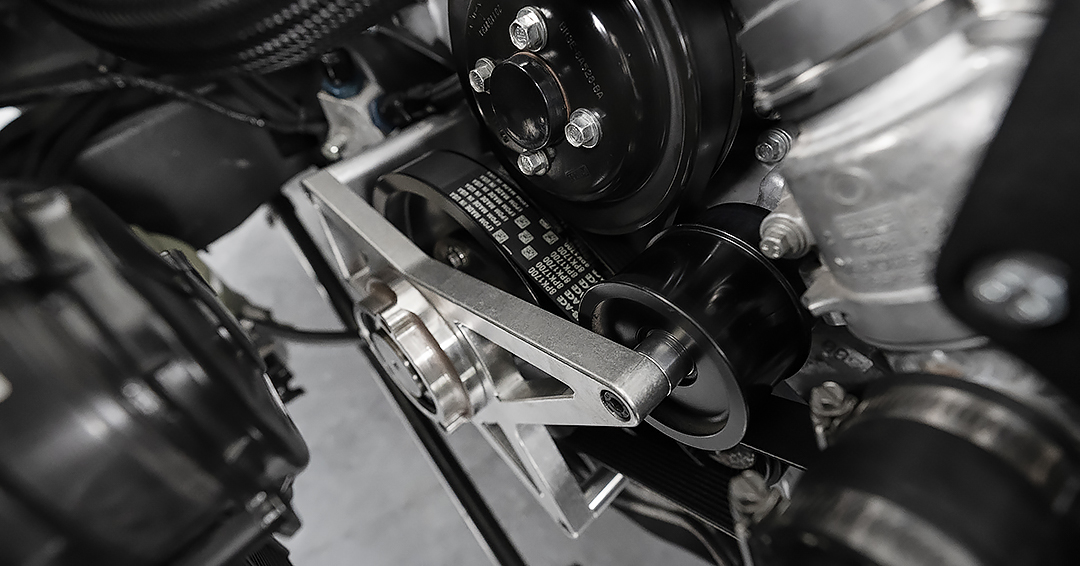 FIND A DEALER NEAR YOU
Looking to make a purchase or a shop to install? We have a large group of dealers ready to serve you with your ProCharger needs. Click below to find a dealer near you!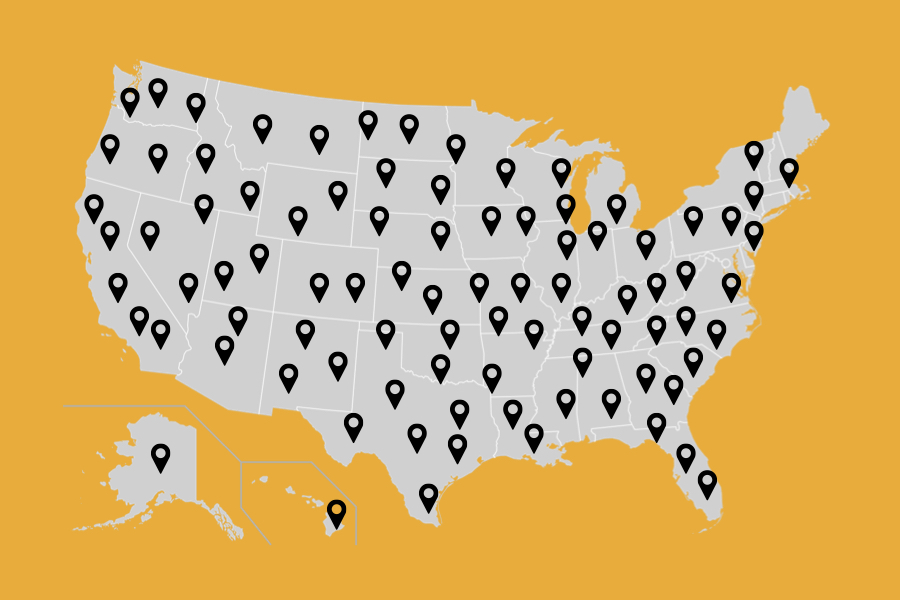 BUILD & PRICE
Kits starting at $7,099. Pricing on these units vary by configuration. Configure your purchase now.
New pricing becomes effective 4/28/23. Order now!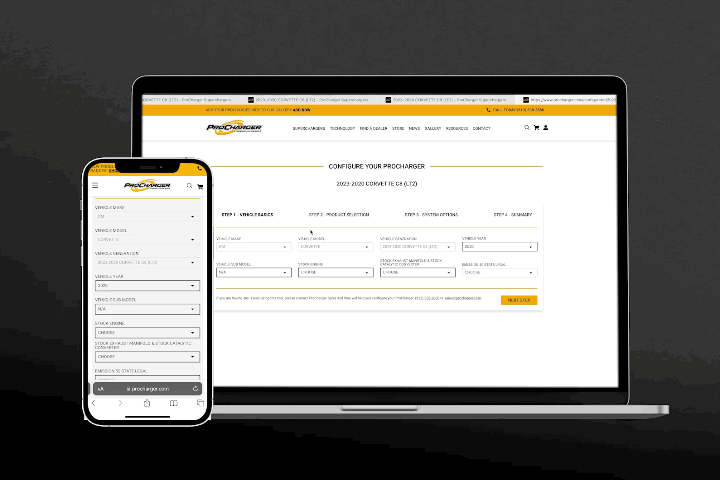 SPEAK TO EXPERT
Click to call our sales staff or email us if you need any help. We will be happy to assist you with any questions you may have. 
Mon – Fri 8am – 5:30pm CST
Phone – (913) 338-2886
Sales Email – [email protected]
Get a Catalog
Our catalogs feature much of this detail. You can either download a copy or have one mailed to you free of charge.
CALIFORNIA EMISSIONS COMPLIANCE INFO (CARB)
California approved products for street legal use (complete systems) will have an associated CARB EO# for compliance. For a full list of California and 50 state street legal systems, click below.
EMISSIONS COMPLIANCE
ProCharger offers Executive Orders for Emissions Compliance (EO) from California Air Resources Board (CARB) for many of our most popular car, truck and SUV applications. If you live in California, we can only sell you products with EO certification. Check out our full list of EO offerings.