2020-2019 RAM 1500 5.7L PROCHARGER SUPERCHARGERS
THIS IS THE BEST RAM YET, AND PROCHARGER SUPERCHARGES IT!
The design team at RAM and FCA America really knocked this new 1500 truck out of the park and won the award for 2019 Motor Trend Truck of the Year! It's got the looks, it's got the interior, and now ProCharger superchargers adds the GRUNT! This blog is about how easy it is to bolt on Up to 160+ bolt on HP that you can do in your garage with common hand tools! Now that we got your attention, let's get to the details!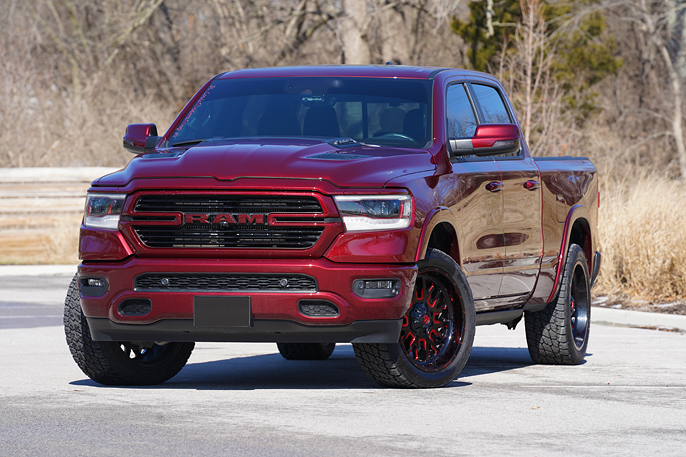 BOLTING ON 160+ MORE HORSEPOWER HAS NEVER BEEN EASIER!
Now that you got your new truck, chances are you are like us…Wheels, Lift, Bed accessories, and everything we need to work and play. Thankfully all of these parts are really easy to install and enjoy these days. Well, the engineers here at ProCharger superchargers took that same approach when designing this supercharger system.

From the easy-to-install billet CNC bracket system made out of T6061 aluminum, to the simple-to-install highly effective air-to-air intercooler system, and the worry free rock solid ProCharger P-1SC-1 headunit, adding big power has never been easier.
HO System is shown below with shared 6 rib belt drive system (Supercharger and bracket feature optional "Black")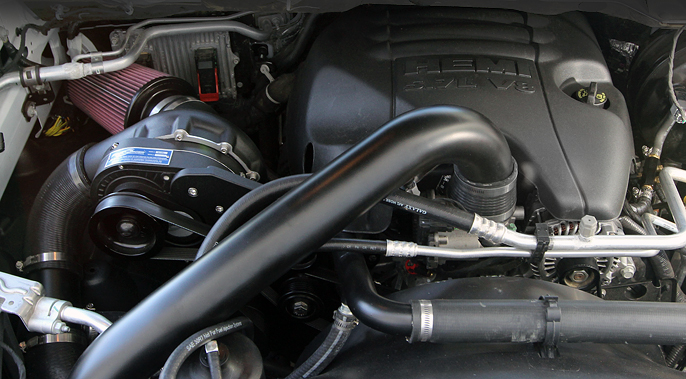 Stage 2 system is shown below with dedicated 8 rib drive system (Supercharger and bracket shown in standard "Satin")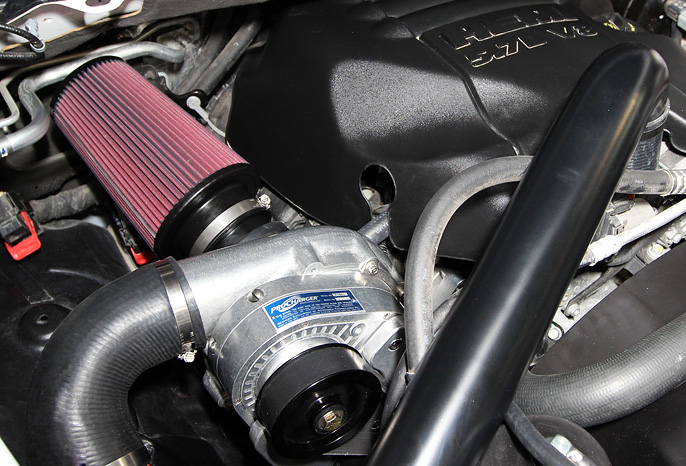 SYSTEM OFFERINGS:
HO System – This system features a shared 6 rib belt to drive the supercharger head unit, 3 core front mounted air-to-air intercooler, and power gains of up to 160+ HP. The HO system is designed for the "best bang for the buck" bolt on power gain. Which is perfect for the guy that only wants to make one significant power modification to his 5.7L engine.
Stage 2 System – Owners that are looking at the Stage 2 system are interested in two things. 1) The dedicated 8 rib supercharger drive system which keeps the engine drive belt separate from the supercharger system and 2) Possible engine modifications in the future such as camshafts, forged internals, or both. The Stage 2 system leaves loads of room to extend to power levels up to 1,000+ HP with F-series head unit options and elevated boost levels.
Tuner Kits also available – These kits DO NOT INCLUDE fuel system components and ECU/PCM tuning. Ideal for someone wanting to push horsepower limits, change engine components, and/or run alternative fuels like E85, methanol, etc.
OPTIONS:
On these new Ram systems, both the supercharger and brackets are available in any combination of the following finishes. Feel free to mix and match for the ultimate custom look under the hood.
Black – By far one of the most popular choices to match the OEM look of these blacked out engine bays.
Polished – To ensure that the head unit or bracket or both stand out in a crowd this is a popular finish.
Satin – For the customer that just enjoys the look of raw machined billet aluminum this is your finish.
Standard gearsets or Helical Gearsets for reduced supercharger noise levels.
---
VERY IMPORTANT
NOTE: All Chrysler/Dodge vehicles 2015 and newer have locked Powertrain Control Module (PCM) computers and they require an unlocking process in order to install a new tune. Please click on link here for more details. The PCM must be shipped to Diablosport for unlocking so, please allow roughly one week. Another option is to purchase a second PCM directly from Diablosport ahead of the installation so, there is no downtime. It is an unfortunate hassle, but unlocking is required with any tuning modification to Chrysler/Dodge vehicles.
---
READY TO MAKE YOUR RAM TRUCK A SUPERCHARGED MONSTER?
Give our sales staff a call or an email at the following contact methods below. We will be happy to assist you with any technical questions you may have about our systems, and results you can expect. Thanks for reading!
Phone – (913) 338-2886 M-F 8:30am – 5:30pm CST
Sales Email – [email protected]
Tech Email – [email protected]
Sign up for our email newsletter HERE