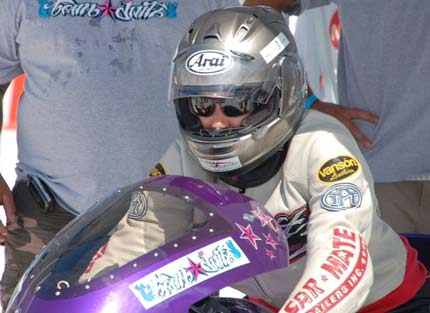 WITH PROCHARGED POWER, JODY PEREWITZ IS THE FASTEST WOMAN ON A V-TWIN
Team J'Witz's Jody Perewitz becomes the First Woman to go over 200 MPH on an American V-Twin during the BUB Bonneville Speed Trials.
During the 8th Annual BUB Bonneville Speed Trials Jody Perewitz became the first woman to break the 200 MPH barrier on an American V-Twin – in her first visit to the salt no less!

The bike is a complete custom built Perewitz Cycle Fab using a Daytec frame and a Jim's 100 cubic inch engine assembled by R&R Cycles and tuned by Dan Thayer.
With the help of an Intercooled B-1 ProCharger Supercharger this small engine combination pushes over 200 rear wheel horsepower!
After some initial shake down runs at Loring, Maine, where she went over 169 MPH with no fairing, it was off to Bonneville for the ultimate test of man – in this case a woman and machine.
During her five mile Bonneville run she had a top speed of over 205 MPH and an average of 203.111. Weather and an unrelated technical issue conspired to keep her from backing up the speed, but still new records were established and the team is hungry to go even faster in 2012.
Keep track of Jody and Team J'Witz on Facebook.