THE WINS, THE RECORDS, THE DOMINANCE…2019 BELONGS TO PROCHARGER RACERS!
130+ WINS, 92 #1 QUALIFIERS, AND 16 NATIONAL CHAMPIONSHIPS/MAJOR EVENT WINS ALREADY IN 2019:
Normally we don't have two racing blogs in a row, however, the wins are racking up so fast every weekend it's hard not to give credit where credit is due. And that credit goes to the entire family of ProCharger supercharged racers and crews, dishing out all of these amazing accomplishments weekend after weekend, event after event. Might as well start with the list of Racers and event wins so far in the 2019 season.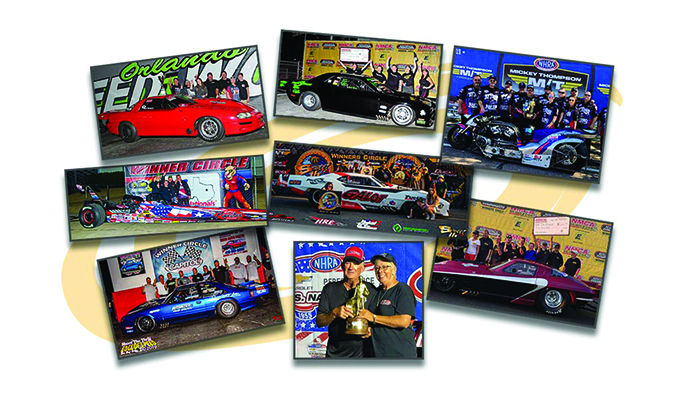 We will be doing a follow-up blog, with a list of all the amazing winners and #1 qualifiers.
---
23 NATIONAL RECORDS AND 74 RUNNER UPS!
As they say "Winning isn't everything"…and we couldn't agree more. All of us here in the office are also proud of all the racers that have bought home runner up spots in this year's events, as well as set national records. Each weekend ProCharger racers keep setting the bar higher and higher (or shall we say lower and lower?) when it comes to class records.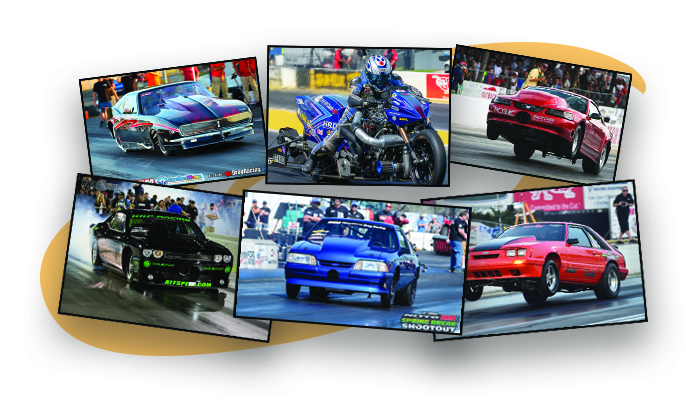 We will be doing a follow-up blog, with a list of all the record-holders and runners up.
---
PROCHARGERS RUN IN NHRA PROMOD:
There were big talks in the NHRA world these past few weeks, as ProCharger equipped cars were allowed to make exhibition passes in NHRA ProMod. These passes were exhibition only as centrifugal superchargers are not yet a legal power adder for this class. Galot Motorsports and Elite Motorsports brought out (3) ProCharger equipped cars to show the fans what these cars could do. And the results were a string of 5 second passes, which would have placed them well into the qualifying field.

For more details on these passes, please visit the following links.
– Drag Illustrated –
– DragZine –
Thanks to the following drivers, teams and the NHRA for making these passes happen. We can't wait to see these gunslingers making more 1/4 mile hits soon!
Clint Hariston / Elite Motorsports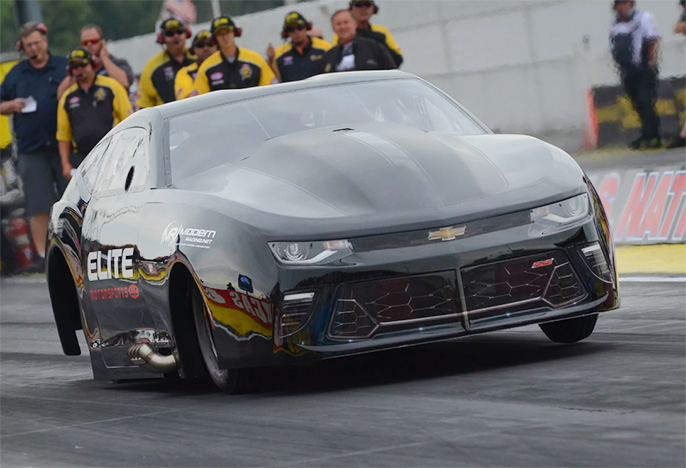 Jeff Strickland / Galot Motorsports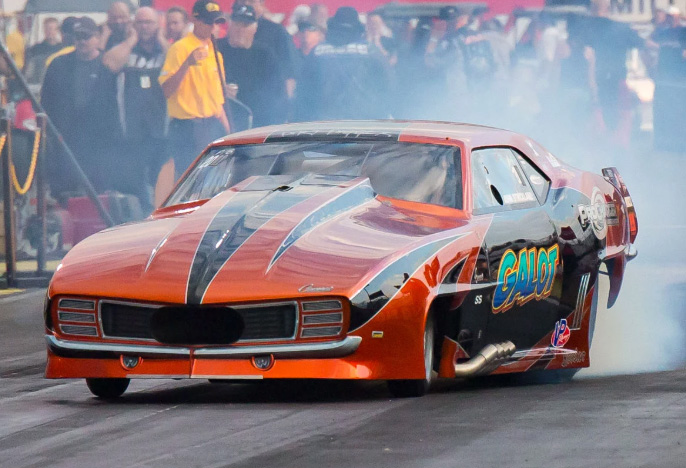 Kevin Rivenbark / Galot Motorsports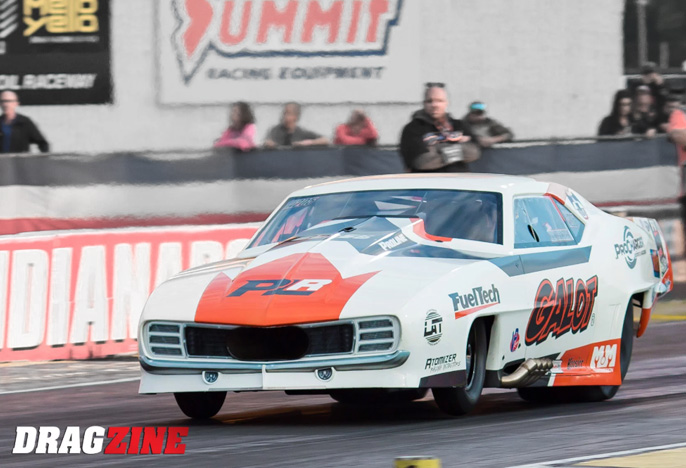 ---
THE QUEEN OF NOPREP WINS $50,000 AT OUTLAW ARMAGEDDON:
On the other side of the drag racing spectrum from NHRA, we have the NoPrep scene. With the limited traction surfaces, drivers not only have to be careful with the power delivery but also have some serious driving skills. In that world of NoPrep racing the "Queen" of the scene, is none other than Kayla Morton, where you will find her behind the wheel of a ProCharger supercharged Mustang known as "The Hot Mess Express."

Down in OKC, she recently drove her Big Block Ford-powered Mustang right to a $50,000 payday! We are all excited to see the "Queen" take the crown in more upcoming races. Please enjoy the video below to show her final pass at the event. Where even with one cylinder not firing correctly (the flame on the driver's side) she was able to put on one heck of a show.
---
STREET "BABY BLOWERS" SETTING HUGE RECORDS IN RACING CLASSES:
The internet refers to the small 9″ street blowers as "babies" when it comes to the racing scene. Though no matter what you call the ProCharger D-1X, we bet Brad Scher calls it a winner. Brad is the man behind the wheel of a ProCharger D-1X powered Mustang, that runs in the 7-second zone consistently in the NMRA Modified Street class. Yes, you read that correctly, 7 second 1/4 mile times from this killer combo.
Brad is also the record holder for NMRA with a time of [email protected] mph! (yes, from a D-1X street supercharger)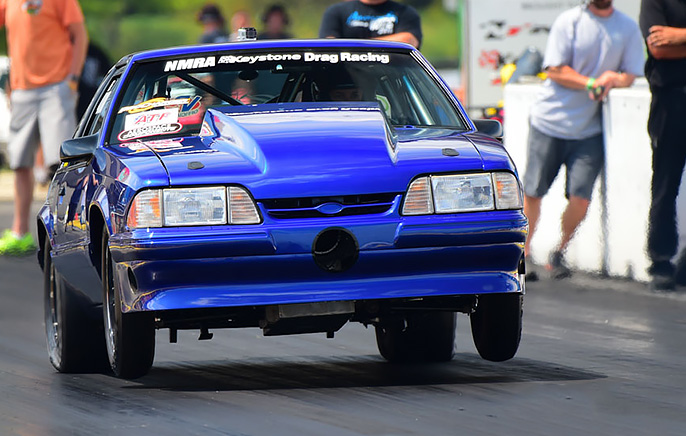 ---
CONSISTENT POWER = BACK TO BACK WINS AND $13,000 IN 24 HOURS!
Bringing home a victory at an event is always the goal…but bringing home TWO victories, at TWO events, in less than 24 hours, ya, that's downright epic! Lamar Swindoll Jr. did exactly that with his ProCharged Big Block (blow through carb) Camaro known as "Goldust."
The first event win and $10,000 came from the LSX vs The World at Mid America Raceway. Thanks to a ProCharger F-1X-12 Racedrive Lamar showed everyone they weren't ever going to get a chance to see the front end of that Camaro, until the winner's circle. As an added bonus Lamar set the track record, which earned him another $1000 on top of the purse.
Jumping right into the truck and trailer, Lamar and crew drove to Houston Motorsports Park…to take home yet ANOTHER victory! This time it was at the "Let's Get it On" event, in the class of N/T small tire. Once again putting another cool $2,000 into his pocket for the trip home. Congrats Lamar from all of us here in the ProCharger office!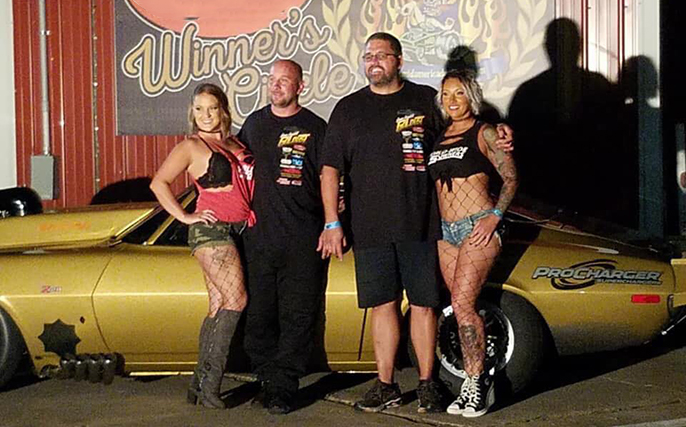 ---
MAKE PROCHARGER BOOST PART OF YOUR PROGRAM:
Give our racing staff a call or an email at the following contact methods below. We will be happy to assist you with any technical questions you may have about our systems, and the results you can expect. Thanks for reading!
Phone – (913) 338-2886 M-F 8:30am – 5:30pm CST
Racing Email – [email protected]