STAGE II & HO KITS FOR 2020-2019 GM TRUCKS, PLUS DYNO TECH AND TESTIMONIALS
TURN YOUR 2020-2019 CHEVY/GMC TRUCK INTO A POWERHOUSE!
That's right, ProCharger has Supercharger Systems for the latest Chevy and GMC trucks ready to ship straight to your door—or to your installer's shop—as you read this. Do you want to increase the power of your new Chevy or GMC truck by a whopping 45-50%? Well of course you do! With 7-8 psi of boost from the highly efficient P-1SC-1 blower and an air-to-air intercooler, your GM truck will feel like a Corvette when leaving the stoplight and pull like a train when you hook the trailer up.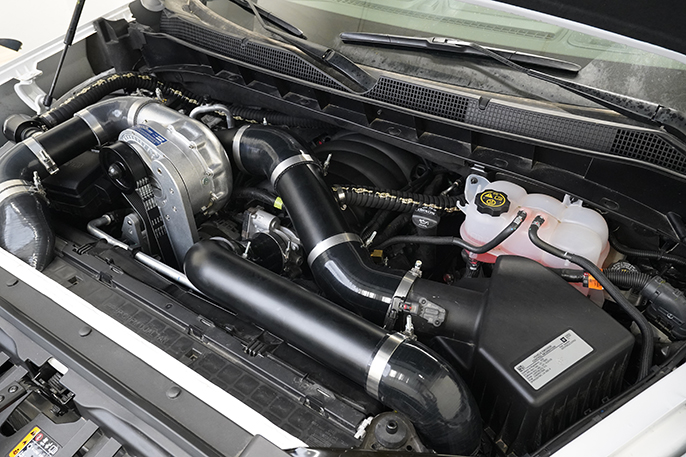 ---
HO VERSUS STAGE II SYSTEMS
You can get a ProCharger system for the 2019-2020 Chevy/GMC trucks as a complete system either as a High Output (HO) or as a Stage II. The HO system bolts-in in a matter of a few hours and is designed to operate on vehicles with stock engines and stock (or Cat-Back) exhaust. The Stage II system is designed to accommodate higher power levels (tuning is supplied for stock vehicles only) by featuring a larger air-to-air intercooler and an open element air filter, while the HO system utilizes the factory air box. Both the HO and Stage II can also be purchased as Tuner Kits. Tuner Kits are the same as the complete systems but delete the calibrations for those that plan to have tuning performed and dyno-tested by professional tuners/installers with custom programming for even greater power gains.
---
CLICK IMAGE FOR FULL INSTALL STORY FROM OFFROADXTREME.COM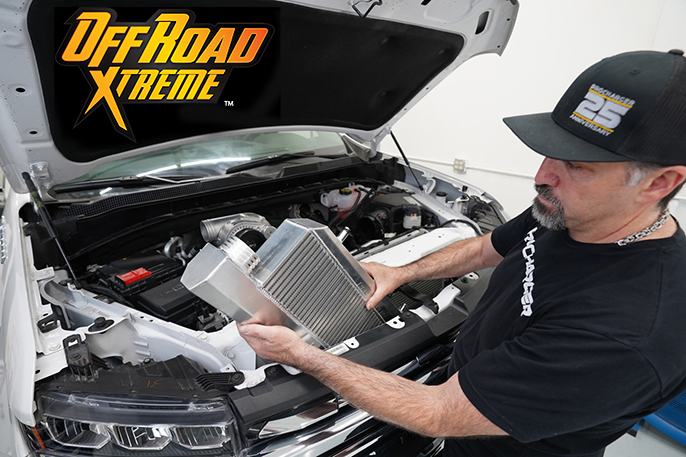 EASE OF INSTALLATION
Easy to install
Requires only hand tools
Install it in a few hours, usually less than a day's time
No cutting required!
Full tune included (Systems only, for stock engine, stock exhaust or cat-back
---
10-SPEED TRANSMISSIONS = BOOST ALL THE TIME!
Since the blower doesn't need to change speeds so radically on gear changes, due the more closely spaced gears, the transmission keeps RPM in the optimum range for a centrifugal supercharger where we make the most torque and power. It's almost like Ford and GM were building the perfect transmission for a centrifugal supercharger power curve, when they started the joint effort in bringing the 10LXX transmission to life. With 10 forward gears it's leaps and bounds better than the slush boxes of old, and they are especially good when used with boost. With little very little rpm drop between gear changes, this trans ensures you are making the most power, whenever you need it.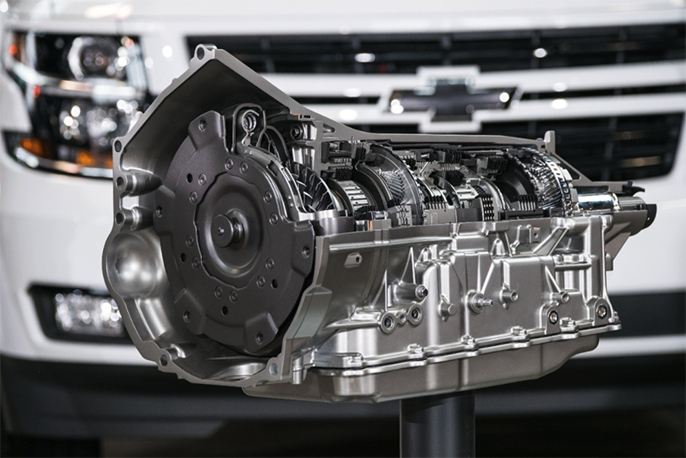 A downside is running them on the chassis dyno, you can no longer hold the trans in gear under full-throttle. Since at full throttle, the transmission computer will automatically force it to downshift. Due to that, you cannot start a dyno run until 4,000 rpm in seventh (1:1 gear) and it automatically shifts at 6,500 or so, just as if you are on the street. The phrase "down-low torque" is virtually a thing of the past, due to this transmission always downshifting to get the RPM up into the optimal range to produce power. This dyno graph below helps illustrate exactly the RPM and power range these trucks will operate in, under normal driving conditions.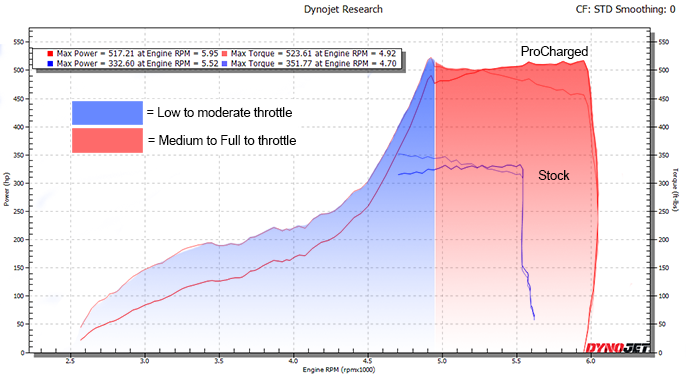 ---
CUSTOMER TESTIMONIAL!
G-Force Motorsports of Pearland, TX (just outside of Houston) recently installed the ProCharger system with a P-1X on a 2019 Denali 6.2 with the 10-speed automatic and made big power. In stock trim the big SUV made 340 hp and 350 lb-ft to the rear wheels, and after the ProCharger it put down 515 and 490 respectively, for a gain of 175 RWHP and 140 RWTQ!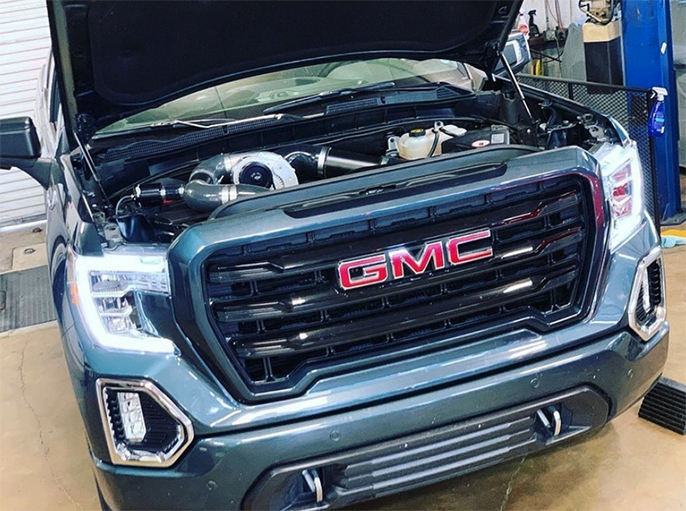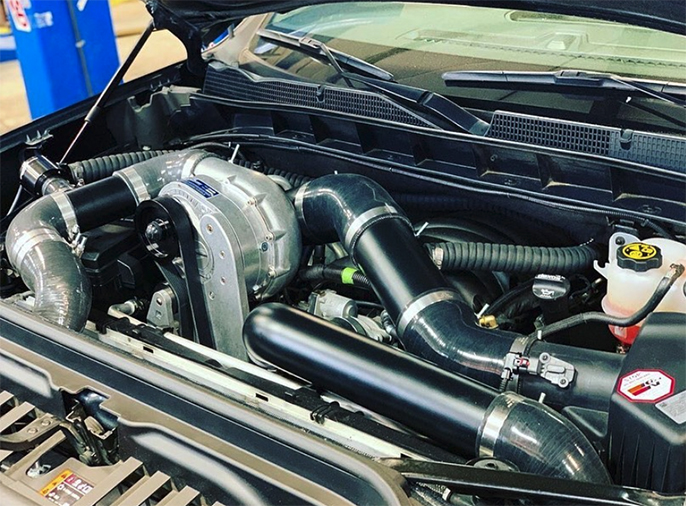 ---
HOW TO GET THE MOST POWERFUL AND EFFICIENT 2020-2019 CHEVY OR GMC TRUCK
Check out all the options and more detailed information HERE. And give our sales staff a call or email us at the following contact methods below. Or you can click HERE to find a dealer nearby to help out with your vehicle. We will be happy to assist you with any technical questions about supercharger systems and the results you can expect.
Phone – (913) 338-2886
Mon – Fri 8am – 5:30pm CST
Sales Email – [email protected]
Tech Email – [email protected]
Sign up for our email newsletter HERE