SPY SHOT! NEW SUPERCHARGER SYSTEM FOR FORD 7.3L SUPER DUTY TRUCKS
SNEAK PEEK: FORD 7.3L SUPERCHARGER SYSTEMS SHIPPING SOON!
The 2020 Ford Super Duty F-250 and F-350 can be had with three different engine choices: a 6.7L Power Stroke V8 turbo diesel, a 6.2L FFV gas engine, or the latest gem from Ford engineers, the 7.3L gas-burning version codenamed "Godzilla." The 7.3 represents a bit of a throwback to the torquey big-blocks that we've always loved and it's a natural for a ProCharger supercharger. Super Duty trucks are just now hitting the streets in large numbers, but ProCharger has had one at our Kansas facility for a while, engineering and tuning a supercharger system for it. We thought you might want a sneak peek!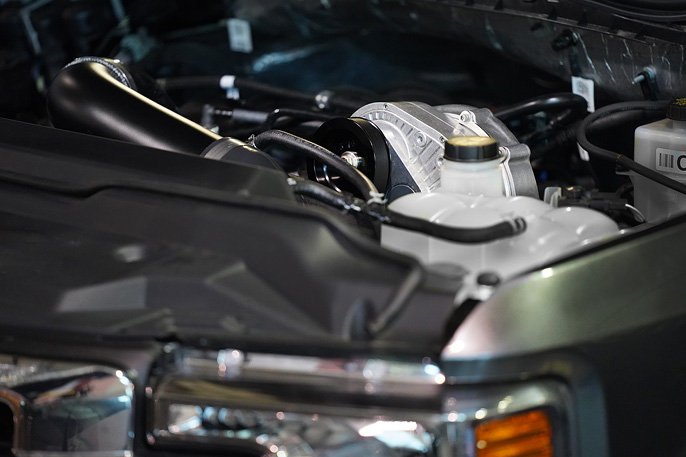 The latest powerplant from Ford has a huge 445 cubic-inches of displacement and pumps out 430 horsepower at 5,500 rpm and 475 pound-feet of torque at 4,000 rpm, both of which Ford claims are best-in-class for gasoline V8s. You can use your imagination to determine what a ProCharger supercharger will do to those already healthy power numbers. That should make for an impressively quick street truck, and a heavy trailer-towing monster when the hitch is put to work.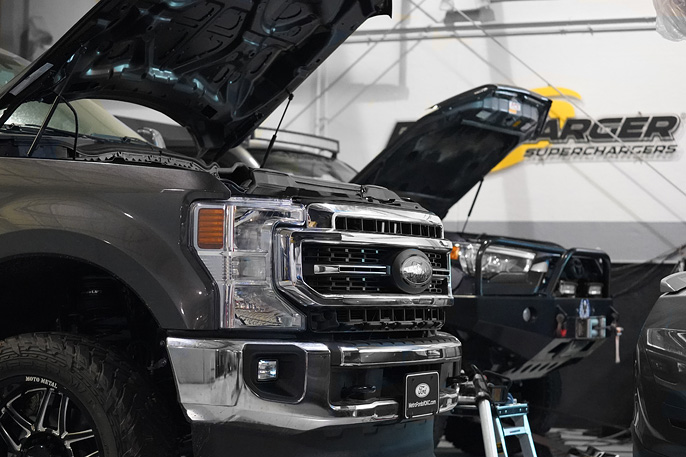 ---
7.3L "GODZILLA" TRANSPLANT SUPERCHARGER KITS SHIPPING NOW!
Prior to getting a new Super Duty in the shop to develop the 7.3L supercharger system, we had received a 7.3 crate motor to create a supercharger kit for transplanting this hot new engine into anything you want, making sure the engine and supercharger would fit in a Fod-chassis Mustang. We wanted to remind you that those kits are finished and on the shelf ready to ship to your front door. With people stuck at home with the Coronavirus scare, why not drop Ford's killer new gas-burner and. a ProCharger into your Fox Mustang?! To see more on that setup, click HERE.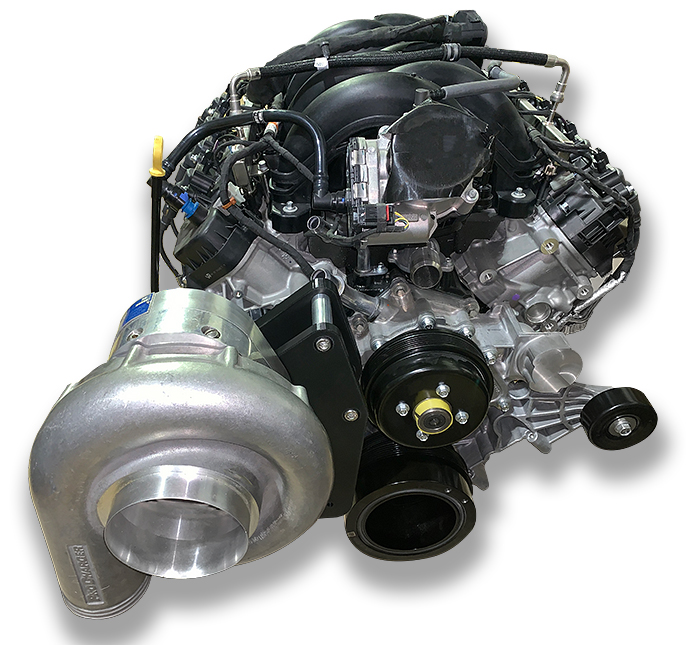 ---
SUPERCHARGE YOUR SUPER DUTY!
Got a 7.3L-powered Super Duty truck in your driveway and want to step up it's horsepower and torque games? Give us a call or email and we'll set you up. We're here Mon – Fri 8am – 5:30pm CST and will be happy to answer any questions you might have about boost! Or to find a local dealer to help you out with your vehicle, click HERE.
Phone: 913-338-2886
Sales Email: [email protected]
Tech Email: [email protected]
Stay up-to-date on 7.3 news and sign up for our email newsletter HERE