PROCHARGER RACERS, WINNERS, TOP QUALIFIERS, AND RECORDS…INCLUDING ICE CREAM!
PROCHARGER RACERS HEAD TO SOUTH GEORGIA MOTORSPORTS PARK (SGMP) FOR A "LITTLE" EVENT:
We say "little" as a joke, because this event is ANYTHING but little, no matter if you are a racer or a fan. The event is known as Lights Out 10, and many have dubbed this the superbowl of drag radial racing. Cars from all over the world come to compete for the chance to be crowned king. We couldn't be more proud of our racers at this year's event.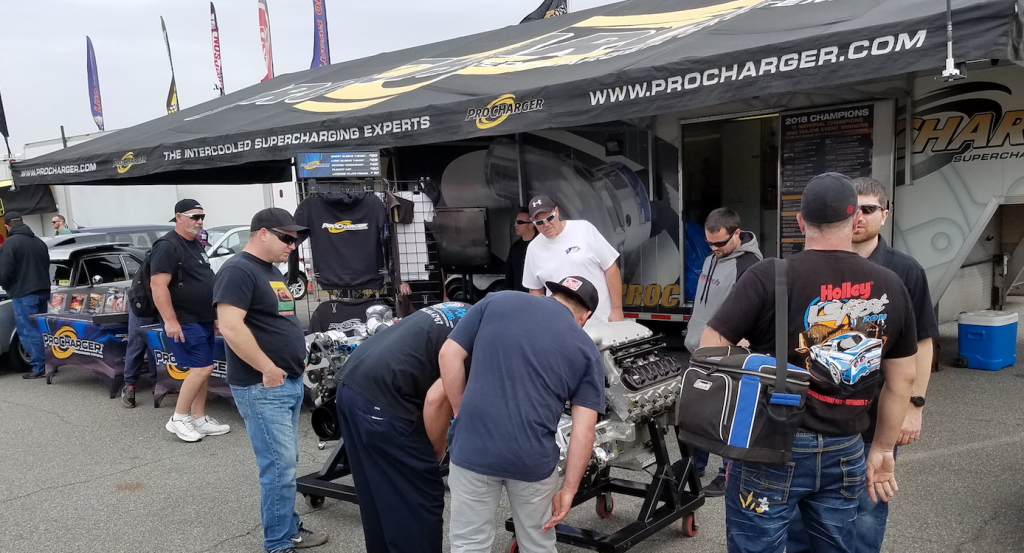 ---
THE SHOT HEARD AROUND THE WORLD… [email protected] IN RVW!
With only 9 passes under this car's belt on small tires…Kevin Rivenbark shocked the entire drag racing community by driving this 1969 Camaro right into the record books and the #1 qualifying spot!
Yes, 1 week before making this record setting pass Kevin had never even made a pass on a radial tire. The ProLine Racing engine gulped loads of boost from the ProCharger F-3X-140 supercharger as this Camaro clawed its way to a .919 60 foot time.
Congrats to Kevin and the entire Galot motorsports team!
From the PRI tradeshow debut, this car has driven straight into the record books.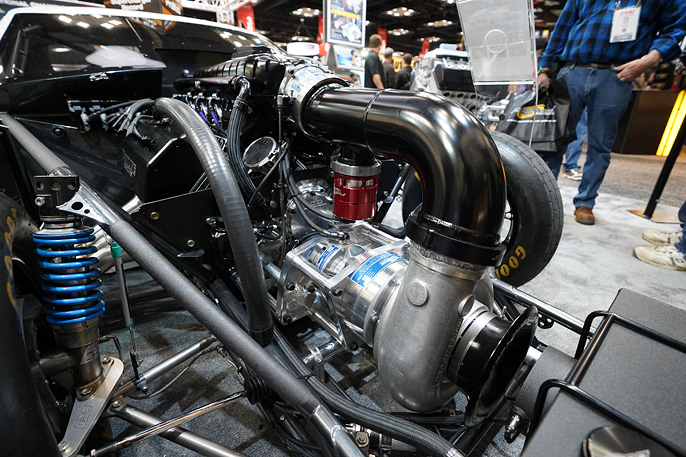 For more amazing details on what makes this record so darn amazing, please check out this awesome write up by Drag Illustrated by clicking HERE or on the image below.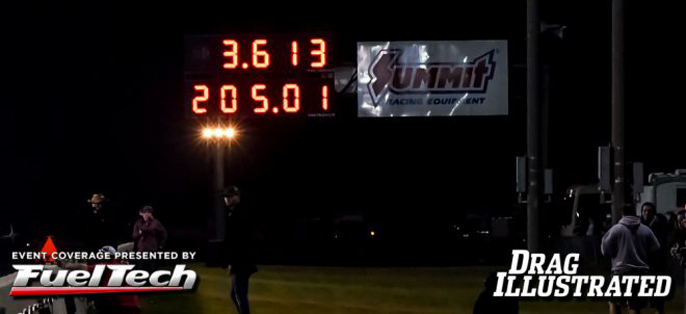 ---
Martin Connelley drove his Mustang right into the record books with the fastest pass ever made on this small tire. And by small, we mean SMALL! It's unreal to think that Martin is nearly putting this F-1A-91 powered Fox Body Mustang into the 4-second zone, on a tire about as wide as something that comes factory!
This record was also good enough to put the Connelley racing team into the #1 qualifier spot, however due to a lack of traction in the Semi's this car's day was cut short. All of us in the office want to wish the Connelley racing team a huge congratulations!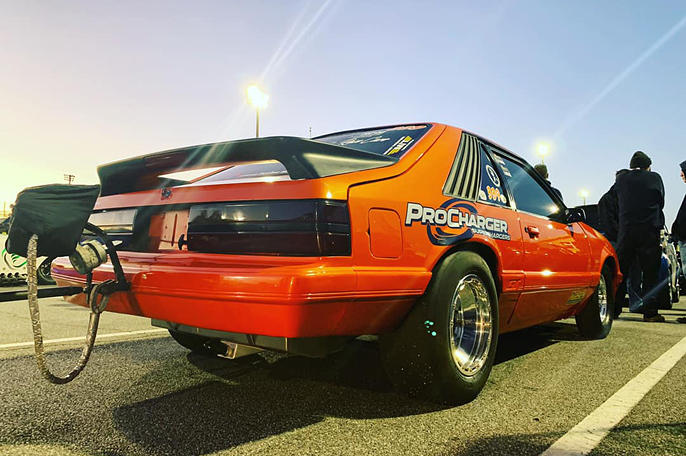 ---
ANOTHER PROCHARGER WINNER!
The season is off to a great start and Lamar Swindoll (with a blown carb setup) took home the trophy at the Emerald Coast Dragway in the 28 Extreme N/T class. He also competed at Lights Out in LDR and Pro275 making it to the quarter finals. Look for this car in victory lane again soon!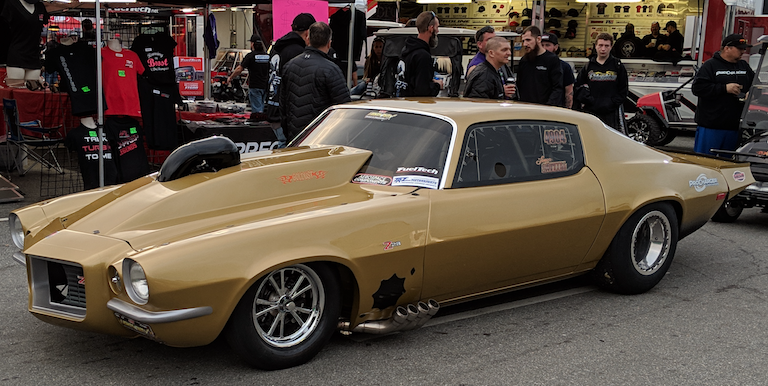 ---
LIGHTS OUT RUNNER UP
Ultra Street – Brian Keep did a great job getting to the finals, way to go Brian!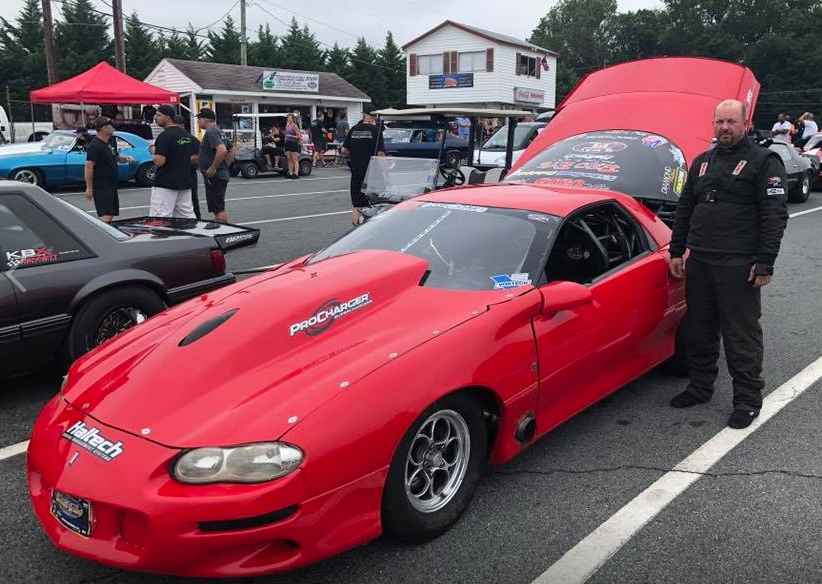 ---
LIGHTS OUT CONTENDERS
RVW – Tom Blincoe's first time on drag radials. Ran a personal best and qualified in the top half of the field.

---
RVW – Enzo Pecchini started out slow but found his way into the 32 car field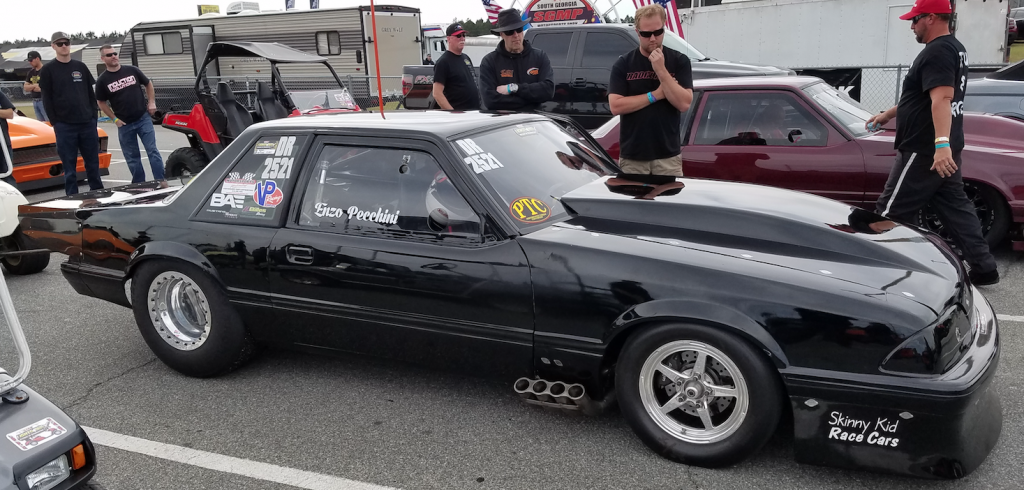 ---
RVW – Tim Essicks ran a 10.5w slick which most people say you can't do on radial prep track. He proved them wrong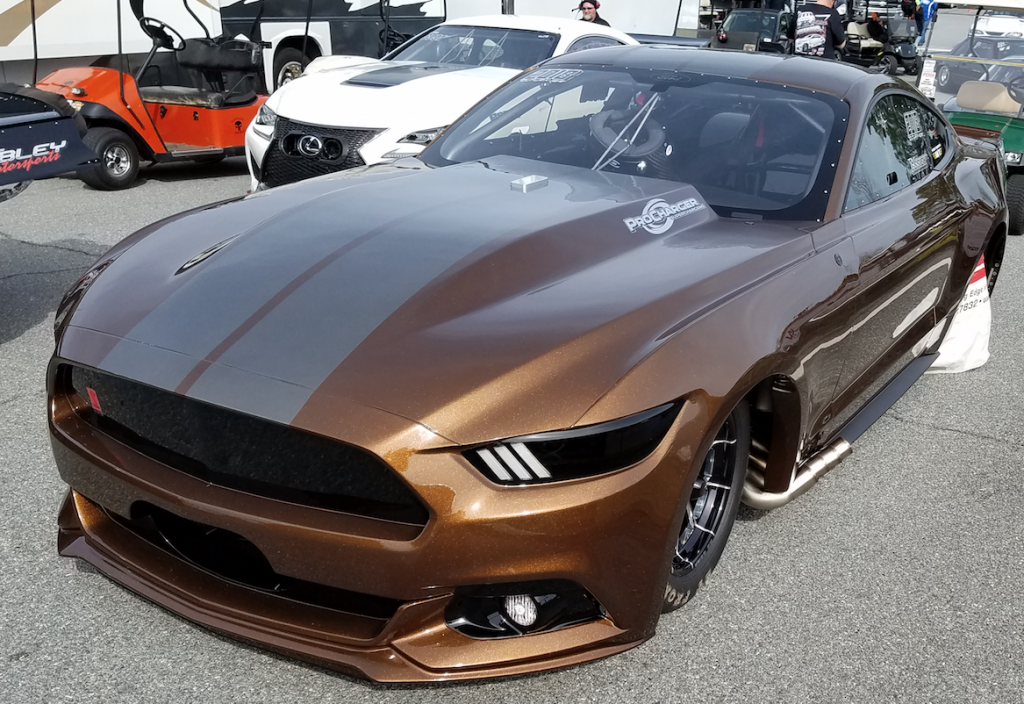 ---
X275- Kenny Hubbard's brand new car has lots of potential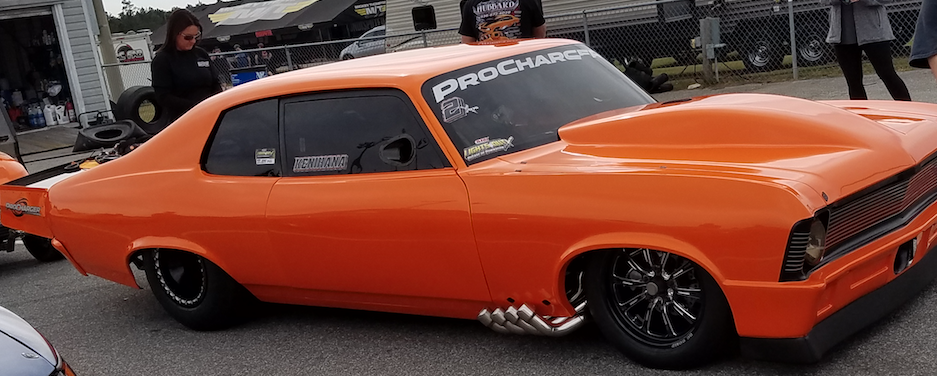 ---
WHAT'S THE POINT IN RACING IF YOU CAN'T HAVE FUN?
Calvin Franco proved ProCharger supercharger cars are capable both on and off the drag strip. This car has had one heck of a year already while showing off.
First, he showed off in Las Vegas at the SEMA show, by placing the car in the Alston Chassis works booth. And now, after he finished up in GA in the Radial vs. the World class, he left the SGMP track and took his car down the street …TO GET ICE CREAM!
How many Radial vs the World cars take a drive to the local gas station during the event to grab a bite? Which leaves the question, one scoop or two?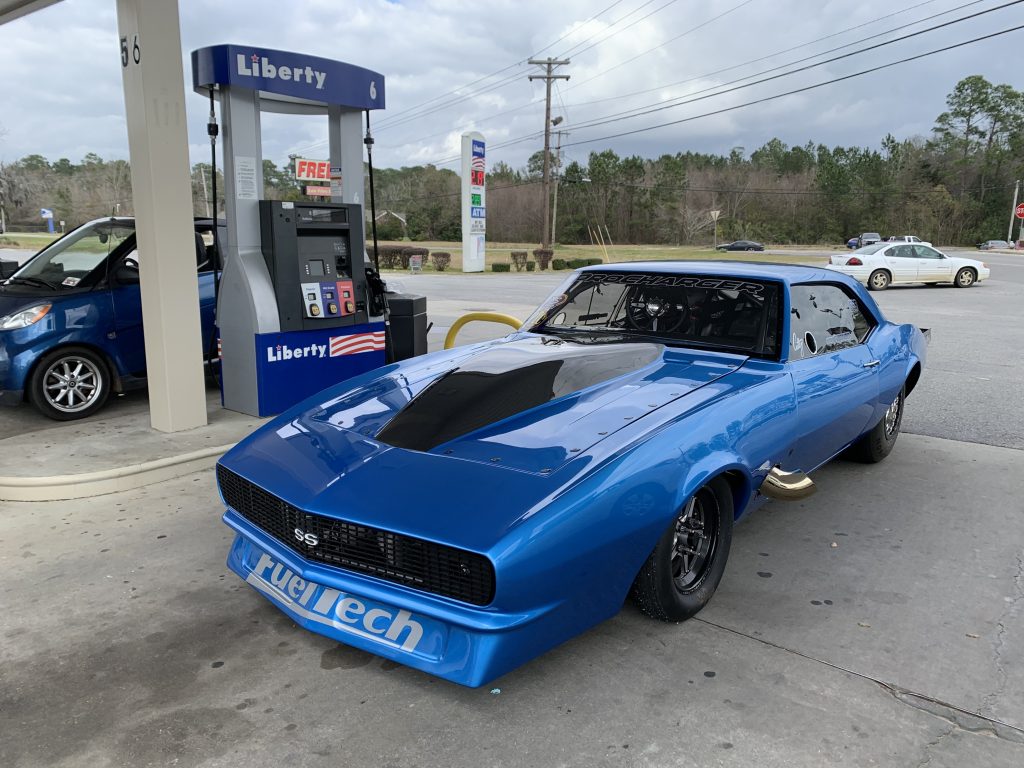 Many racers use this event as the first race to "shake down" their new combos and there was a virtual FLOCK of amazing supercharged cars on the property. All of us in the ProCharger office are beyond proud of our racers as we watched in person, on the live feed, and read all about each and everyone's accomplishments over the course of the event. We can't wait to see what each of you do as the year progresses.
---
NHRA RECORDS ARE MEANT TO BE BROKEN!
Top Fuel Harley – We love it when one of our racers sets a new standard and Jay Turner did exactly that in Top Fuel Harley, rocketing to a 6.200 @ 218.87, a new track record! Just incredible how fast these ProCharger top fuel bikes are running. If given the chance, would you be willing to ride a bike that fast?
Jay is in the left lane
---
OTHER NHRA TOP QUALIFIERS
Top Dragster – Bobby Ray McMahan is showing them how it's done already with a #1 qualifier at Pomona (6.12 @ 226) and a #2 at Phoenix. Keep it up Bobby!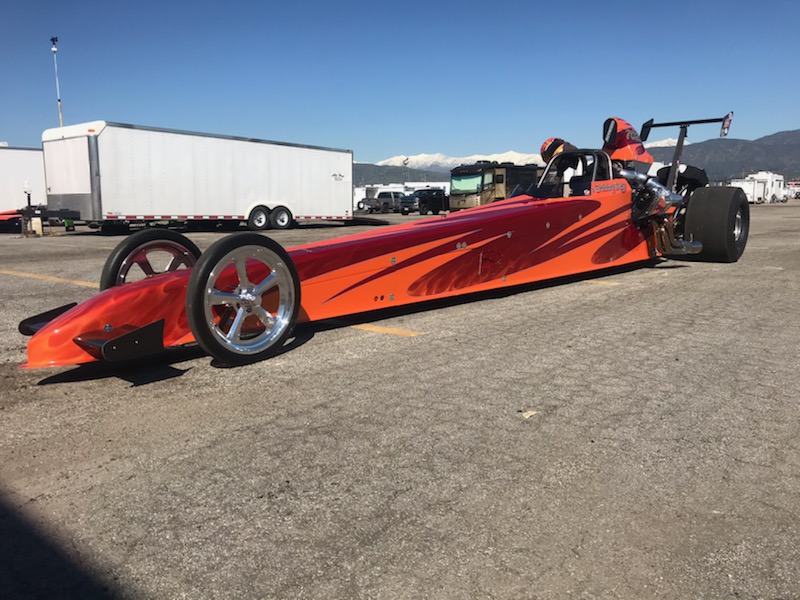 ---
Top Dragster – Les Feist down in the sunshine state qualified #1 with a 6.107 @229.35. Now that is hauling the mail!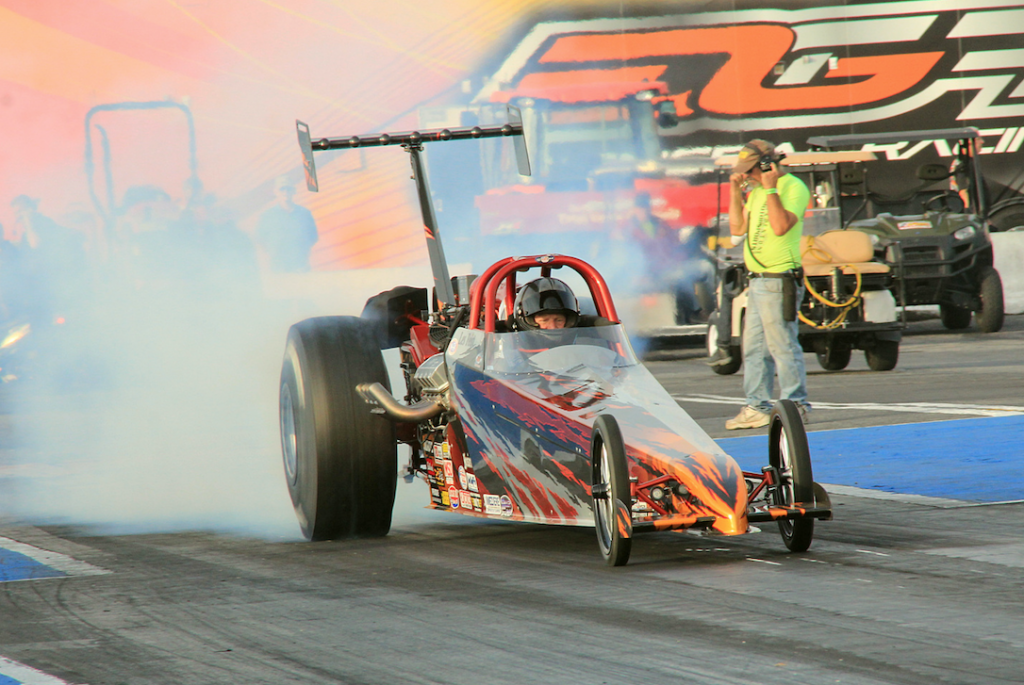 ---
Top Sportsman – Phil Dion is taking care of business with a #1 qualifier at Pomona (6.34 @ 226). What a beautiful and fast car!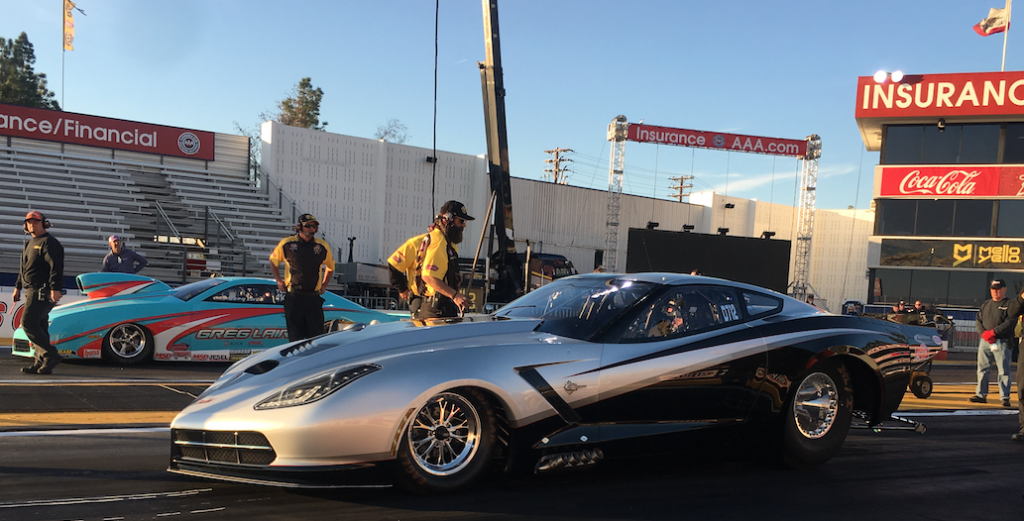 ---
THE PROCHARGER TEAM IS HEADING TO LOADS OF EVENTS IN 2019!
We love supporting our racers and our fans, from both here in the office, but also at the TRACK! For the 2019 race season, our racing support staff will be crisscrossing the country to cover everything from NHRA to NMRA and everything in between.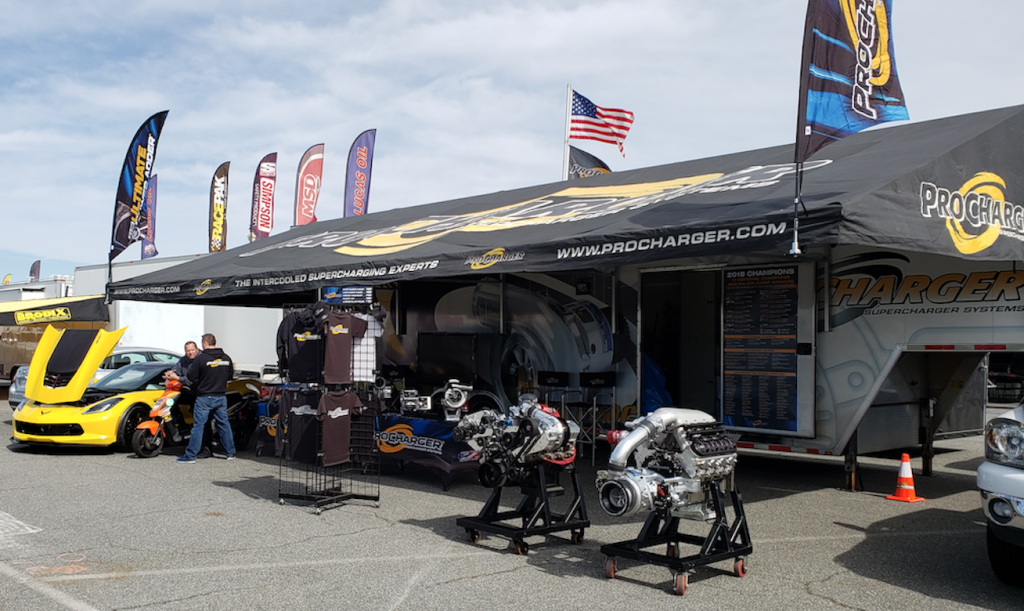 FOR A FULL 2019 SCHEDULE CLICK HERE
Below is a list of the upcoming events that we will proudly be at in the month of March.
FEB 28TH – MARCH 3RD : NMRA AT BRADENTON MOTORSPORTS PARK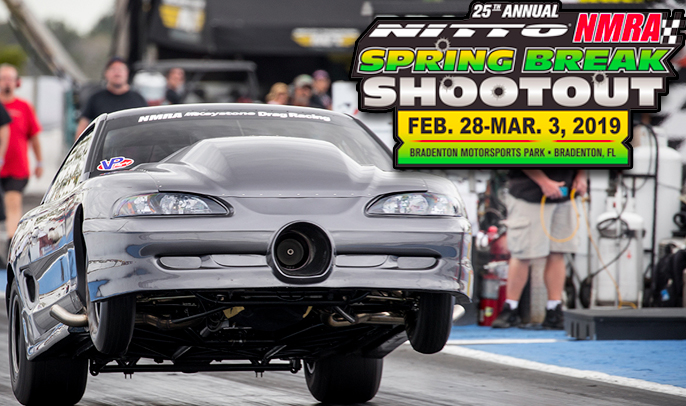 MARCH 7TH -10TH : NMCA AT @BRADENTON MOTORSPORTS PARK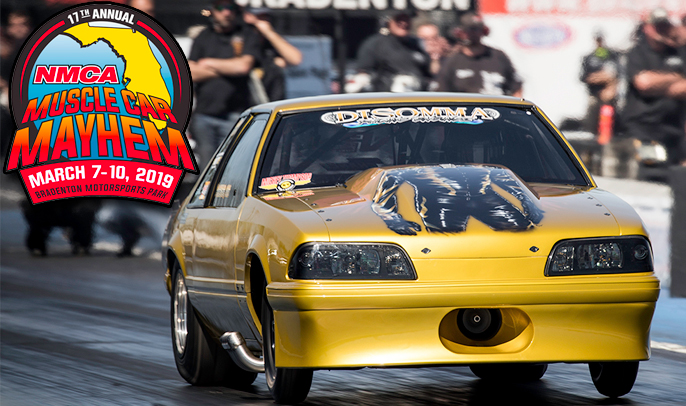 MARCH 20TH – 24TH : SWEET 16 RVW/X275 AT VALDOSTA GA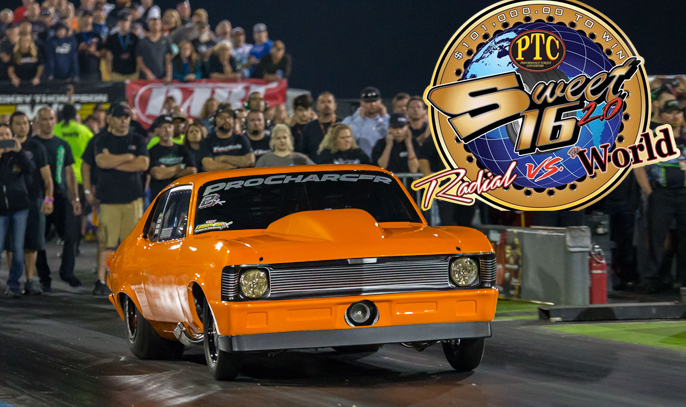 ---
WANT TO PUT YOUR RACE PROGRAM INTO THE RECORD BOOKS?
Give our racing staff a call or an email at the following contact methods below. We will be happy to assist you with any technical questions you may have about our systems, and the results you can expect. Thanks for reading!
Phone – (913) 338-2886 M-F 8:30am – 5:30pm CST
Racing Email – [email protected]