PROCHARGER RACERS PUT A CAP ON THE 2012 SEASON
With already 8 national championships in the books for the 2012 season, ProCharger powered racers were still hungry for more.
Leading the charge was long-time Procharger racer and outlaw radial powerhouse Steve Jackson. In a recent test session, Steve and his ProCharger F-3R-136 became the quickest drag radial car in history.
Jason Lee took his ProCharger F-1X fox-bodied four-eyed monster Mustang to MIR Raceway to take on the meanest import and domestic drag racers in the country. Jason took the competition to school and won the race by running low 7.30's with a best time of 7.29 seconds.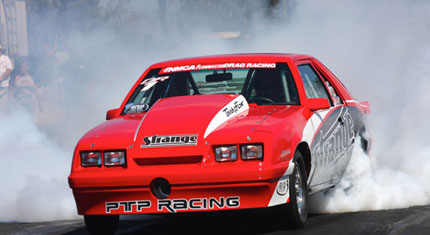 Street Car Super Nationals:
In Wild Street action, the Young Brothers and their ProCharger F-2's Camaros were back at it again. Both Kevin and Jeff qualified at the top and would "barrel" through the competition on race day by running mid 7.50 et's. What would shape-up to be another all Young final round didn't go as plan. Kevin was not able to make the final round call and the win went to Jeff.
Outlaw 10.5W always brings the best out to Las Vegas. Fresh off converting his Mustang from twin turbos back to Procharger power was former PSCA champion Doug Sikora. Sikora and his F-3R-136 ran an all-time best et of 6.34 @ an incredible 229 mph blast!
Last but not least was Extreme Drag Radial terror, Al Jimenez. Al made history by becoming the first leaf-spring suspension racer to break the six second barrier. In the first round of eliminations, Al and his ProCharger F-3R-136 powered Camaro ran 6.993 @ 206 mph!
For the complete rundown on the 2012 racing season, feel free to check out the racing section of our website for all the winning details.
Don't forget to check out our latest and greatest racing products at this year's PRI show at Orlando, booth #3506. We look forward to seeing you there!