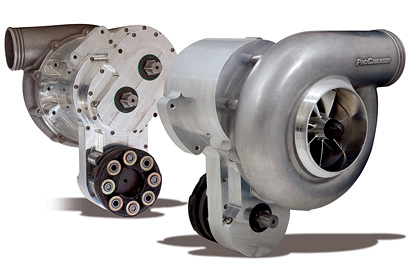 PROCHARGER RACEDRIVE (NOW INCLUDING F-1X-12)
It's no secret that ProCharger superchargers get used in all sorts of applications, with power levels ranging from 90HP to 3,500+HP! To meet those power levels, there are different methods to drive the supercharger such as belt drives, cog drives, gear drives and now the RaceDrive™. A few years ago standard "gear drive" or "direct drive" systems for ProChargers started to become mainstream at ultra-high HP racing applications. However, the placement of the supercharger wasn't ideal for all applications, as it was lower than desired for some applications and not sufficiently compact for applications such as dragsters. ProCharger created a compact solution to this problem by integrating the drive system into the blower itself. Now, for those looking for the ultimate in durability at extreme power levels–we introduce the new ProCharger RaceDrive.
POWER:
The F-1X-12 supercharger produced 2 national championships and 4 records in the 2014 season. It demonstrated ProCharger durability at extreme horsepower levels by not having a single unit fail the entire season. This same F-1X-12 winning design is now combined with the ProCharger RaceDrive to create a unique new package for those looking for a reliable, consistent solution to their 1,500+ HP needs.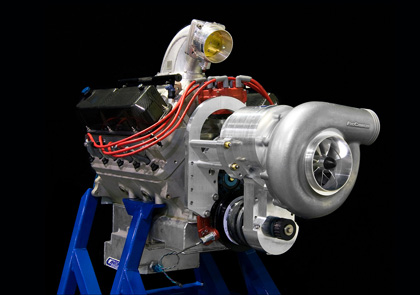 DESIGN:
With its ultra-compact design, the ProCharger RaceDrive allows racers with tight engine packaging (including rail dragsters) to now run a ProCharger system without having to make chassis modifications! With a higher and more shallow mounting location, it allows more room for the steering rack and other suspension components.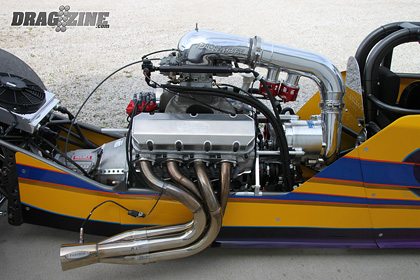 Another feature of the ProCharger RaceDrive is (3) accessory drive points, or power take off points (PTO). These can be used to run oil pumps, fuel pumps, or other necessary engine accessories. To make sure our customers get exactly the right boost level for their combination, the RaceDrive is also offered in 40 different gear ratios! These gear ratios are quickly and easily changed by simply removing the front cover, and replacing the 10 spline quick-change gear sets with a new pair.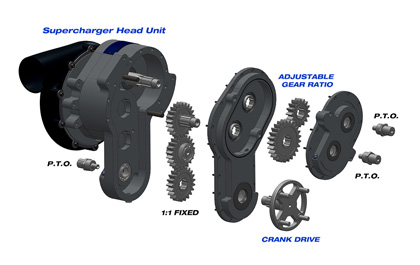 The union between the engines crankshaft and the supercharger is made with a dual-sided steel coupler, with vibration absorbing rubber. This connection is not only compact, but helps take the shock loads out of rapid RPM changes in the drive system. And with no belts to fail, our customers can enjoy years of worry-free, constant operation from their supercharger unit.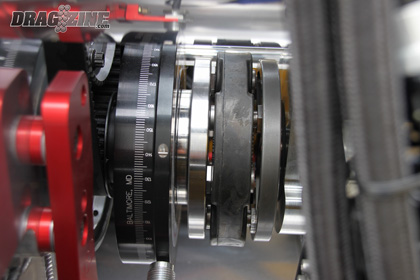 Chuck DeMory Jr. runs his Mustang in NMCA Pro Mod/Pro Street with this ProCharger RaceDrive-powered ride. This car has gone as quick as 6.30's already, and we look forward to even more quick times out of this car in the 2015 season.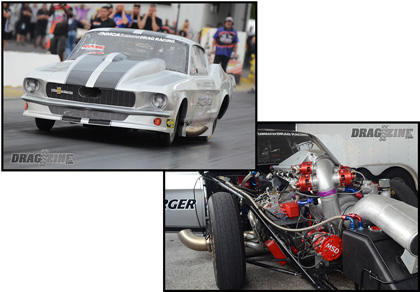 Advanced Product Design is another satisfied customer, with their growing list of ProCharger RaceDrive-powered dragsters. Joe Hessling at APD had a great quote that sums up what the RaceDrive delivers perfectly:
"There are a lot of guys in Top Dragster, Top Sportsman, and the fast bracket racing world that are tired of hurting pistons and other parts in their nitrous motors. In between rounds you're changing bottles, changing jets, pulling spark plugs—but the ProCharger setup, once you have it all ironed out, is a much simpler combination to operate and maintain…"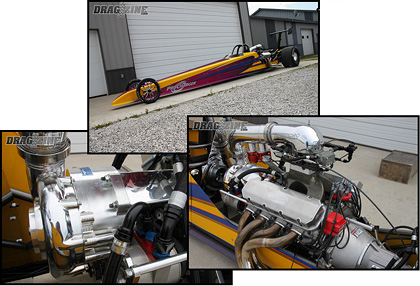 ON DISPLAY AT PRI:
If you happen to be in the Indianapolis area, stop by our booth at the PRI (Performance Racing Industry) Tradeshow! We are not only featuring the amazing ride of Eric Gustafson, winner of 2 National Championships this season, but also the new RaceDrive, which is on display with our new Racing Bellmouth for heads up racing applications.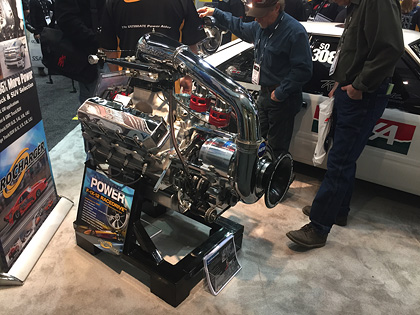 FOR MORE INFO:
We could go on for days describing the technical details of the RaceDrive, but luckily we don't have to because the fine folks over at DragZine already did that for us. Take a moment to click this DragZine RaceDrive Tech link for the ultimate write up on this exciting new product!
For even more information, drop us a line at (913) 338-2886 or email us at [email protected]