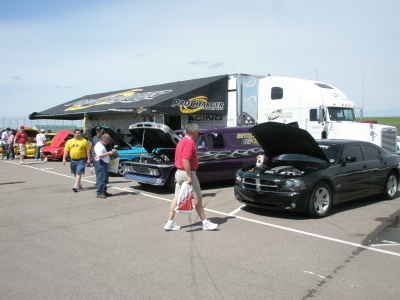 PROCHARGER ON THE 2008 HOT ROD POWER TOUR
From Little Rock, Arkansas to Madison, Wisconsin, the ProCharger crew hit the highways to be a part of the 2008 Hot Rod Power Tour. Easily considered to be one of the best automotive tours in the country, this weeklong rolling road show is a great way to meet up with fellow performance enthusiasts and ProCharger owners from all across the country.
The ProCharger "Big Rig" was on hand at Springfield, MO; Topeka, KS; Lincoln, NE; and Ames, IA; and at each of these locations, was joined by a host of ProCharger-equipped vehicles – 17 of them at the Topeka stop alone! From C6 Corvettes to late-model Dodge Hemi Chargers to some incredible carb Chevy installations, ProCharger owners "show and go" with the best of them! Power Tour marked the public debut of two new ProCharger systems: the 6.1L Hemi Charger system that puts down 500 HP to the rear wheels and a complete system for 1999 and newer, carburetor-equipped Harley-Davidson bikes. We even rode our carbureted and ProCharged 2004 H-D Street Glide on several Power Tour segments.
It's always great to get out and enjoy our ProCharger supercharged and intercooled rides and even better when we get to meet up with so many loyal customers and ProCharger fans along the way. Thank you for stopping by the ProCharger display and we hope to see you out enjoying your ProCharger power at future events.
Click Here to see a sampling of images from the 2008 Hot Rod Power Tour or visit the Hot Rod web site to see their coverage.