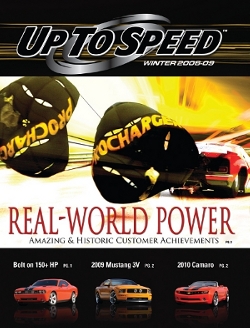 PROCHARGER NEWSLETTER AVAILABLE ONLINE
Have you checked out the newest installment of the Up To Speed Newsletter from ProCharger? It's available, free, online! The theme of this newsletter is "Real World Power: Amazing & Historic Customer Achievements", it contains some outstanding stories of how ProCharger customers are using their supercharged power and how you can get in on the action. This newsletter also contains important information on how YOU could win $5,000 cash from ProCharger as part of the ProCharger Video Challenge.
Check it out to see what our ProCharged customers have been up to, as well as what new and innovative things are coming from ProCharger. Click here to download the full version of Up To Speed.