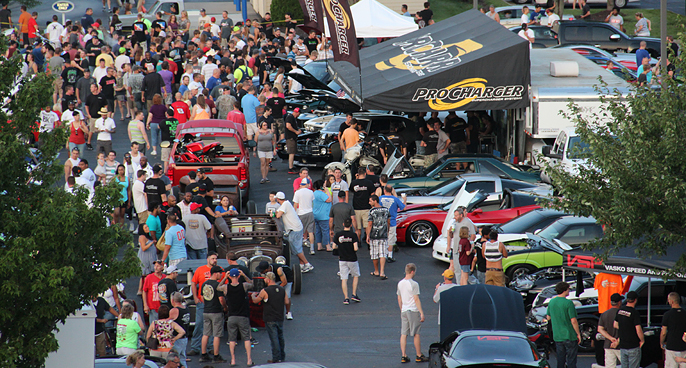 PROCHARGER HITS THE ROAD AND DISPLAYS AT EVENTS AND RACES ACROSS THE USA!
If you enjoy crazy high horsepower streetcars, and you are on the Internet or facebook, you have likely heard of the Streetcar Takeover events being held in various cities across the US. A few months ago we blogged about our trip to the SCT event in St. Louis MO. Well we had such a great time checking out all the amazing cars/truck/bikes we had to put a few more stops on our "to-do" list.
Here at ProCharger if its one thing we love it's BOOST! However what we enjoy even more is getting out to events across the country and being able to see our customers' builds in person. Being able to hear the stories behind the builds always makes the trip worth it. So this blog is going to cover some of the recent events we made it to, and a couple that are coming up.

We will start our coverage with the Streetcar Takeover event that was held in Oklahoma City.
The Friday night dyno event was held at a place called Midwest Streetcars. (you may have heard of them) To say the place was PACKED is the understatement of the decade! Honestly, not only was it standing room only around the dyno and parking lot, cars had to park down both sides of the road for almost a mile to get in! This image below is just a teaser of how many jammed into this place.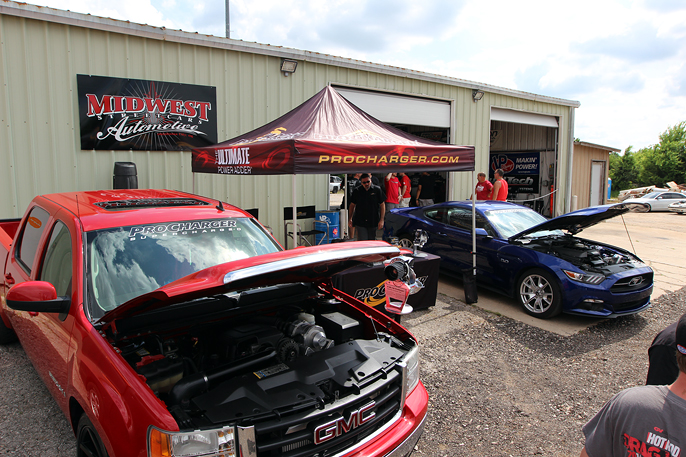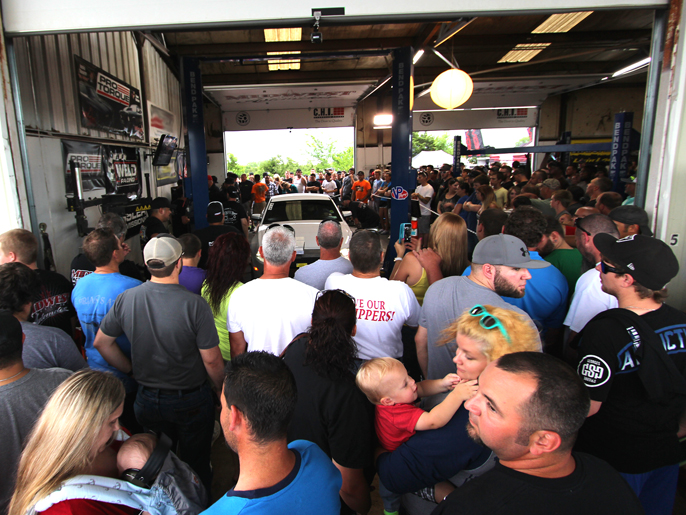 We can't go into every ProCharger supercharger that was on the property, however this F-1X powered daily driver really caught our eyes, and laid down over 998rwhp after being driven to the event. (he also drove it up to Kansas City's event as well.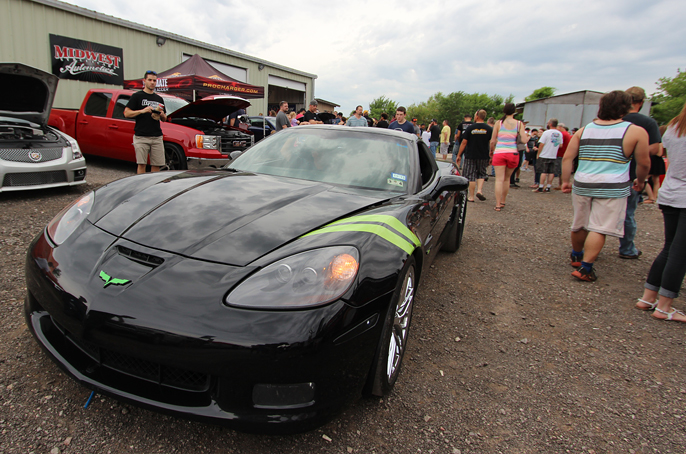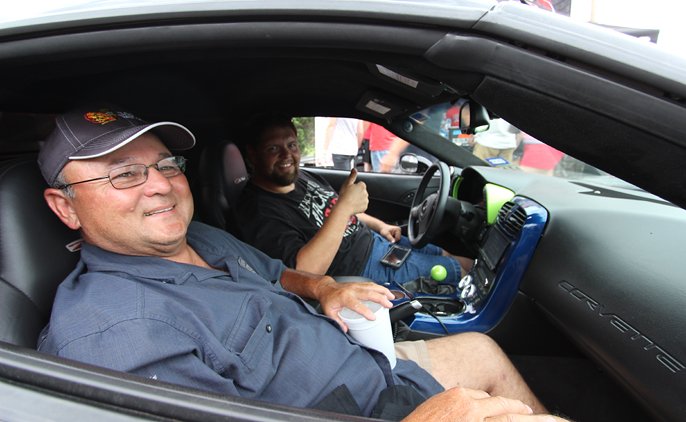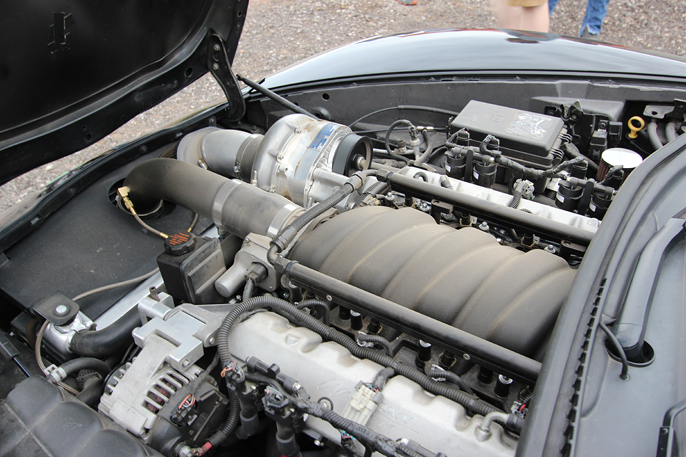 Another car that got the crowds attention every time it started was that of the "Black Bird Vega" which has been killing it on the TV show Street Outlaws with a ProCharger F-2 supercharger. Sadly he couldn't lay down a number on the dyno, because the car was literally too narrow to fit on the rollers. The big steam roller slicks on the back overhung the center of the dyno.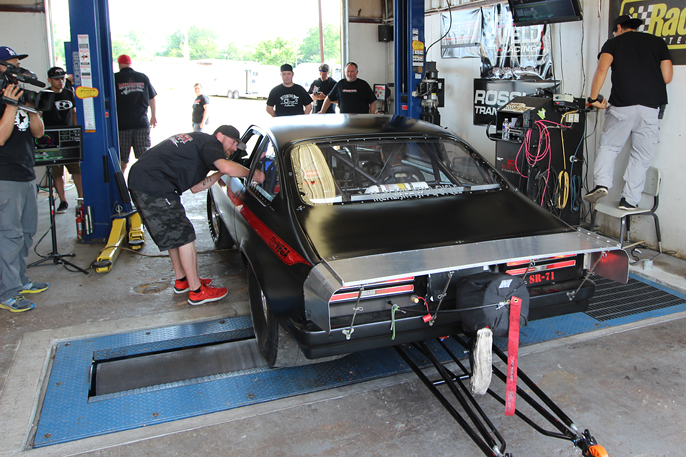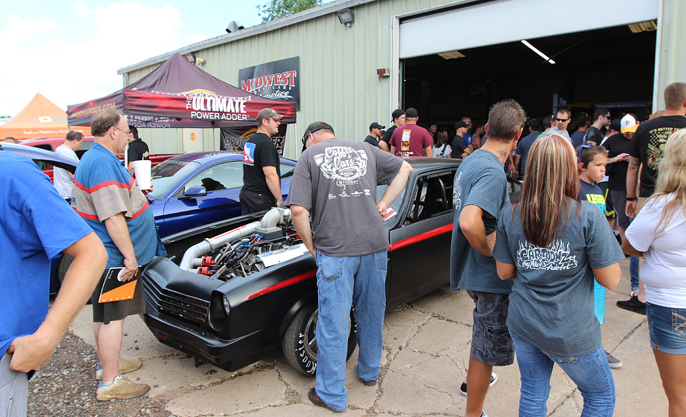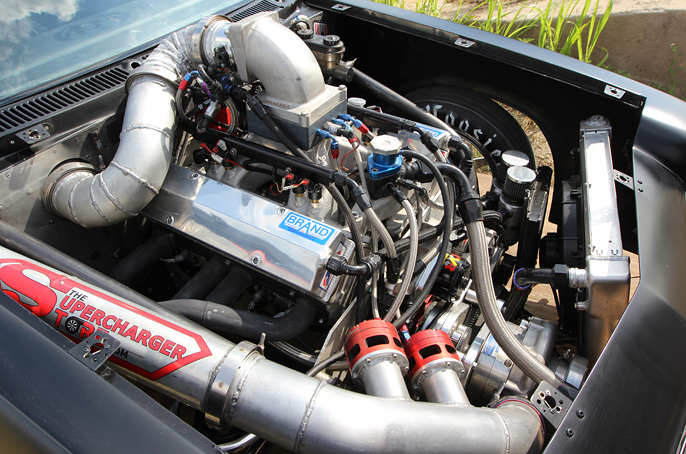 After the Friday dyno night was over, everyone got ready to head to the track the next day. Even though the rain pushed the track event back a couple hours, it didn't stop all of you from coming out to the event and literally filling the pits/stands and track! Thanks to all of you that stopped by the booth and shared your stories with us, we loved it! And to top it all off, the event was won by a ProCharger supercharger powered Fox Body!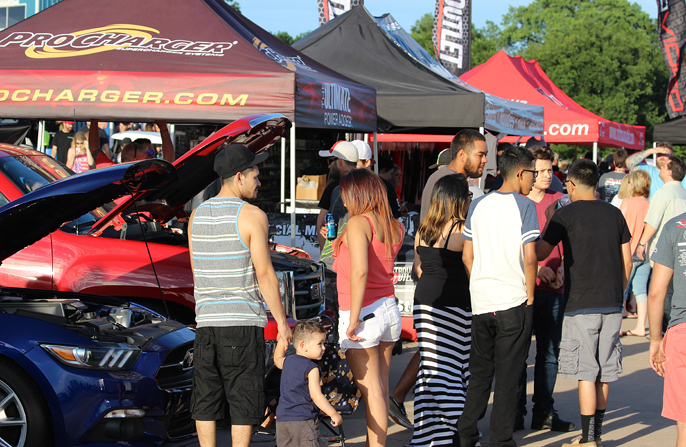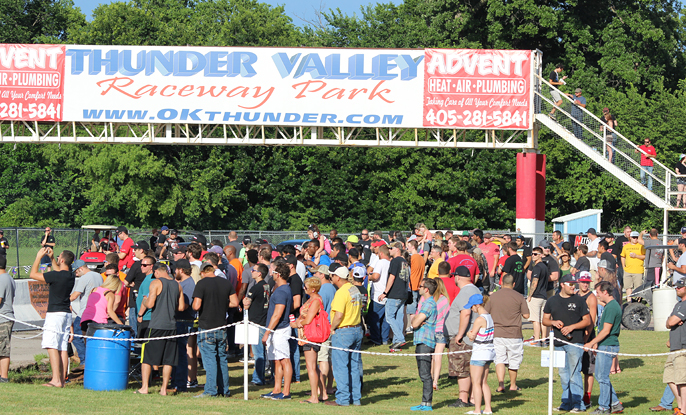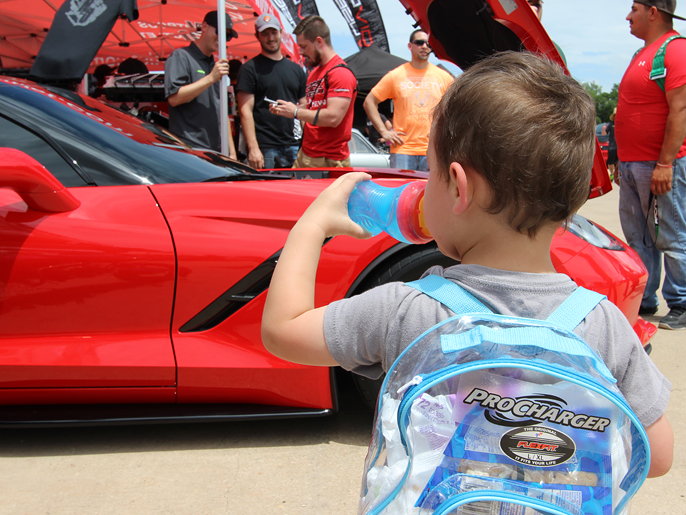 This ProCharged G8 laid down killer times all day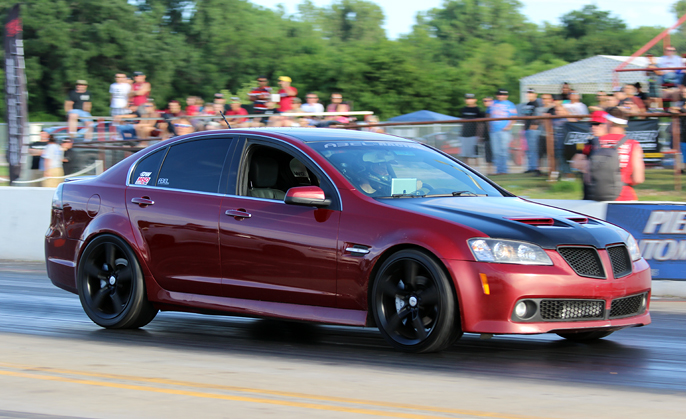 And this 2015 Mustang with its F-1A supercharger ran bottom 10's, almost dipped into the 9's. (talk about a sleeper)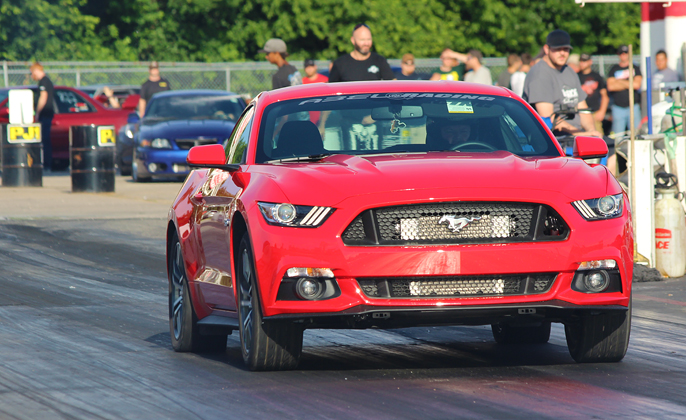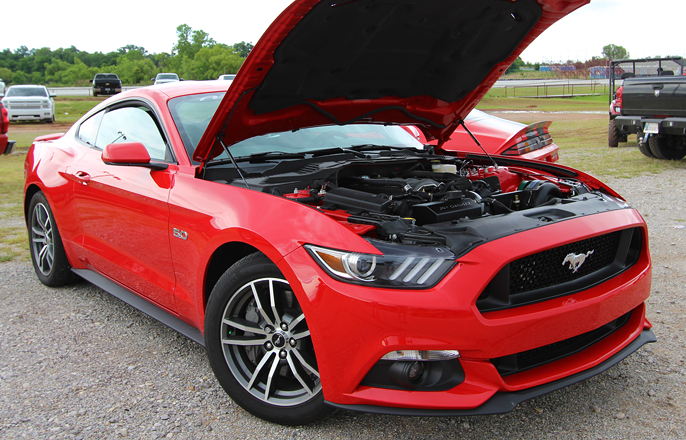 Last but not least by any means, is this killer Red Fox body and its small block Ford that took home the big WIN for the event in the Street Racer Class. Knocking down low 8's all day, one by one it knocked out its competitors to take home the crown!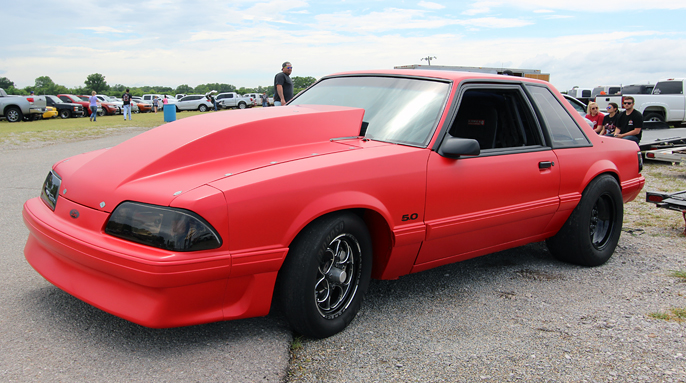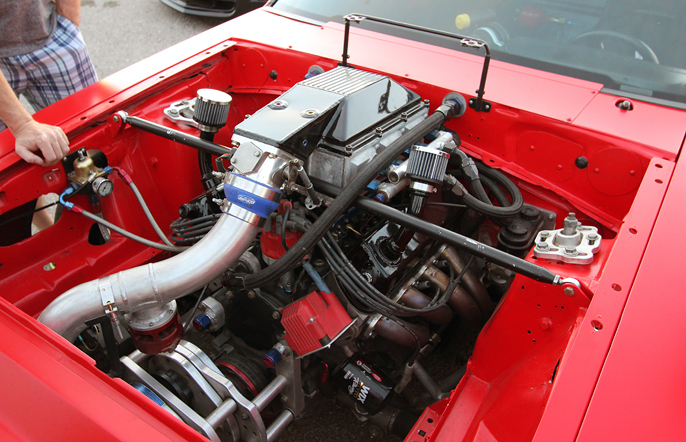 For countless more images of this event PLEASE take a moment and CLICK BELOW: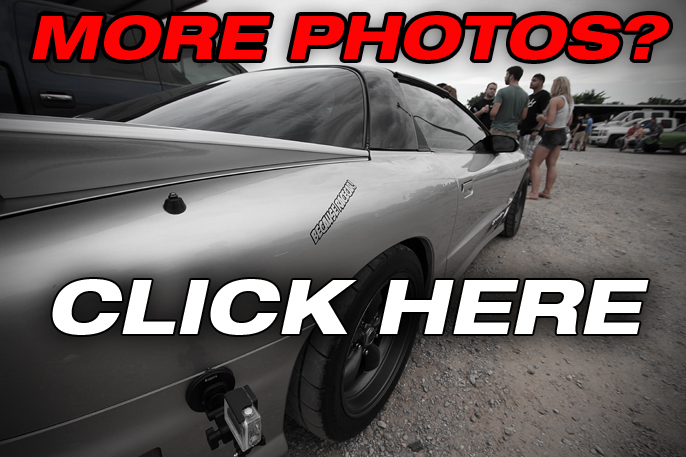 The next stop on our list was not much of a drive at all, since Streetcar Takeover came right here to Kansas City!
Even though Kansas City is world famous for its BBQ, and now the Royals, we have a feeling that high powered streetcars might soon be added to that list, after this weekends crowd.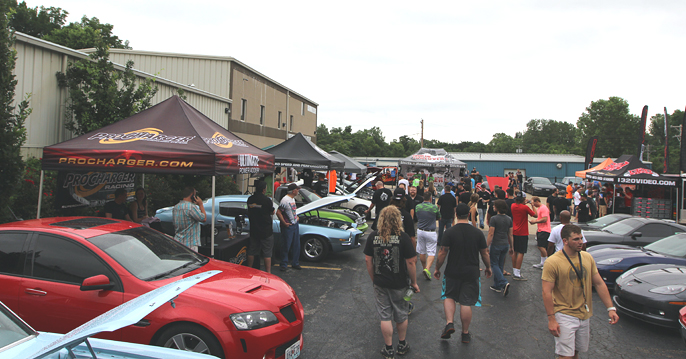 The Friday night dyno event held at The RestoMod Store was jam packed full of people, even in the pouring rain! Yes the true test of a streetcar is who drives it in the pouring rain, shows it off, and even dynos it! From 680rwhp ProCharger Mustangs, to some 600-900hp ProCharger vettes, and even a 800rwhp ProCharger powered Jeep SRT8 the parking lot was packed with ProCharger supercharged power!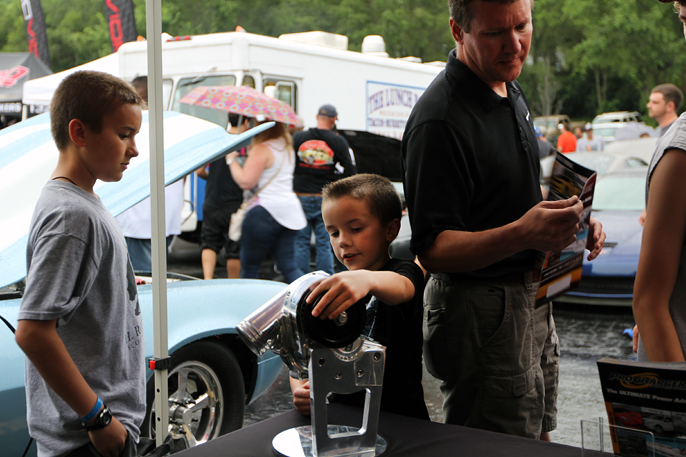 If you haven't seen the video of this Jeep yet, you need to CLICK HERE!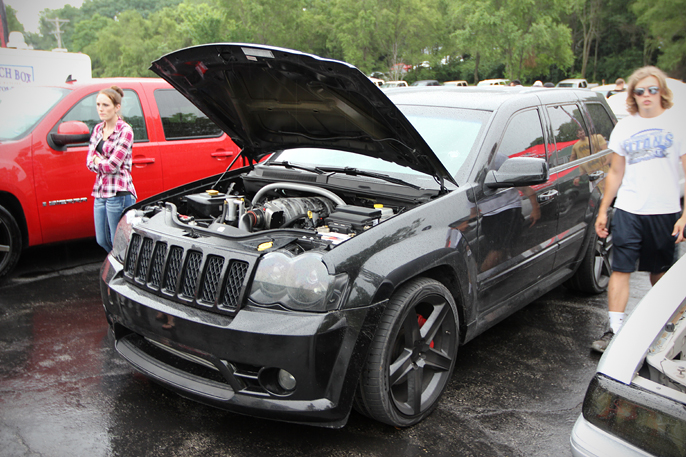 It seemed to be a trend to have a 600+ rwhp Coyote powered Mustang with a ProCharger supercharger at this event.
And three of them happened to be the same color! Good things come in pairs (or triples).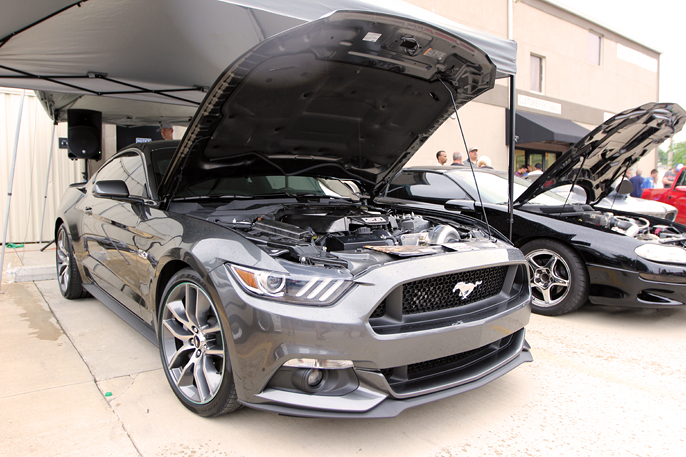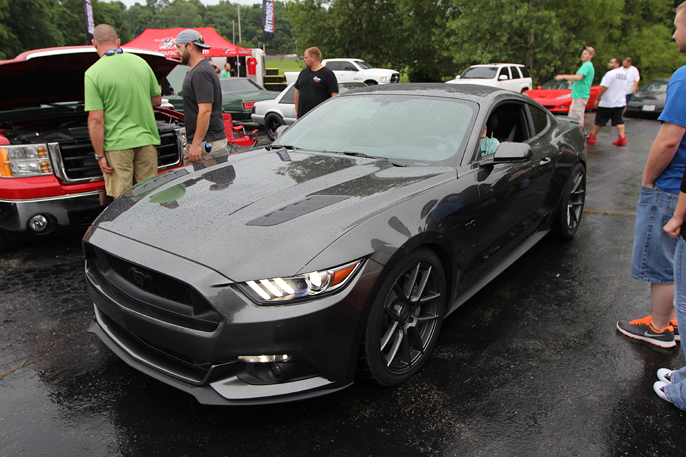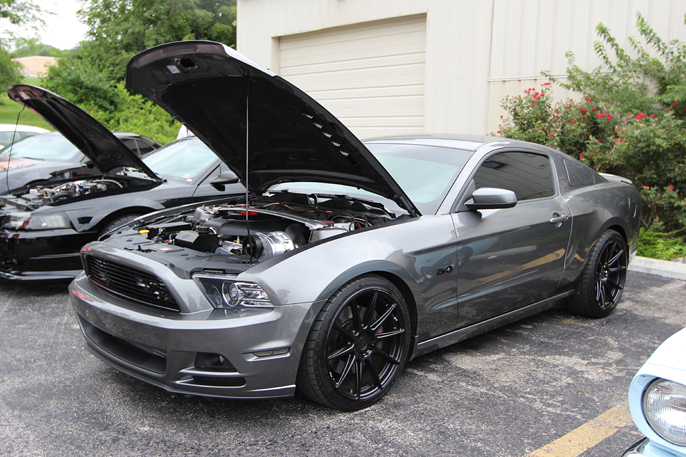 And remember we talked about that nearly 1000rwhp daily driver Vette from the OKC event. Well he made the trip up to KC for this event.
Didn't mind the rain, and spun the rollers on the dyno! #streetcar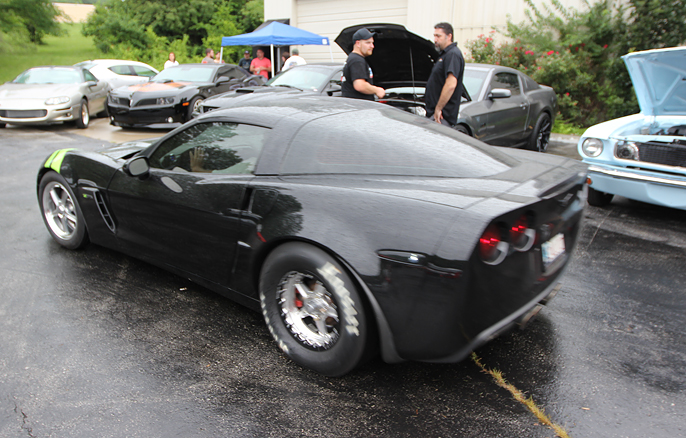 Even though the rain dampened the Friday night activities, the sky opened up on Saturday and created the ultimate place for horsepower. We don't know the exact car count that showed up, but every parking lot for the better part of a half-mile was filled with the baddest streetcars around. Last we heard it was an estimated 3,000 cars over the course of the evening, which we would believe after almost loosing our voices chatting with so many people.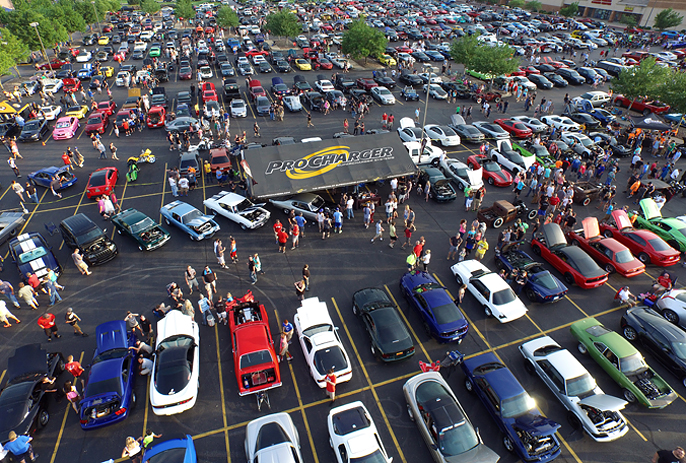 The ProCharger trailer was a hub of chatter all night long, with people swapping racing and build stories all day and night, and checking out the industry's best and broadest supercharger product line. From classics, to full-blown racecars, and even big power Harleys, there was a line of ProCharger powered machines for everyone. One way to perk up the ears of any car guy, is to fire up a 275 drag radial car that runs [email protected]!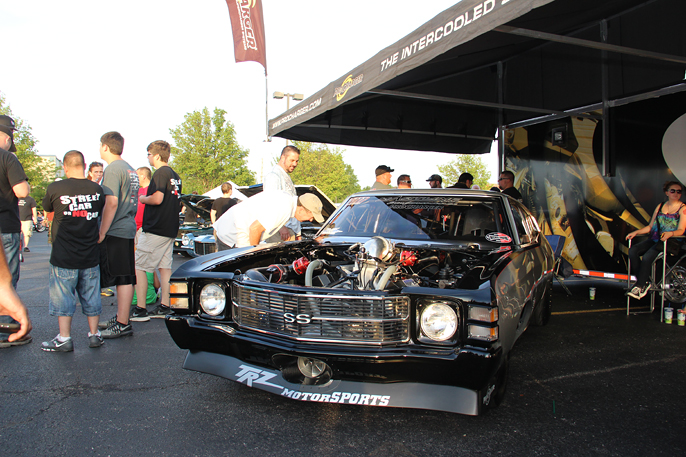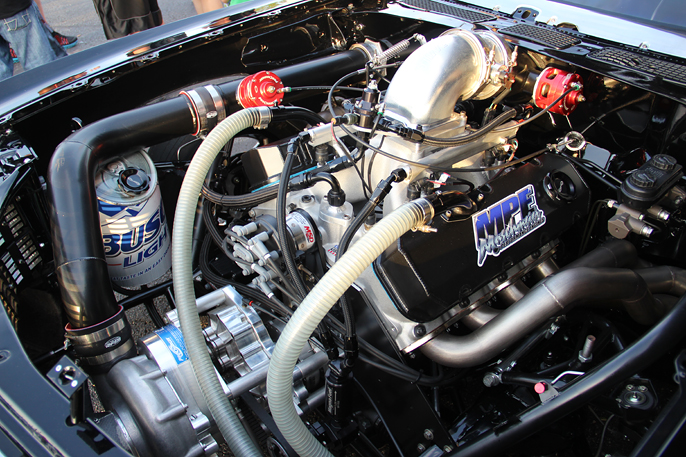 For those that love the classics, how about this trio of high power blow-through cars? Between them, they showed off 2,800 ProCharged HP!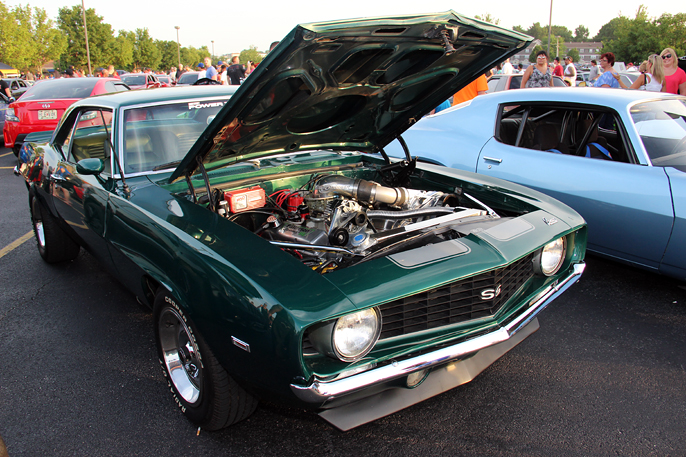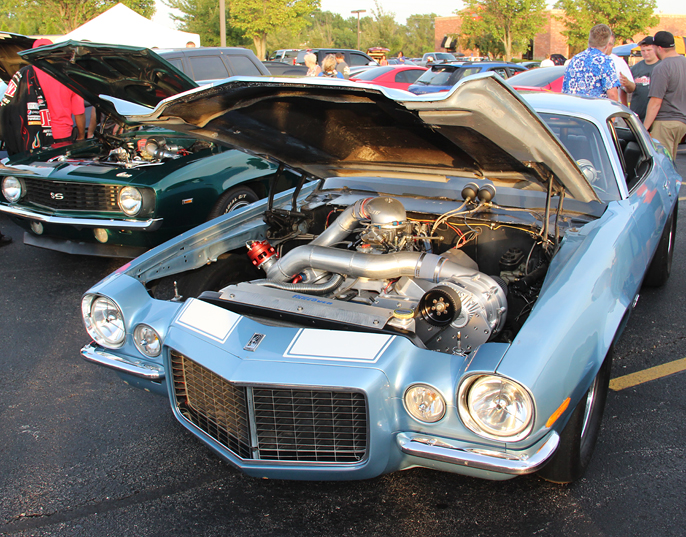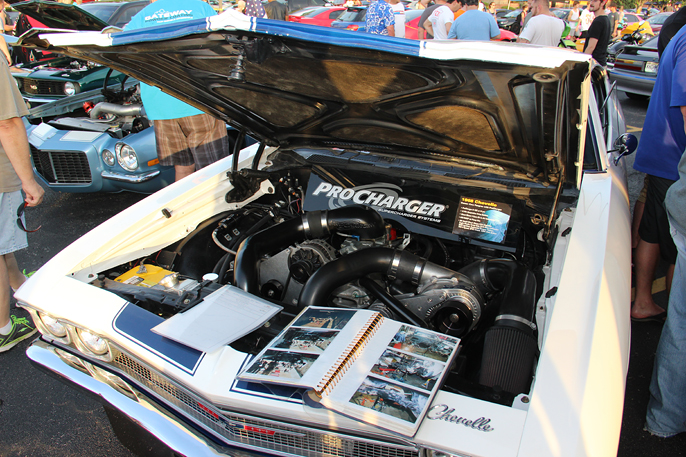 And like all good things, they must come to an end, and due to the amount of people on the property, the law decided to shut down the show early. This video gives a glimpse of just how packed it was even at 10:30 at night.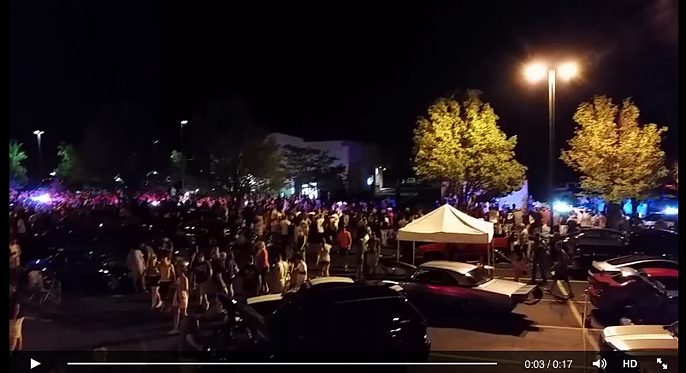 For those of you planning on being in Dallas TX for the event on September 4th-6th
Be sure to put the ProCharger booth on your list to stop by, say hello, and share your car/truck/story with us!

_________________________________________________________________________________________________________________

Speaking of Street Outlaws, we can't give away any details however while they were filming in OKC and here in KC, ProCharger was on set to help cheer on the Black Bird Vega and watch that Small block get the job done with its ProCharger F-2 supercharger. Be sure to tune into on Monday nights, or set that DVR if you don't already, as Street Outlaws gears up for its next season!
**Cell phone sneak shots​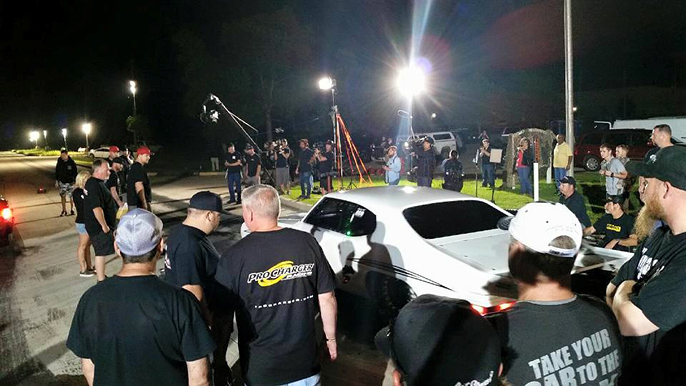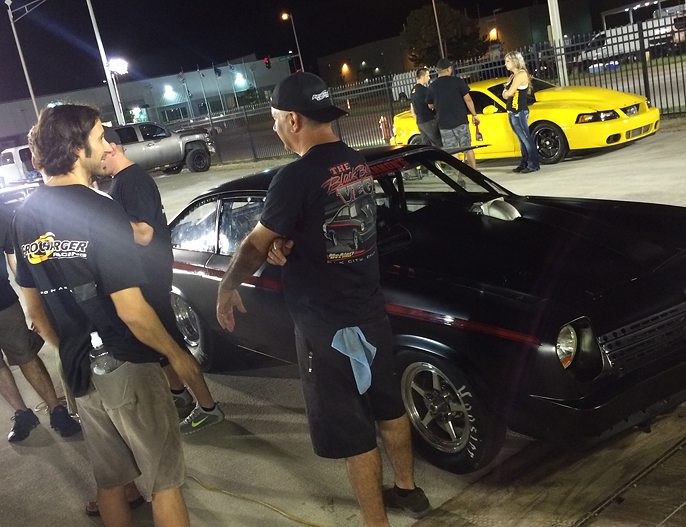 THIS WEEKEND! JULY 30TH-AUG 2ND

Come out and meet the staff from ProCharger this weekend at the 10th Annual Nitto Tire NMRA/NMCA Super Bowl!!
We will be setup in Benjamin Board's pits so look for the ProCharger tent next to the car show in the pits area. Ben is not only the ProCharger Technical Service Manager, but he races a ProCharger F-3 supercharger on his small block Chevrolet in a 2012 Camaro competing in Top Sportsman. There will be some amazing racing this weekend. Don't forget to stop by and meet the staff and discuss any questions about your ProCharger needs!!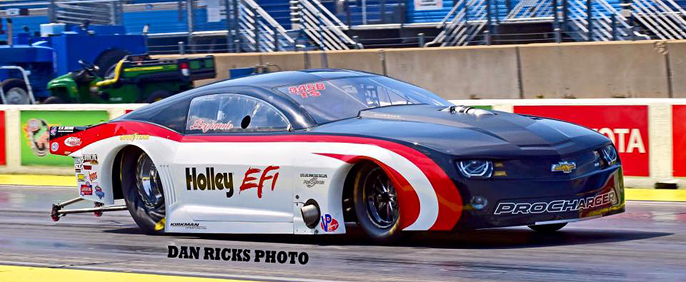 Thanks for reading!
If you have more questions or comments, we want to hear from you.
Please feel free to reach us at [email protected] or 913-338-2886