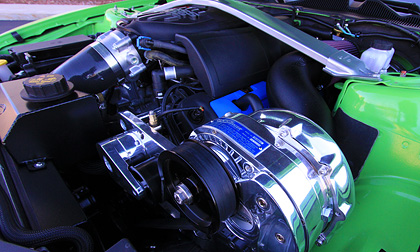 PROCHARGER HELPS BUILD PACKS OF POWERHOUSE COYOTE'S
If your reading this blog we know two things…
1) You love these new coyote engines.
2) You love boost. (ProCharged Boost)

So lets take a moment to dive into some notable powerhouse coyotes from across the country that are packing ProCharger superchargers. Notice we just said "Coyote" and not a specific model year, since obvious this motor is starting to pop up in all sorts of platforms.

LET THE HORSEPOWER BEGIN:

Where to start? How about a 100% stock OEM coyote engine in a 3,800lb street car, laying down 9.20's in the 1/4mile? Bet we have your attention now! Yes Randy Christian and his D-1SC supercharged Mustang is making huge waves on the internet. Not only is the engine 100% OEM stock, with no changes other than the BOSS302 intake, but also still has the stock transmission as well, with only a converter change. Randy enjoys driving this car to work just as much as ripping off low 9 second passes, proving that heavy weight street cars with mild modifications can make a BIG impression at the track. Randy's car works its BMR suspension to the max, trying to hold back all of that ProCharged horsepower.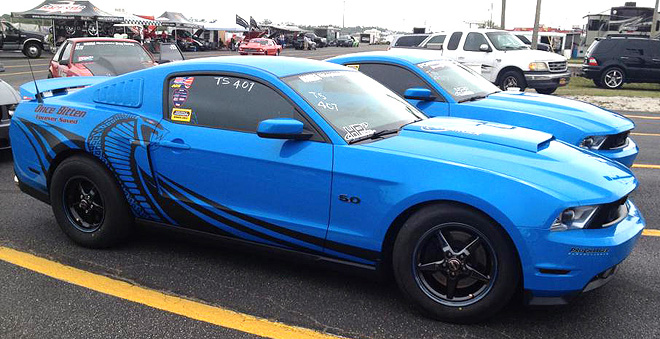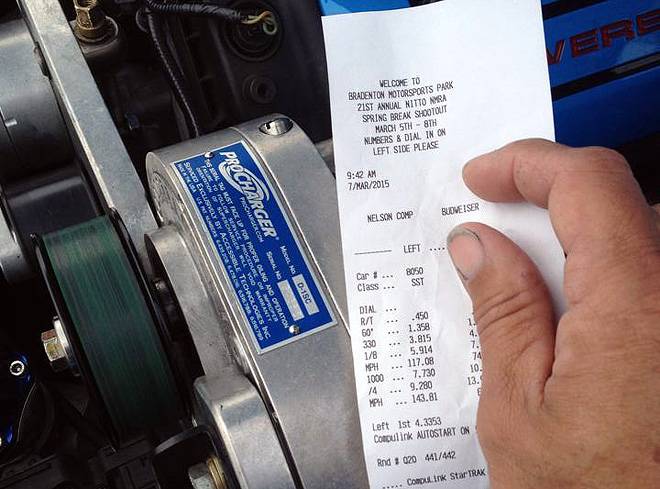 Another car we can't wait to see get better dialed in is the F-1X ProCharger powered machine of Kesatie Motorsports. This car is already making over 840 rwhp through the T400 transmission along with trap speeds of over 158 MPH! If that MPH doesn't get you excited, you might want to check your pulse. This car recently was the #2 qualifier in the Modular Muscle class, and has a lot more room to grow thanks to its Aluminator crate motor, ported heads, and Comp camshafts. We have a feeling this car is going to be one to keep our eyes on. Enjoy some track videos, and dyno videos below.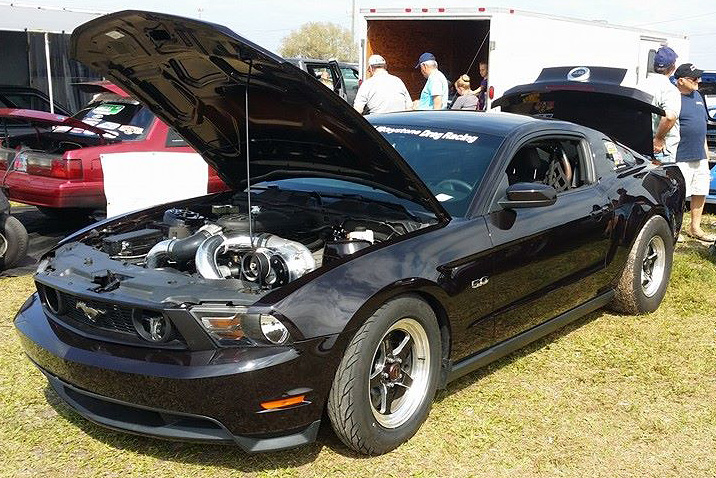 The new 2015 Mustang body style is really hitting the market strong as well as the matching ProCharger HO and Stage 2 systems to go with it. With so many supercharger systems flying out the door for this new body style, we knew it wasn't going to be long before some HUGE power numbers were going to be showing up. One of the 700+ rwhp cars that we featured in this BLOG is starting to hit the track for some shake down passes. The 2015 campaigned by Amazon Tuning Solutions has picked up sponsors such as HPTuners and Gulf Racing Fuels for this 2015 season. The best part about this car is that its running the ProCharger HO system on it. Thats right, this car isn't even running the Stage 2 system yet!
YES, over 700 RWHP on the HO ProCharger system!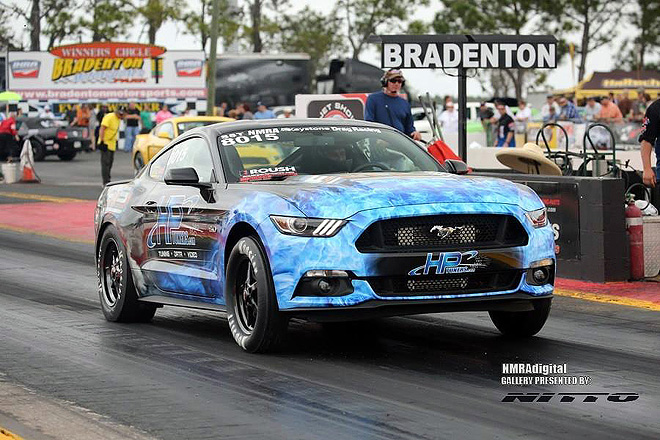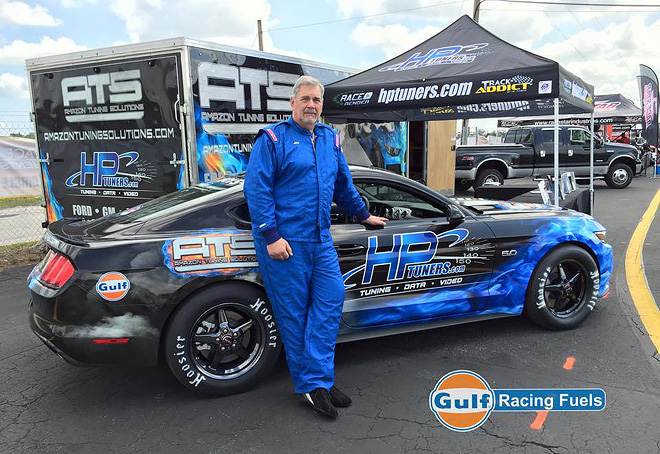 If you were lucky enough to make it to the track for the NMRA season opener, the following Coyote Mustangs surely would have got your attention. Since everyone enjoys a tight race, how about (2) ProCharger cars in the Coyote Modified class having nearly IDENTICAL qualifying times?
Joe Guertin [email protected]
"Dyno" Joe Cram [email protected]
It doesn't get much closer then that folks!
Joe Guertin runs his ProCharger powered Coyote motor in his 1985 LX Coupe to get the job done. This car was prepped by CRE Performance's Chet Caminita (Also Guertin's crew chief). The coupe relies on UPR Products for suspension components, which are responsible for planting the power from a MPR-built (Tim Eichorn) Coyote engine with a ProCharger F-1A supercharger. Behind the built Coyote is a C4 with a PTC torque converter. Cal Hartline from Hartline Performance will be handling the tuning on the car, which will rely on a FAST XFI system. Learn more about this car HERE.
Guertin's Coupe ~ Photo by SVTPerformance.com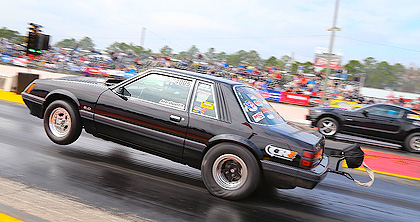 Guertin's Engine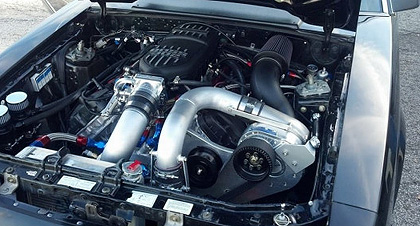 "Dyno" Joe Cram finished last years season in 3rd place for Coyote Modified, however as explained in THIS ARTICLE, is planning on making a BIG impression in 2015. Joe's car uses a ProCharger F-1A to get the job done, with the DeatschWerks fuel injectors and spark handled by a FAST XFI system, and tuning by Cal Hartline. However thats about where the similarities between these two cars stop. The engine build job on DynoJoes car was handled by Holbrook Racing engines. A TH400 transmission is backed by a converter by ATF, and other goodies from EXEDY. Suspension duties are handled by Madman and Company and Team Z.
"Dyno" Joe Cram ~ Photo by SVTPerformance.com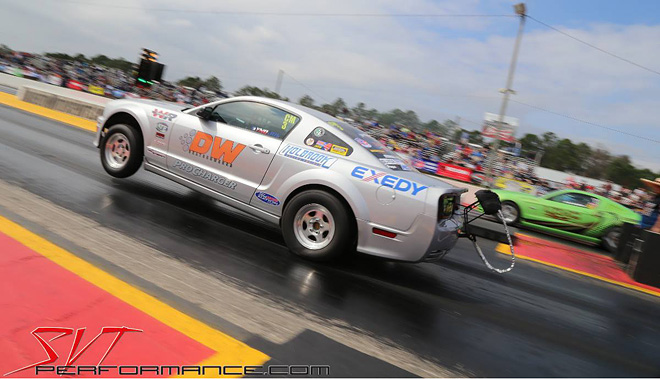 "Dyno" Joe's Engine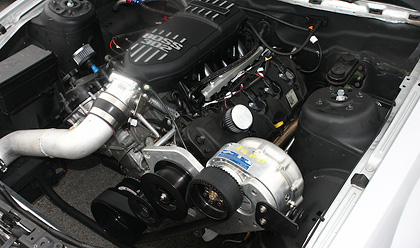 Another 700+ HP 2015 Mustang on the property at this race was that of Blow By Racing. When picking a power adder for their shop car, BBR chose the ProCharger HO system with D-1SC. Combined with a set of headers and a blend of good fuel, this car laid down over 708rwhp on the dyno! This street car is sure to get a LOT of attention, and make sure that BBR shop owner will have a permanent smile on his face.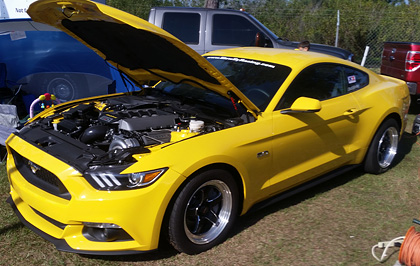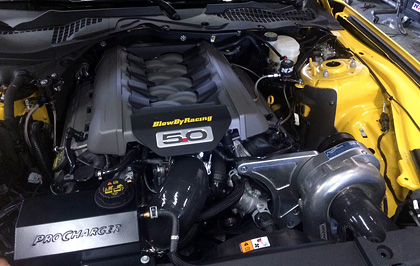 We can't have a blog about Coyote powered cars, and not have one BOSS 302. So here is a great example of a car making BIG power, even through a 4r70w automatic transmission. Blow by Racing was in charge of this build for car owner Clint Bates, to create the ultimate street car for him to drive at home in Oklahoma. With the 4r70w transmission swap also came a bunch of supporting modifications to keep the power planted from the cog driven F-1A supercharger. With only 17 psi of boost, this car is cranking out over 753 rwhp on the dyno through the AUTO! This car is the ultimate example of a 9 second daily driver! To read more about this build follow this LINK to SVTPerformance.com
To round out this blog, lets finish it up with a 2015 car running a mild 10.6 psi of boost and laying down 667 rwhp on 93 octane! This cars owner trusted Evolution Performance to build this amazing daily driver. Combining a ProCharger HO system with D-1SC upgrade, larger injectors, fuel pump booster, and a custom tune by Jon Lund, this car straight delivers! Follow this car on the net, at this link HERE.
Click Here for Dyno Video!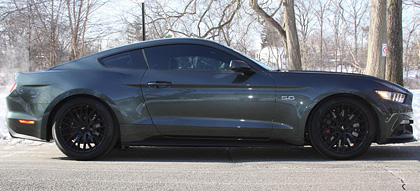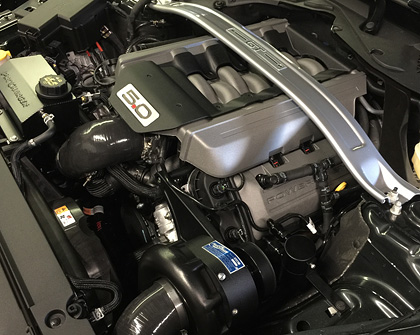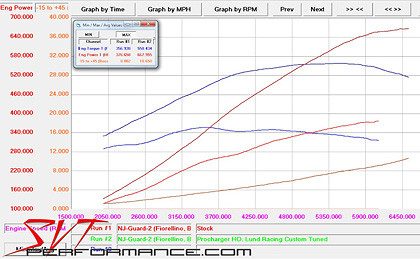 We could go on for days about all the high HP ProCharger supercharged Coyotes running around, however we had to end this blog somewhere. We hope you enjoyed the variety of this blog, and are as excited about boosting these Coyote motors as we are. If you have any questions on how to get your Coyote motor from stock to over 1,000+ HP, just drop us a line at 913-338-2886 or [email protected] Thanks for reading!