PROCHARGER CASH BACK AND REWARDS PROGRAM: EXTENDED AND EXPANDED!
You asked and ProCharger listened—In addition to extending the Cash Back and Rewards Program, we're expanding the offer to include systems and tuner kits for the 2013 HEMIs AND the World's first programmable supercharger, the ProCharger i-1 for 2014-11 Mustang GT's, Boss 302, 2013-10 Camaros, LS3 & Z06 (LS7) Corvettes, and 6.2L Raptors.
Now more than ever, It Pays to Choose ProCharger

This program extension is valid through 12/13/13. Purchase a qualifying auto or truck/SUV ProCharger Intercooled Supercharger System, Tuner Kit or Cog Race Kit and you could get a rebate of up to $500 dollars directly from ProCharger. For any new i-1 system or tuner kit purchase made before 12/13/13, you will receive a free upgrade to the i-1 touchscreen.
This program isn't limited to just a few systems and kits, oh no: we're talking about a huge selection of intercooled systems, tuner and cog race kits, more than 155 total! For a complete listing and to see just how much cash or rewards you can get back, visit http://www.procharger.com/itpaystochooseprocharger.shtml.
For those whose order was placed with ProCharger between 9/16/13–10/31/13, those published deadlines still apply so you can get your rebate checks in a timely fashion. See link below for those rebate forms.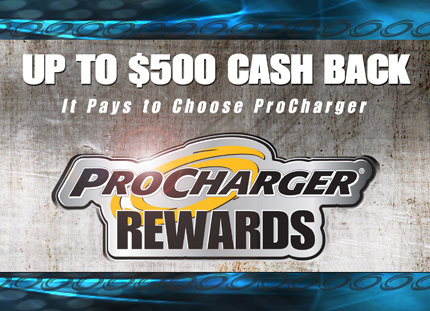 That's all there is to it. If you can handle the extra power of a ProCharger intercooled supercharger and want to take advantage of ProCharger Rewards, there's never been a better time to make the move to The ULTIMATE Power Adder®, ProCharger