PROCHARGER 3RD PARTY KITS POWERING UP POWERSPORTS!
ProCharger Superchargers are continuing to substantially increase power levels in the Powersports market, with many advantages over other types of forced induction and power adders.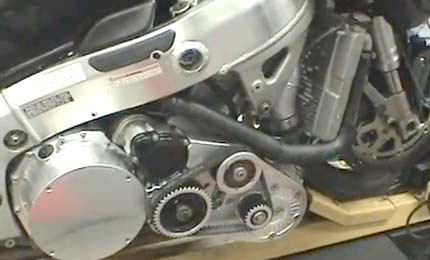 Eric Paquette with DAS Performance recently ran over 30 passes at 8.50 or faster with the best times being 8.26 @ 169 MPH with a slightly tuned 2002 Suzuki Hayabusa. The bike used a basically stock engine, C-1 supercharger making around 16 psi of boost and put down over 300 rear wheel horsepower. In addition, the bike has also been over 200 MPH during the most recent Loring Timing Association land speed event held at Loring, ME!
Back on the dyno for some more tuning and more boost, Eric was able to find even more power – and incredible 414 rear wheel HP to be exact a gain of 249HP (165 stock)! Watch this Procharged Hayabusa on youtube. You can find out more about the DAS Performance Hayabusa offering at www.dasperformance.com
Dave Dunn with Dunn Performance recently ran an incredible 8.38 @ 151MPH with a drag modified Ski-Doo 1200 snowmobile. The sled is based around a lightly modified 1200 engine, B-1 supercharger making around 18 psi of boost and a custom air-to-water intercooler pumping out over 400 crank horsepower! Watch this Procharged SkiDoo on youtube. You can find out more about the Dunn Performance offering for these incredible snowmobiles at www.dunnperformance.com
Street, Strip, Sand, Dirt, Snow, Water and everything in between. ProCharger – The Ultimate Power Adder