PROCHARGED V-TWINS SMASHING LAND SPEED RECORDS
Like their four-wheeled brothers-in-speed, Harley-Davidson V-twin hot rodders have discovered that ProCharger-equipped motorcycles make outstanding two-wheeled land speed record assailants.
In 2009, several motorcycle racers turned to ProCharger intercooled supercharger systems for giving their big V-twin engines the extra power they need to push these massive motorcycles to incredible speeds – far more than they could have every attained without a forced-induction solution.
Dave Boozie built an essentially "naked" bike for owner Eric Ross to take to the Bonneville Salt Flat time trial events.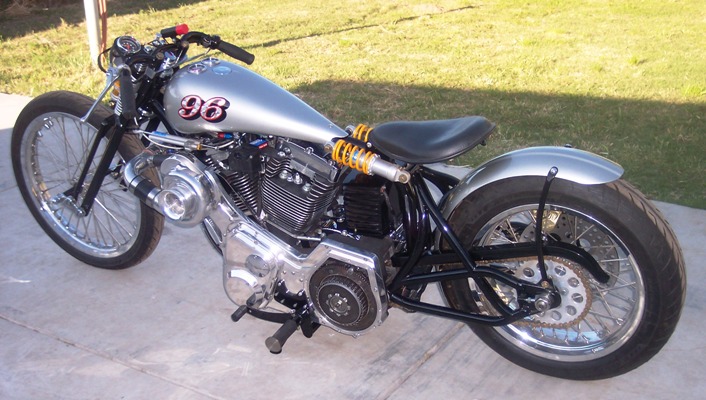 Using a intercooled ProCharger supercharger to add even more power to the 116-cid V-twin, this bike has set the class A-PBG 2000 cc record at a very respectable 151.454 mph. Both the builder and the owner will be looking to push the record even higher at the next event.
Baggers at Bonneville
With more than 30 years experience in high performance Harley-Davidson modifications and racing, TR Reiser is generally considered the first to achieve 200+ HP from a Harley-Davidson engine running on standard octane gasoline. However, in 2009, TR also discovered what ProCharger supercharger technology can add to his quest for more power and speed.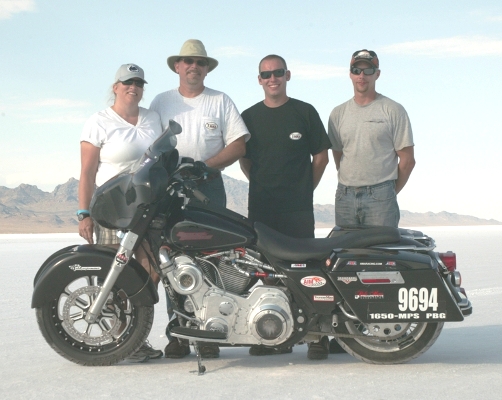 Running a relatively small (by land speed standards) 98-cid engine, the ProCharger-equipped bike makes an incredible 194 rwhp! On the Bonneville's infamous Salt Flats, TR set the 1650-MPS-PBG record at 157.49 mph, which is only 10 mph off the overall "World's Fastest Bagger" record.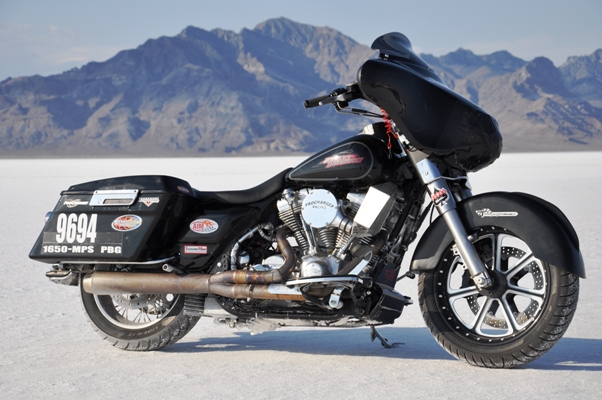 It should be noted, that unlike most of the baggers that run at Bonneville, TR's bike still runs the fork-mounted fairing instead of the more aerodynamic and speed-desirable frame-mounted fairing. Check out TR's web site here.
Maxton Mile Record Shattered by ProCharged Bike, too.
A ProCharger intercooled supercharger system also helped another racer absolutely smash an East Coast Timing Association (ECST) record at a Maxton Mile event. Bradley Everhart rode his ProCharged bike on an incredible 194 mph pass, setting a new record in the 2,000 CC Blown / Gas Altered, Partial Streamliner class.
But Everhart and his South Welcome Racing team weren't satisfied. At the October race, they took the record on up to an incredible 198.914 mph, shattering the previous record by more than 32 mph on their 120-cid, ProCharged V-twin! This bike has made as much as 246 rwhp during chassis setup and tuning.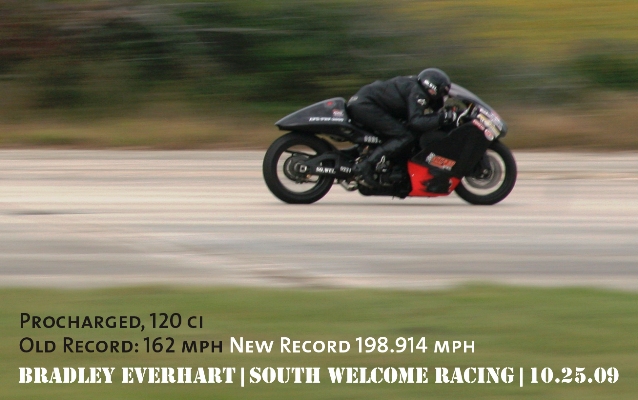 Congratulations to these and other motorcycle racers who have discovered the performance advantages of an intercooled ProCharger supercharger system on their land speed V-twin rockets.
Check out the extensive lineup of V-Twin ProCharger Supercharger Systems here.