ONE FAMILY'S PROCHARGER POWERED TOY BOX!
BOOSTED TOYS;
A TRUCK FOR HIM, A CHEVY II FOR HER
There's one question that magazine editors constantly get asked: "How do I get my car in the magazine?" Magazine guys have that ringing in their ears every night at bedtime. There are many answers to that question, but one sure way to get in a magazine is to work for them. If you build the project cars for most of the editors, that's even better.
That's why it's good to be Jason Scudelleri. Jason runs the Motor Trend Group's (MTG) tech center in Santa Ana, CA, and is the man behind the wrenches and tig welder for many of the project cars that you've seen in the MTG magazines over the years. Jason is also the defacto "project manager" and on-air talent for all of the Week To Wicked video content-based builds. In addition to his fabrication skills, Jason is also a huge ProCharger fan. In the extra time available to him by the closure of a gang of the MTG magazines, Jason has just completed two bitchin' ProCharger-equipped hot rods. You can find both his 1969 Ford F100 and 1963 Chevy II in our gallery section, but we thought you might want to see them in greater detail here.
"Having the power of an LS engine is cool, but nothing compares to the boost of a ProCharger! That's where the real fun starts!" – Jason Scudelleri
---
HIS RIDE — 1969 FORD F100: LS WITH D-1X SUPERCHARGER
RWHP: 1,068
@WEEK2WICKEDJASON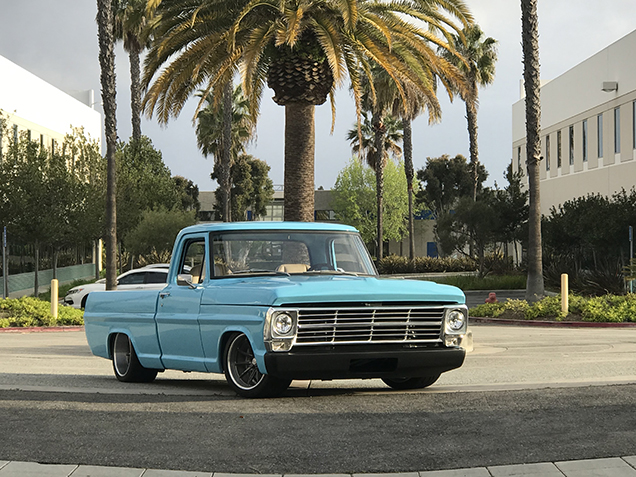 After building a handful of Chevy trucks, Jason had the urge to do a classic Ford meant for hard street driving and the occasional autocross/track day, and he got exactly what he wanted. He found a very clean F100 as a starter and stuck a Fat Man chassis under it to replace the 50-year-old frame and suspension. QA-1 coilovers, a modified panhard bar, Flaming River rack & pinion, a 9-inch with 3.70 gears and big Wilwood brakes hiding in 12×18 Schott 2-piece wheels with Falken 315/35-18 tires round out the chassis details. While the exterior is all Ford, under the hood is Jason's go-to engine, a GM LS crate motor with a ProCharger D-1X with custom-plumbed intercooler that makes over 1,000 hp and 900 lb-ft of torque. The intercooler feeds cold boosted air to a Holley EFI Multi-Port intake. The interior is all from TMI and uses a Holley ProDash.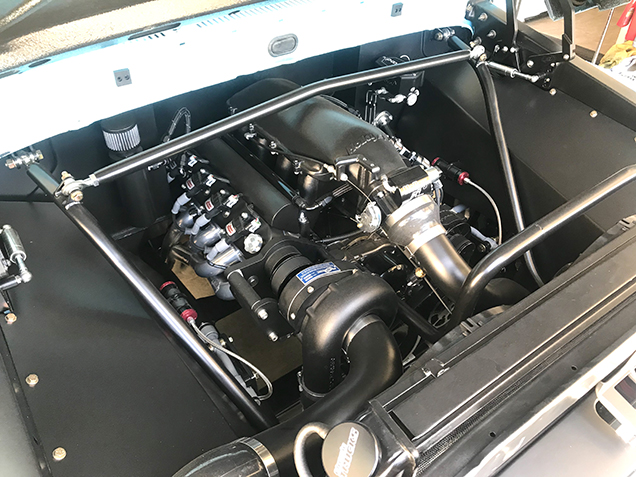 "When I set out to build this truck I wanted something to drive the streets, bring to the track and to be competitive on the autocross and road course. The truck is not only extremely fast, but it's easy to drive and is something I am very proud of."
---
HER RIDE — 1963 CHEVY II: LSX WITH PROCHARGER P-1X
RWHP: 670
@_RANDI_SCUDELLARI_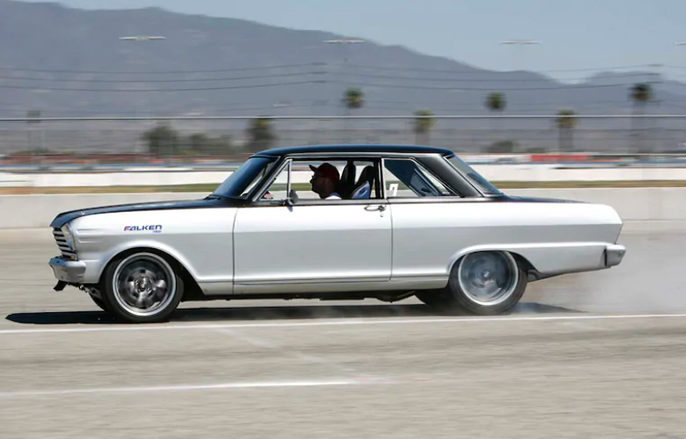 Randi Scudelleri cruises to the grocery store in Huntington Beach, CA in this badass commuter with 670hp under her right foot. As the feature on HotRod.com (HERE) said, "It started as most projects do, a simple to-do list of some bodywork, paint, and a mild 350 engine. And then everything changed. The mild got mean and this little '63 Chevy II Nova was soon on the fast track to Pro Touring, supercharged, LS madness."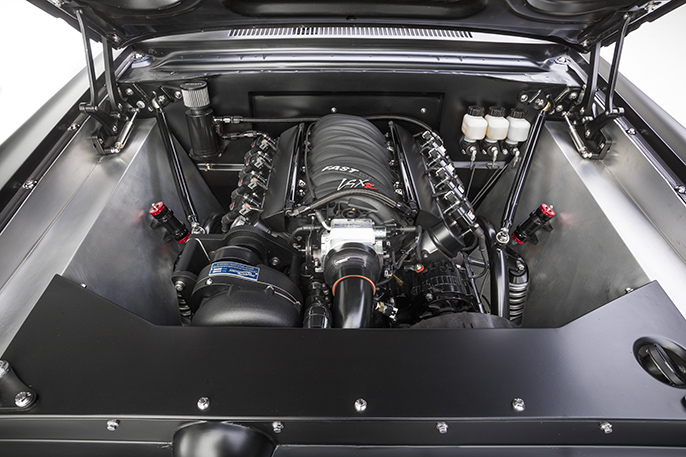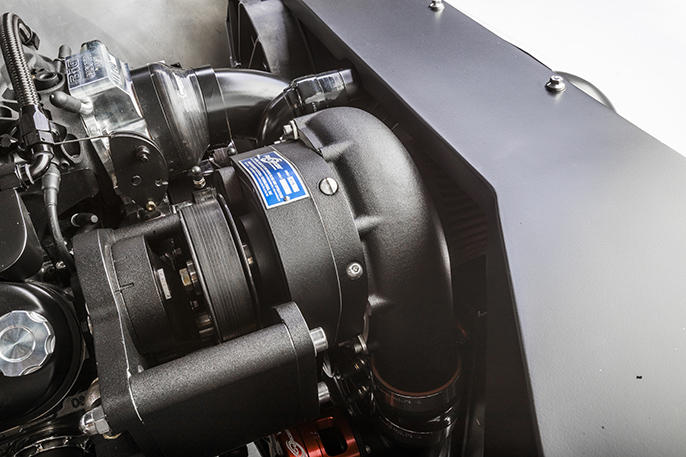 "I was trying to build a simple cruiser.It was my wife's dream car."
After Superstition Restoration (Arizona) got done with the body work with new Golden Star Auto sheetmetal, underneath went a Schwartz G Machine chassis with QA-1 coilovers, at which point he said, "Once the Schwartz chassis was underneath, I said to myself, 'I gotta make this car badass.' That's kind of where everything snowballed." We've all been there, some of us several times. With American Legend wheels and 295/275 Falken Azenis tires, and most importantly a GM LSX376-B8 crate motor with a ProCharger P-1X making 8.5psi boost and 670hp to the tires, it storms on the street and autocross.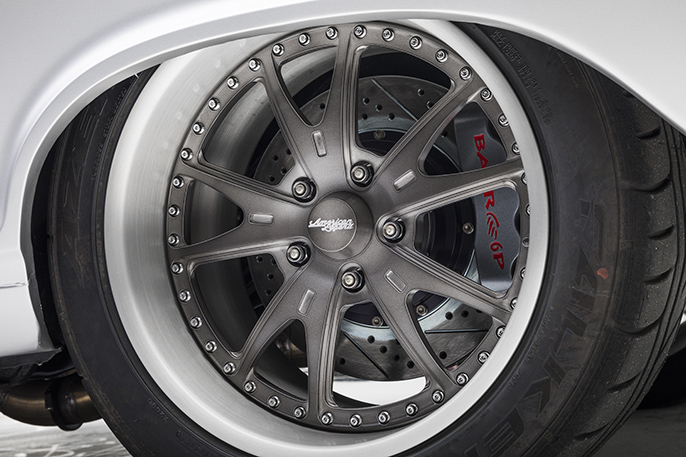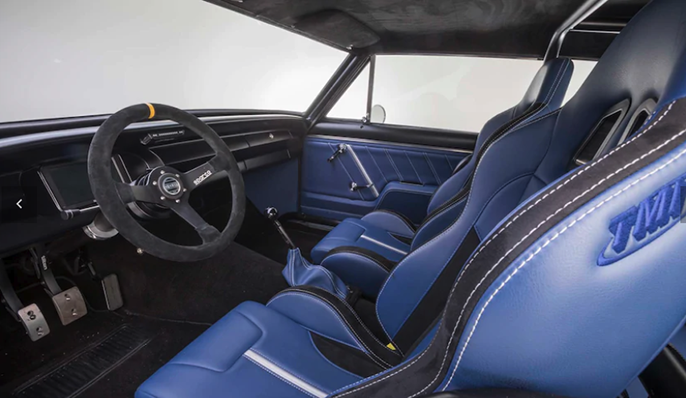 Like the truck, the Nova has a TMI interior with a Holley EFI digital dash.
---
PROCHARGER AND WEEK TO WICKED
Like we said earilier, Jason is the primary wrench-turner for the Motor Trend Group's Week to Wicked video content series. Most of the automotive magazines (now out of print) have been involved with their own W2W projecrts, from Hot Rod to the Mustang Group, truck group, Street Rodder group, Super Chevy, etc. Those were all online-based video series where a vehicle was built Overhaulin' style in five days. In reality, the body and paint was done long before the 5-day build week, but the hard parts were reserved for the week. It was all done in the Tech Center that Jason manages, and he's an incredible builder and fabricator, so the diry work was his job.

We're proud to announce that the next Week To Wicked build will have ProCharger as a sponsor. The build will be a 1967 Nova with an LS and we'll be suppliing the supercharger and help with installation and tuning. This is all set to happen sometime in July.
---
WE HAVE LS TRANSPLANT KITS TOO!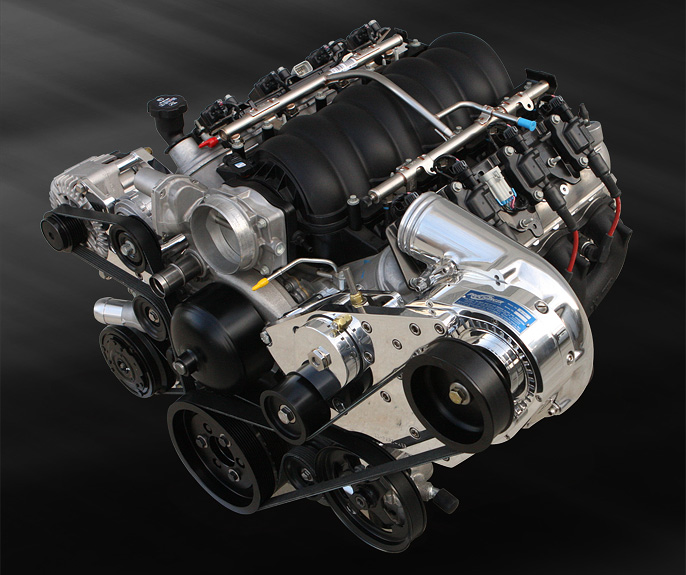 When it comes to adding big, reliable power to your classic Chevrolet-powered muscle car, truck, or what have you, no other aftermarket supercharger manufacturer even comes close to ProCharger's offerings for these horsepower hungry owners. Designed for the popular LS Transplant applications, ProCharger's LS Transplant Serpentine and Cog Drive Supercharger Kits provide a solid, stable mounting and drive configuration for a wide range of ProCharger supercharger models. Building on years of LS forced induction leadership, ProCharger is the first to offer a complete supercharger kit for use on modern EFI LS Transplant engines being transplanted into various vehicles. A properly-spec'd LS Transplant engine and ProCharger F-2 supercharger can support 1,600+ horsepower! Jason used reverse rotation headunits with C6 brackets in both of his hot rods; One of the many great things about ProCharger is that we offer multiple varieties of brackets to accommodate any fitment with a custom LS application. For more info click HERE
---
GOT A PROJECT THAT NEEDS THE PROCHARGER TOUCH?
Give our sales staff a call or email us at the following contact methods below. Or you can click HERE to find a dealer nearby to help out with your Camaro. We will be happy to assist you with any technical questions about supercharger systems and the results you can expect.
Phone – (913) 338-2886
Mon – Fri 8am – 5:30pm CST
Sales Email – [email protected]
Tech Email – [email protected]
Sign up for our email newsletter HERE