NOW SHIPPING! 2014 GM TRUCK/SUV KITS, C7 CORVETTE SYSTEMS
We all love our trucks–there is no denying that, but what we love even more is modifying them. At ATI ProCharger we are proud to announce the release of our 2014 GM truck and SUV systems for 5.3L LT1 based vehicles. (6.2L Coming Soon) So whether your building a weekend toy, need some extra torque for "passing power" when towing, or simply trying to get back some of that power you lost after adding big wheels or a lift kit, WE HAVE YOUR SOLUTION.
(Click for Wallpaper)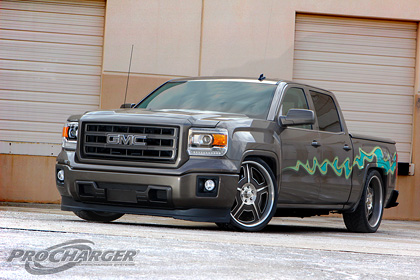 The ProCharger P-1SC-1 Intercooled Supercharger System will have you bolting on over 120+ horsepower in a matter of hours. That's right, just a few hours. This supercharger system is by far the EASIEST installation of any supercharger for this platform. Simply bolt on the main bracket and head unit, bolt up the intercooler, add the tubing, load the tune and your done. It really is that simple to bolt on an additional 120+ horsepower increase … an increase that you can feel EVERY time you push your foot down on the gas.
(Click for Larger Image)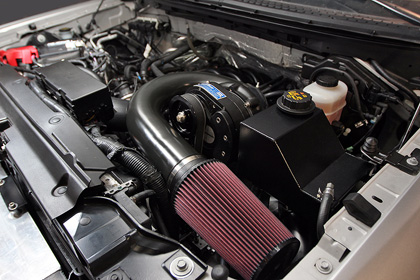 Thanks to the highly efficient P-1SC-1 head unit and air-to-air intercooler, many owners have reported slight gains in MPG's while using their trucks in normal day-to-day operations, and there is nothing wrong with that. Both the complete system and the tuner kit can be purchased with multiple inlets, black/satin/polished head units, standard or quiet gear sets, plus more, so please contact your dealer for more details, or reach us directly at (913) 338-2886.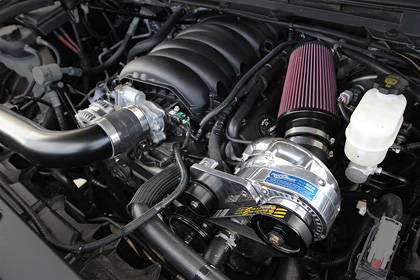 On a related note, Intercooled ProCharger systems for 2014 C7 Corvette Stingrays are now shipping as well.