NEW RECORDS, NEW PRODUCTS, NEW MODEL YEARS! PROCHARGER CORVETTES TAKEOVER!
WHAT IS THE DEFINITION OF A "TAKEOVER"?
The word takeover is defined as a noun meaning: "an act of assuming control of something", which seems fitting for ProCharger supercharged Corvettes, since customers have "controlled" every single C7 record for 5 years straight!!! That being said, this blog is to update everyone on the new record, new products, and new systems. If you love these new C7 Corvettes as much as we do, then keep reading!
---
THE NEW RECORD IS SET…IN A 7 SECOND CONVERTIBLE!
It's not every day you hear about a record being set. And, its 100% not every day that the record gets set with a 3,700lb convertible! Yes, the guys at Advanced Modern Performance have taken this heavy weight C7 Corvette Z06 drop top and placed it on top of the world. This is the fastest boost-only C7 Corvette in the WORLD! Before we talk anymore about this amazing machine, check out this video below.
Now that you have seen it in action, let's talk more about what AMP did to make this a record setting ride. This car is what they refer to as a "5X Package" which means it's got all the bells and whistles and rocks a ProCharger F-1X supercharger as its source of airflow. The engine is a 400″ LT-4 based motor built by the guys at LME, and backed by a powerglide transmission. The massive amount of CFM the F-1X supercharger creates is chilled down by a custom intercooler system from AMP built just for this package. Fuel being used is "pump" E85 from the gas station while being injected into the engine from a Holley ECU from Crawford racing.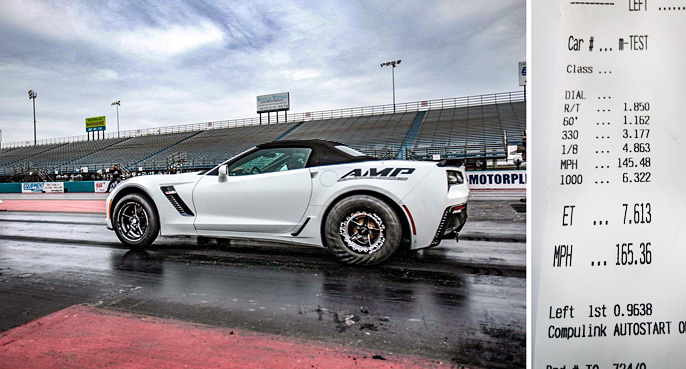 With a 7-second time slip, you would expect the underhood to be very exotic looking. However, what you find here is every creature comfort still intact from GM. This drop top still rocks the sat-nav, A/C, P/S and everything we love about these Z06's. Oh, and they ran 7-second passes with the air filter still on the blower just as its driven on the streets! And one last thing before we go, this car has been 177 mph in the 1/4 before…so to say there is more left in her, is an understatement.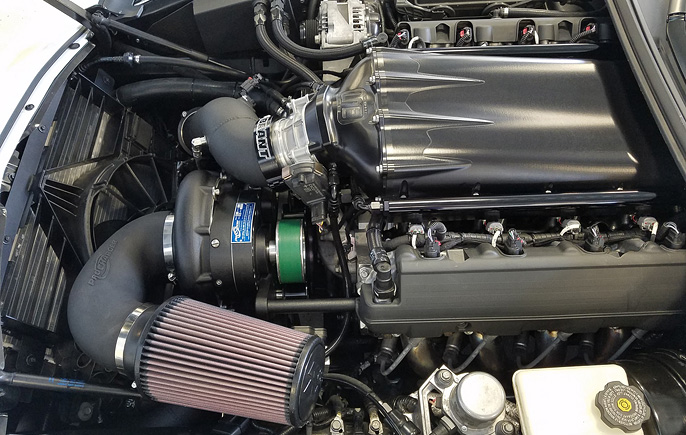 ---
BIGGER INTERCOOLERS FOR HIGH HP CORVETTE C7 LT-1 AND LT-4 OWNERS:
Just like our intake manifolds now available with fuel rails to support massive power levels, we took this intercooler system up a notch as well. The Pro Race air to water intercooler system is designed for the hardcore racer in mind for both drag racing and 1/2 mile racing.
– Dedicated trunk mounted Ice/Water tank
– Stewart Intercooler Pump with 1″ lines
– Massive 517 cubic inch intercooler core
– All charge tubing, mounting hardware, and lines included.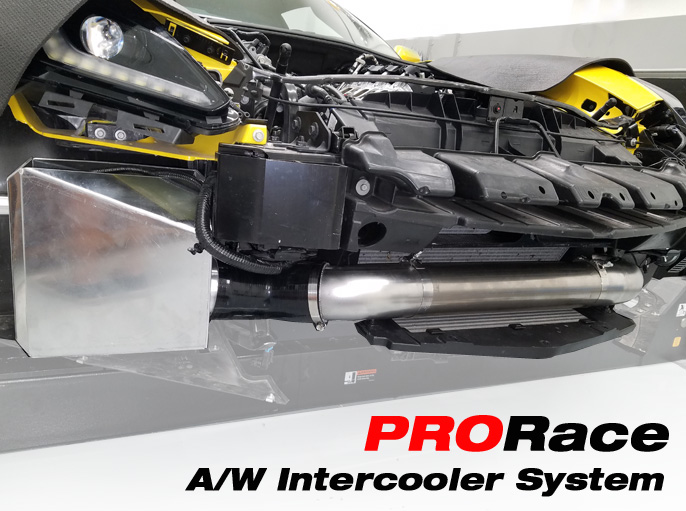 ---
10 RIB DRIVE SYSTEMS FOR BOTH C7 AND C6 CUSTOMERS!
When making big HP you need a drive belt that is up to the task. Just like these record holding monsters talked about above, now both our C6 and C7 systems can be outfitted with a 10 rib belt drive option. This means more grip, more power, more fun!
Corvette C7 LT-1 and LT-4 shown below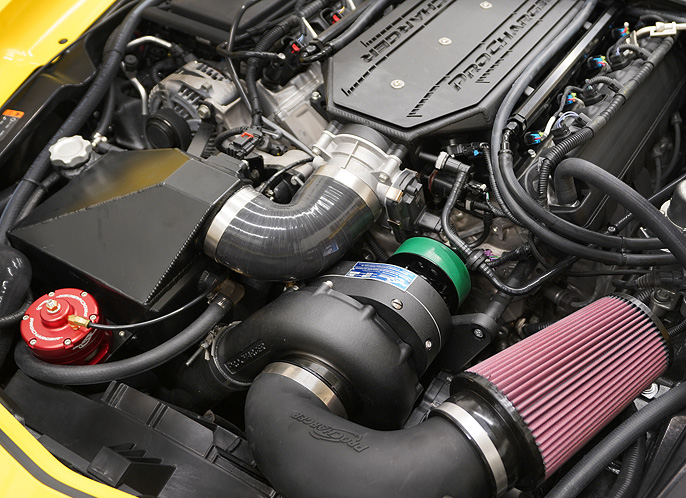 Corvette LS2 and LS3 shown below.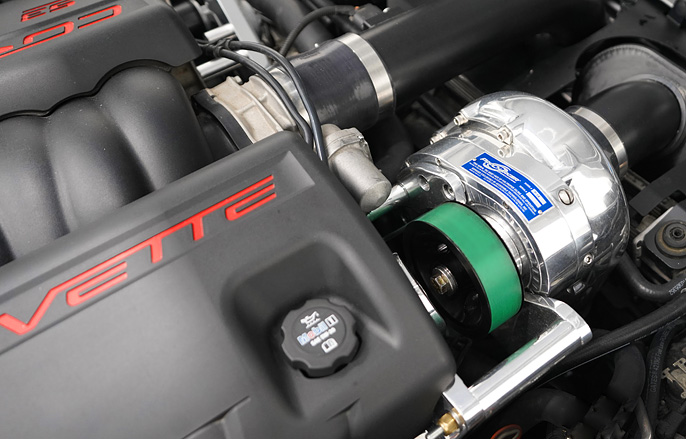 ---
OVERDRIVE CRANK PULLEYS FOR C7 LT-1 AND LT-4 OWNERS:
To support even more HP we now have an optional 10 rib drive system for customers wanting to maximize their F-1A-94 or F-1X supercharger combos. These pullies come standard with 10 ribs, however customers with 8 rib belts can also enjoy them.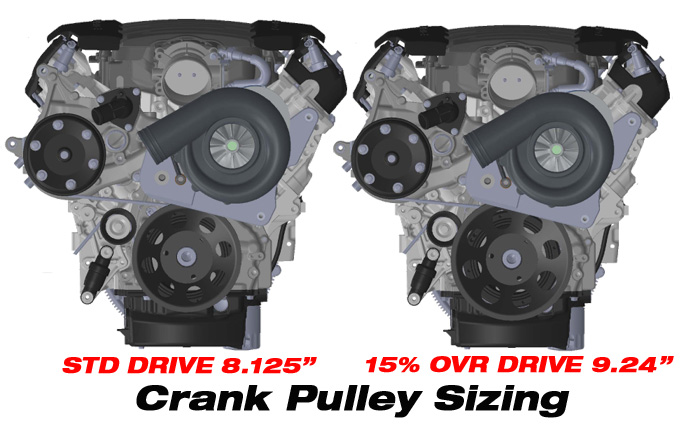 ---
GOT A C7 CORVETTE THAT NEEDS MORE FUEL?
If you have hit the limits of your Corvette C7's factory direct injection system, and are looking to add port injectors. Please click on the image below, to see more about our billet aluminum intake manifold, now available with injector bungs!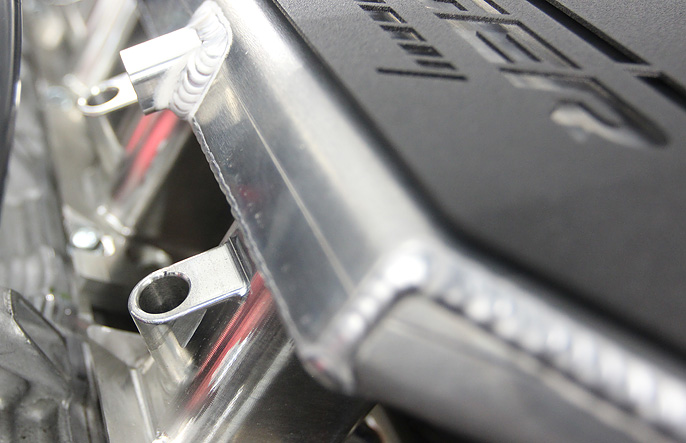 ---
NEW SYSTEMS FOR THE 2019 C7 LT-1 SINGRAY AND LT-4 Z06!
ProCharger is happy to announce that we are shipping FULL SYSTEMS for 2019 Stingray and Grandsport Corvette C7's. These systems can come complete with ECU tuning, or be ordered as a tuner kit that is ready for your installer to spec the boost and provide custom tuning. (Z06 kits are tuner kits only, due to the variety of HP levels and combinations please see your dealer for details)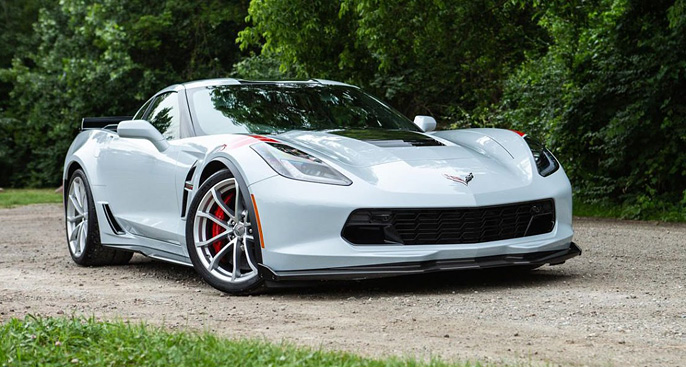 These 2019 systems feature all of the options that have made this C7 supercharger system so amazing for years.
– Head units ranging from P-1SC-1 to the F-1X
– 3 Intercooler System options (Air-to-Air for street needs, Competition Air-to-Water, and new Pro Race Air-to-Water)
– 3 Inlet Systems
– Intake manifold for additional fueling or methanol installation
– 8 rib or 10 rib drive systems.
---
READY TO SET YOUR OWN CORVETTE RECORD?
Give our sales staff a call or an email at the following contact methods below. We will be happy to assist you with any technical questions you may have about our systems, and the results you can expect. Thanks for reading!
Phone – (913) 338-2886 M-F 8:30am – 5:30pm CST
Sales Email – [email protected]
Tech Email – [email protected]