LS SERPENTINE ACCESSORY DRIVE KIT
INSTALL NOW, SUPERCHARGE LATER
The ProCharger Accessory Drive Kit offers the sleek design style you expect from ProCharger, and a unique supercharger bracket design that offers you the convenience of adding the supercharger kit when you are ready. Specifically designed for Chevy LS engines, this kit includes everything you'll need to fit the accessories you want. The design features our popular 8-rib or 10-rib pulleys that increase grip, reduce stretching and prevent belt slippage when compared to the traditional six rib designs.
ORDER JUST WHAT YOU NEED
The ProCharger Accessory Drive is flexible and expandable, which allows you to select the combination of accessories you want to use.
The base kit includes:
– Water Pump (LS only)
– Water Pump Pulley
– Crank Pulley
– Alternator Bracket & Pulley
– Serpentine Belt & Tensioner
Or you can upgrade to include the following:
– Power Steering Bracket & Pulley
– A/C Bracket and Pulley Cover
– Supercharger Head Unit P-1SC thru F-2
– Intercooler / Bypass Valve / Tubing
– Supercharger Bracket, Tensioner, & Belt
– Finish Options: Satin (standard), Black, Polished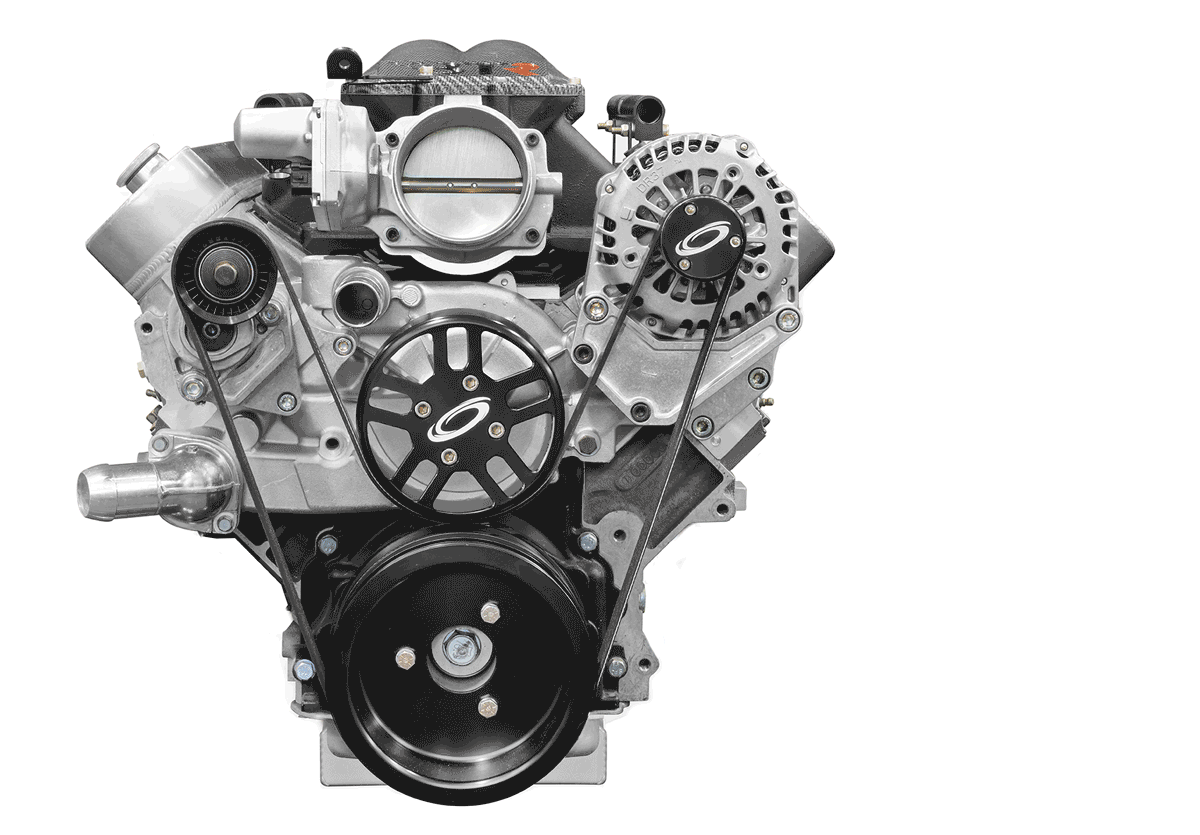 ROBUST, SLEEK DESIGN
This sleek design functions as good as it looks. For more details on the amazing compact fitment and robust design features, visit the ProCharger GM Accessory Drive Kit webpage.
Dimensions
Getting the configuration you need often begins with planning your underhood layout. Choose from one of many, versatile layouts to ensure it works for your setup:
Standard Mount – The supercharger bracket has a lower profile and is tucked in closer to the engine. Ideal for typical installations.
High Mount – For people who may have aftermarket suspension components or frame clearance issues that would otherwise interfere with the standard mount.
F-1X/F-2 Mount – Similar to the standard mount, the bracket positions the supercharger close to the engine. It's ideal for people choosing to use a F-1X or F-2 supercharger.
Accessory Drive Only, Choose the Accessories You Need – Do you need A/C? Power steering pump? These dimensions show you the layout for using the accessory drive without the supercharger bracket for a naturally-aspirated installation. Choose the schematic with the accessories you need – water pump, A/C, and/or power steering pump.
LS ACCESSORY DRIVE, STANDARD MOUNT SUPERCHARGER BRACKET (CLICK TO ENLARGE)
LS ACCESSORY DRIVE, HIGH MOUNT SUPERCHARGER BRACKET (CLICK TO ENLARGE)
LS ACCESSORY DRIVE WITH F1X / F2 SUPERCHARGER BRACKET (CLICK TO ENLARGE)
LS ACCESSORY DRIVE NATURALLY ASPIRATED (N/A), ALL ACCESSORIES (CLICK TO ENLARGE)
LS ACCESSORY DRIVE NATURALLY ASPIRATED (N/A), WITH POWER STEERING, WITHOUT A/C (CLICK TO ENLARGE)
LS ACCESSORY DRIVE NATURALLY ASPIRATED (N/A), WITHOUT A/C, WITHOUT POWER STEERING (CLICK TO ENLARGE)
ACCESSORIES NEEDED
Sanden SD-7B10 A/C compressor 6-rib drive
2007-2013 GM Truck Alternator, GM p/n 20881337 (or equivalent)
GM Type 2 Power Steering pump Tuff Stuff 6175AL (or equivalent) reservoir p/n 6175ARES, remote reservoir required for supercharged applications
Water pump supplied
ADDITIONAL NOTES
Pinning crank pulley is recommended
Accessory Pulleys included
Can be ordered without A/C
Can be ordered without power steering
Not available for LS7
Not tall deck compatible
Not compatible with VVT
FIND A DEALER NEAR YOU
Looking to make a purchase or a shop to install? We have a large group of dealers ready to serve you with your ProCharger needs. Click below to find a dealer near you!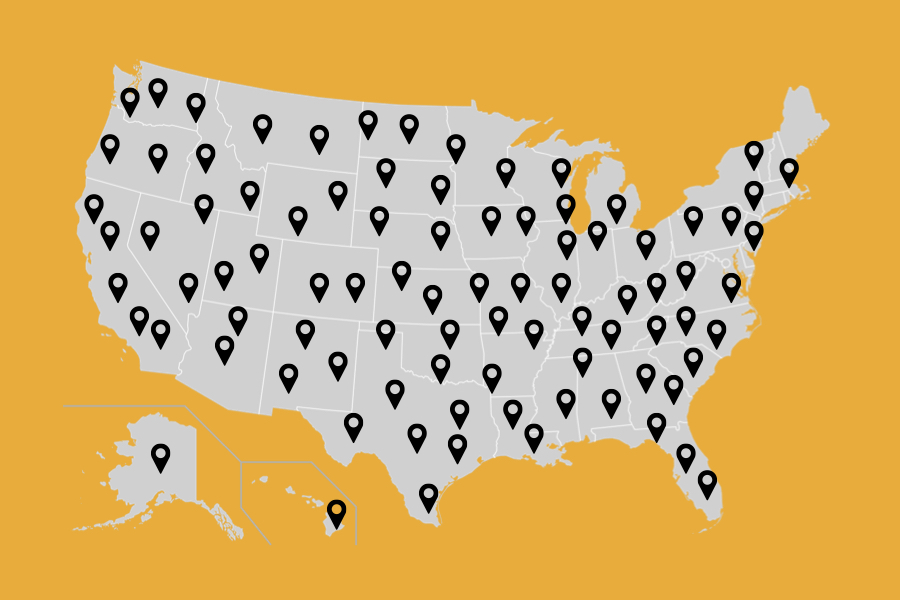 BUILD & PRICE
Kits starting at $2,299. Pricing on these units vary by configuration. Configure your purchase now.
New pricing becomes effective 4/28/23. Order now!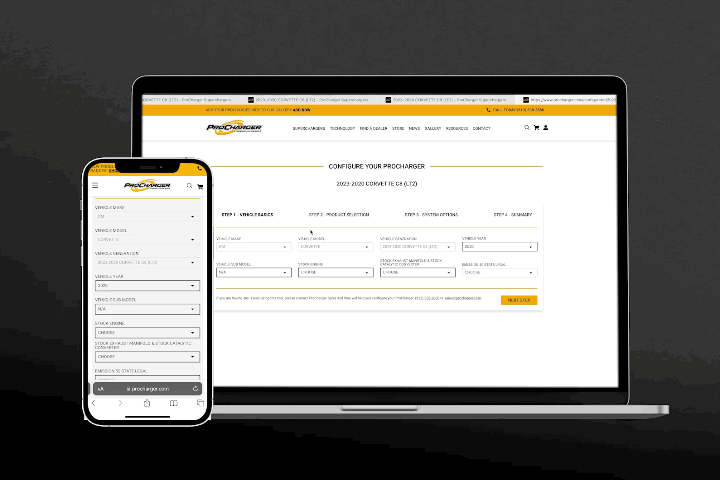 SPEAK TO AN EXPERT
Click to call our sales staff or email us if you need any help. We will be happy to assist you with any questions you may have.
Mon – Fri 8am – 5:30pm CST
Phone – (913) 338-2886
Sales Email – [email protected]
CALIFORNIA EMISSIONS COMPLIANCE INFO (CARB)
California approved products for street legal use (complete systems) will have an associated CARB EO# for compliance. For a full list of California and 50 state street legal systems, click below.
EMISSIONS COMPLIANCE
ProCharger offers Executive Orders for Emissions Compliance (EO) from California Air Resources Board (CARB) for many of our most popular car, truck and SUV applications. If you live in California, we can only sell you products with EO certification. Check out our full list of EO offerings.