JEEP GLADIATOR GETS BOOST! (PROCHARGER DOES IT FIRST!)
TAKE YOUR GLADIATOR TO THE NEXT LEVEL WITH BOOST!
No matter if you are towing a boat, hitting the trails, or just daily driving with large wheels/tires, a ProCharger supercharger is an easy way to add the horsepower you want and deserve. So follow along as we explain our amazing new supercharger system for these new Jeeps (or should we say trucks)?
---
PROCHARGER FIRST TO MARKET WITH JEEP JL'S AND NOW GLADIATORS!
For 25 years ProCharger has been the industry leader when it comes to easy-to-install supercharger systems with massive power gains across virtually all automotive platforms. Our skilled engineers work tirelessly to bring these systems to market as fast as these new machines are hitting the dealership showrooms. Which means, the moment you drive off the lot, you can rest assured there is a solution for your craving for MORE POWER!
That being said we are pleased to announce the worlds first supercharged Jeep Gladiator!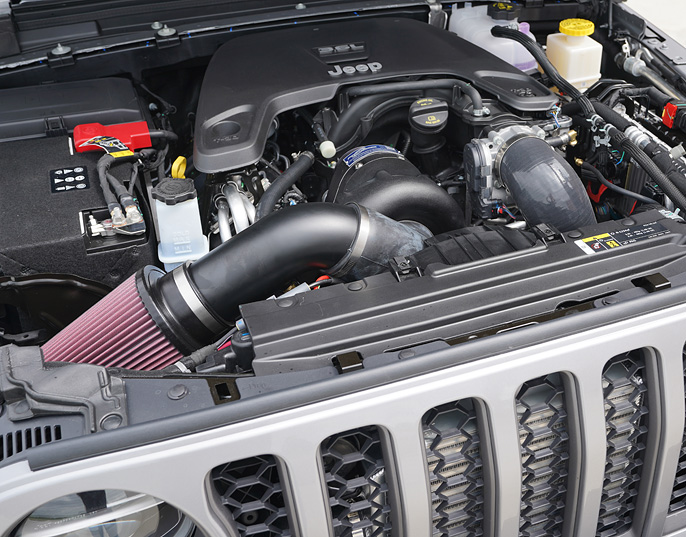 ---
POWER GAINS UP TO 45% ON PUMP GAS!
These trucks are just fantastic inside and out, and we are absolutely in love with the styling and all of the new features. And after strapping it down to our dyno and measuring rear wheel horsepower, it was obvious that people would be ready for more power. With a tow rating of 7,650lbs these trucks will enjoy that 7psi of ProCharger boost, to help pass, tow upgrades…or maybe just be able to light up the tires during some "spirited" driving.
At the heart of the system is our self-contained ProCharger centrifugal supercharger head unit. Built from aircraft grade billet aluminum, it's designed to outlast the truck itself, no matter what climate it's being used in. From arid deserts to the far reaches of Arctic climates, our head units have been put to the test.
Cooling that forced air charge is done by our front mount air-to-air intercooler. With no moving parts, wires, or pumps to fail these units again are built to last and give owners a piece of mind when using their Jeeps in extreme conditions.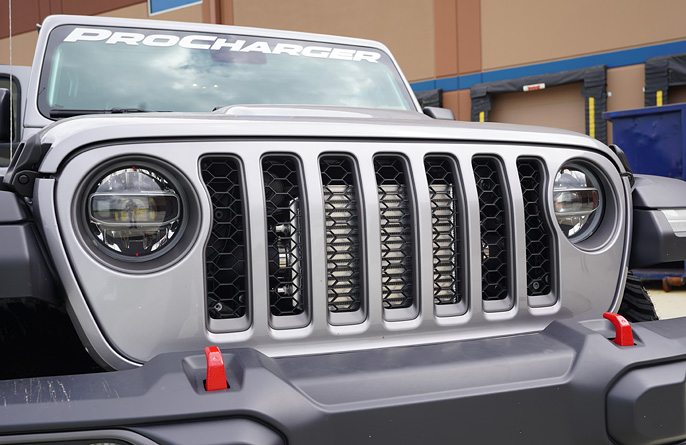 Jeep Gladiator Supercharger System Specs:
– 7psi of boost
– Front mount air-to-air intercooler
– Headunit finish options (Texture Black, Polished, Satin)
– Turnkey systems with tuning available.
---
SIMPLE DIY FRIENDLY INSTALLATION WITH COMMON HAND TOOLS!
Starting with full color, step-by-step instruction manuals, our supercharger systems are designed with you in mind. We know that a lot of you will tackle this installation in your home garage, or heck even right in the driveway. And that's why ProCharger systems are designed to be the easiest installation of any forced induction product.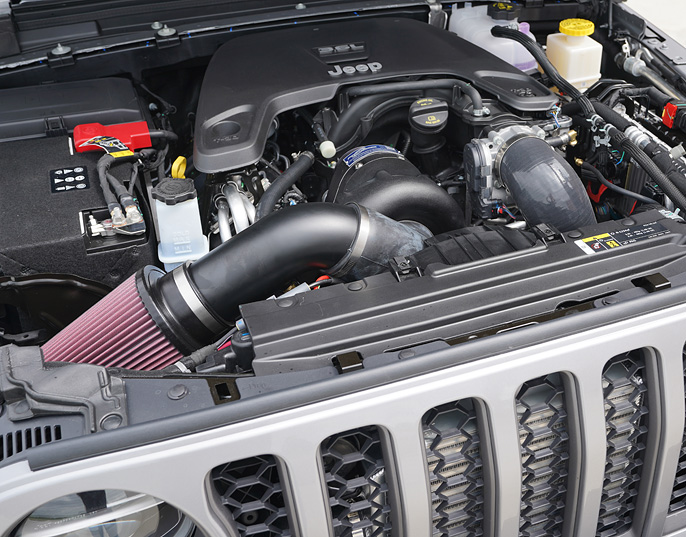 Looking down the road, we also engineered this system to be fully removable. That way in case you ever sell or trade in your Jeep Gladiator, you can put it right back to the way she rolled off the showroom floor.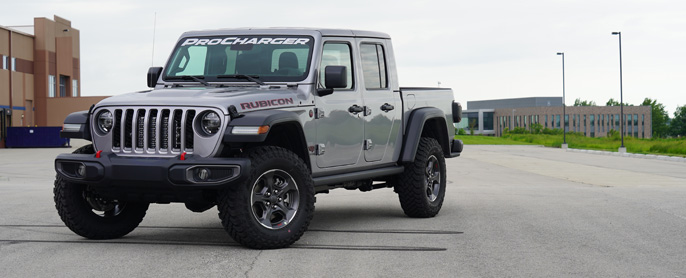 ---
READY TO MAKE YOUR NEW JEEP THE BADDEST ON THE BLOCK?
Give our sales staff a call or an email us at the following contact methods below. Or you can click here to find a dealer nearby to help out with your vehicle. We will be happy to assist you with any technical questions about supercharger systems and the results you can expect.
Phone – (913) 338-2886 M-F 8:30am – 5:30pm CST
Sales Email – [email protected]
Tech Email – [email protected]