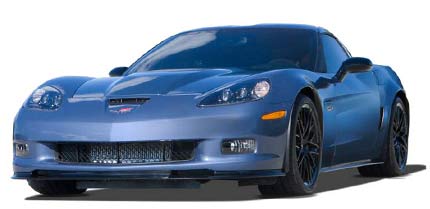 CORVETTE Z06 CARBON – LIMITED EDITION MEETS FORCED INDUCTION
Here at ProCharger we know a thing or two about being first and we are not just talking about our racers winning at the track. In addition to having the broadest offering for Corvette applications, we were the first to bring you supercharger systems and tuner kits for LS based Corvettes. We were the first to bring mainstream usage of air to air intercoolers to centrifugal supercharging, and the first to bring you a gear-driven centrifugal supercharger with a self-contained oiling system. The results of ProCharger's industry leading technologies are the most efficient superchargers along with the most effective air to air intercoolers. This combination produces the lowest intake temperatures in the industry which translates into the most efficient use of boost. In other words, more horsepower per pound of boost.
And to our knowledge, we are the first to supercharge the Limited Edition 2011 Corvette Z06 Carbon. (See article below) The following article due to be published on corvetteactioncenter.com very soon is just another in a long line of firsts you have come to expect from the industry leading ProCharger.
Road race inspired and designed, the Limited Edition 2011 Corvette Z06 Carbon is built with ultimate performance in mind. At an MSRP of $90,960, the Carbon boasts such goodies as a Magnetic Selective Ride Control and ZR1 braking system as well as numerous carbon fiber parts. Powered by the tried and true 7.0L LS7 V8 rated at 505 HP, GM was able to shave a full 3 seconds off the stock Z06 lap time at Laguna Seca. A limited production run of 500 Z06 Carbons are being made, available in any color as long as it is Supersonic Blue or Inferno Orange.
Compared to the Corvette ZR1 (MSRP $110,300), the stock 2011 Z06 Carbon trails the ZR1 by a mere 2 seconds in a lap at Laguna Seca. An impressive showing considering it is giving up 133 HP and a $19,340 difference in price to its big brother.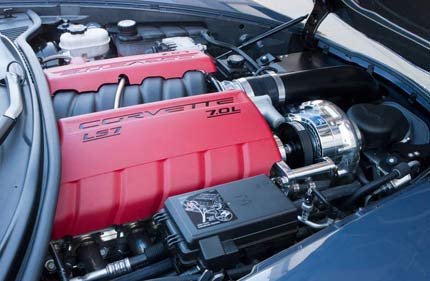 If you find yourself one of the 500 lucky enough to own a Z06 Carbon, and you are looking for better than ZR1 performance, the horsepower experts over at ProCharger have the answer for you. Recently ProCharger got their hands on one of the highly sought after Z06 Carbons. The end result was 703 HP and 622 lb. ft. of torque versus the factory supercharged ZR1 rated at 638 HP and 604 lb. ft. The Z06 Carbon featuring a ProCharger P-1SC-1 supercharger with 5 PSI of intercooled boost was fitted with long tube headers but was otherwise stock. The owner of the vehicle, a professional football player, is quoted as saying "Everything is amazing" and "This is stupid fast!" after getting behind the wheel of his ProCharged Corvette Z06 Carbon.
General Motors has certainly done a nice job with the Z06 Carbon, and ProCharger knows how to make things go fast, combine the two and the results are 700+ HP, nothing short of amazing!