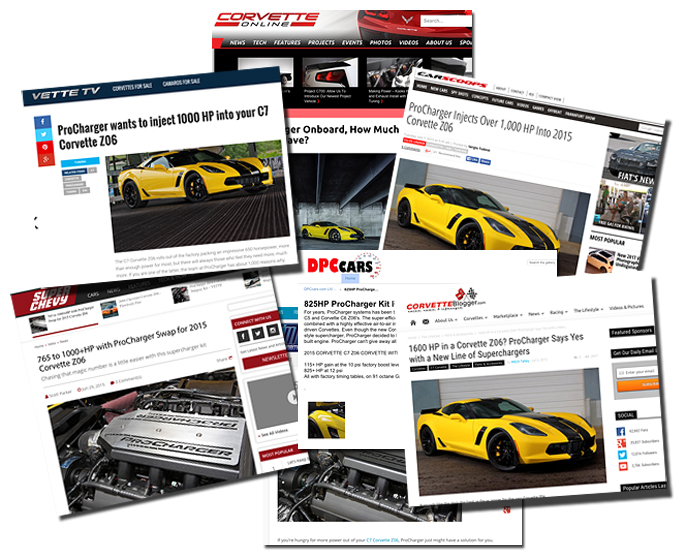 CORVETTE C7 Z06 SYSTEMS NOW SHIPPING!
THE WAIT IS FINALLY OVER!
The ProCharger C7 Z06 system that took the Corvette community (and internet) by storm, is NOW SHIPPING!
When the word broke on the internet that ProCharger created a blower swap for the new Corvette C7 Z06, it started a frenzy that couldn't be stopped. We geared up production and the first rounds of systems are hitting the streets. Lets take a look at some of the cars making news on the net and if you like what you hear, we can add you to the list.
First off, the car that everyone seems to have heard of is the yellow with black stripes Z06 owned by Sean Wilson. In the beginning this car featured a ProCharger D-1SC supercharger and just 12psi of boost (up from the 10psi on the stock blower) which resulted in over 725 rwhp (with no other changes to the car from stock), but that was just the first step toward his goals. Sean then enlisted the help of Advanced Modern Performance to start on a camshaft swap and new exhaust in order to reach over 1000 rwhp. So far on a mild street tune with just 93 octane fuel, Sean has been delighted with 917 rwhp! The guys at AMP are not done yet however–making a four digit power number to the wheels with a stock GM engine is music to our ears, and we're willing to bet Sean's as well.
Sean has been enjoying racking up miles with this 1000+ HP monster, even giving some of the driving duties to his gal Amy. Sean leaves us with a quote that reminds us why its a great time to be involved in aftermarket performance, "The car has a completely new system engineered around the all new C7 Z06. Everything was built in-house using this car, and the car is amazing–we could not be happier with the results. The car drives like stock until you hit the throttle, and it will destroy just about anything on the road."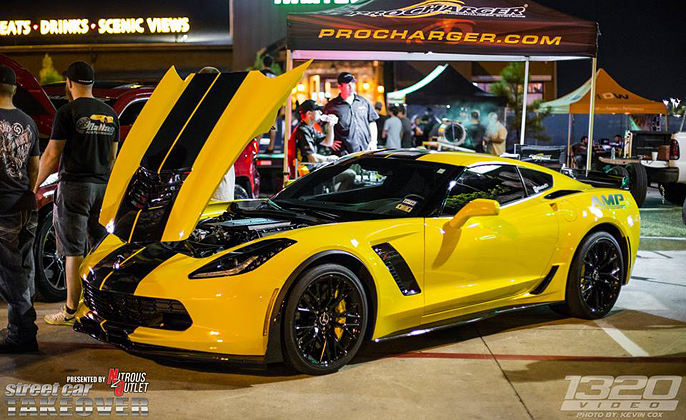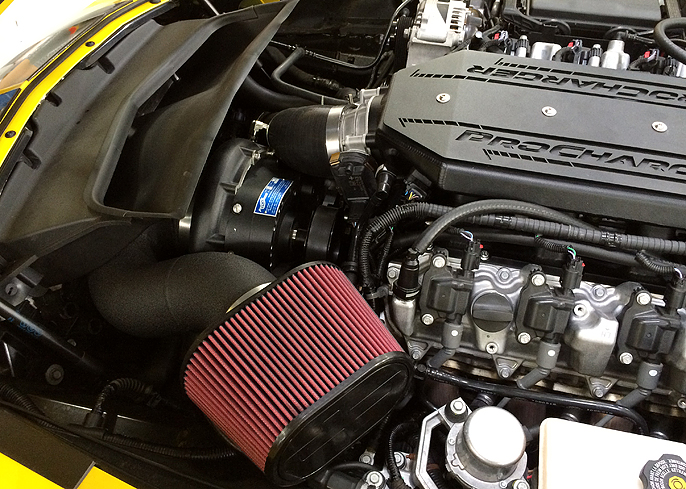 Another car thats hitting the internet hard is Atlanta Custom Wrap's F-series ProCharger-powered electric blue wrapped Corvette C7 Z06. This car features a little extra spice with the intake manifold color-matched to the exterior of the car. This car is still in the build process, however we have been told videos of it running are now surfacing on Facebook. This car will be headed to many events across the country, so keep your eyes peeled for it. The owner has his eyes set on the LT-4 rwhp record and 1/4 mile times.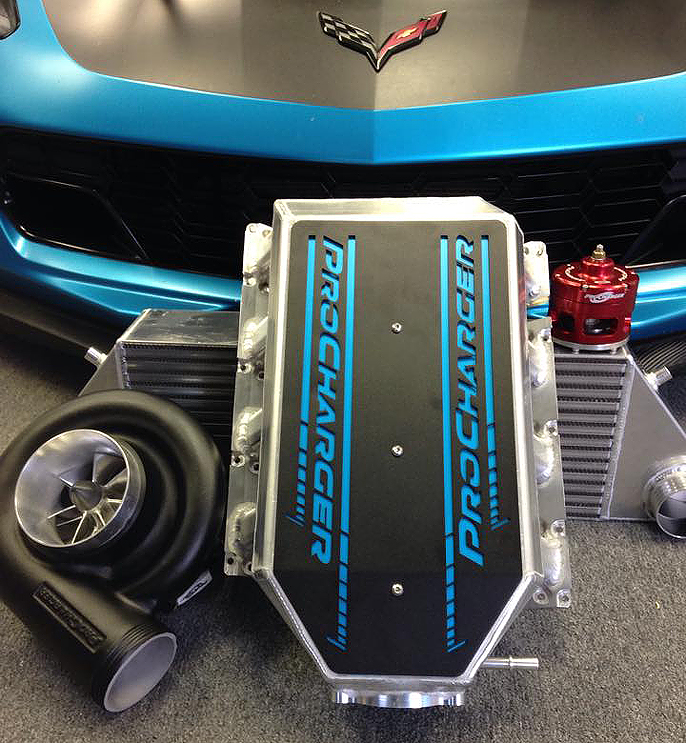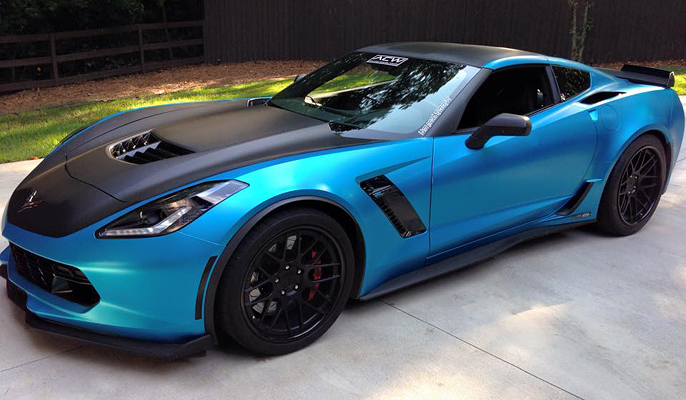 Black on Black on BLACK is how Skip ordered his ProCharger C7 Z06 ProCharger system. Skip's car features a D-1SC head unit and 13psi of boost which resulted in 729 rwhp through his automatic transmission equipped Z06. Be on the lookout for more details on this car as Skip ups the boost from 13psi to 18psi–we also heard whispers that the car might be getting headers and even a cam, though that hasn't been confirmed yet. Enjoy this blacked out ride that even Darth Vader would be proud to call his own.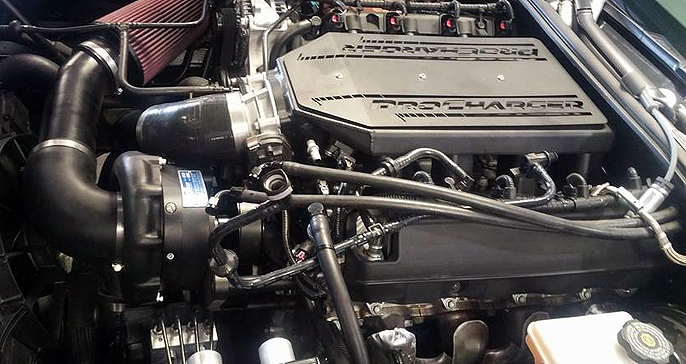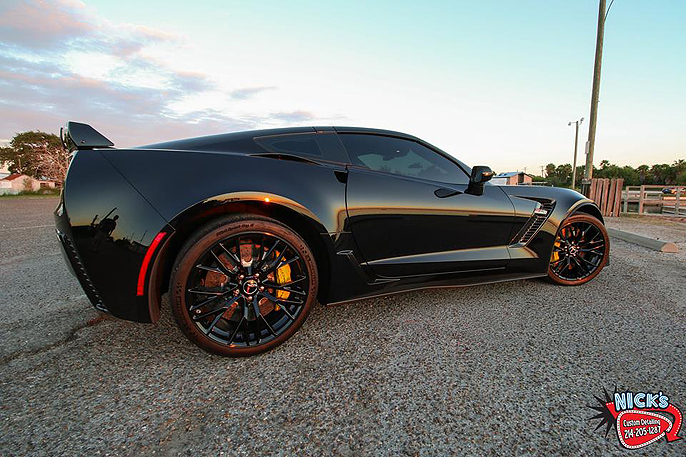 This blog covers only a handful of the systems already shipped and if you are looking to turn your Corvette C7 Z06 into the ultimate street weapon, drop us a line today!
EMAIL: [email protected]
PHONE: 913-338-2886
WEB: Click Here for ProCharger Dealers