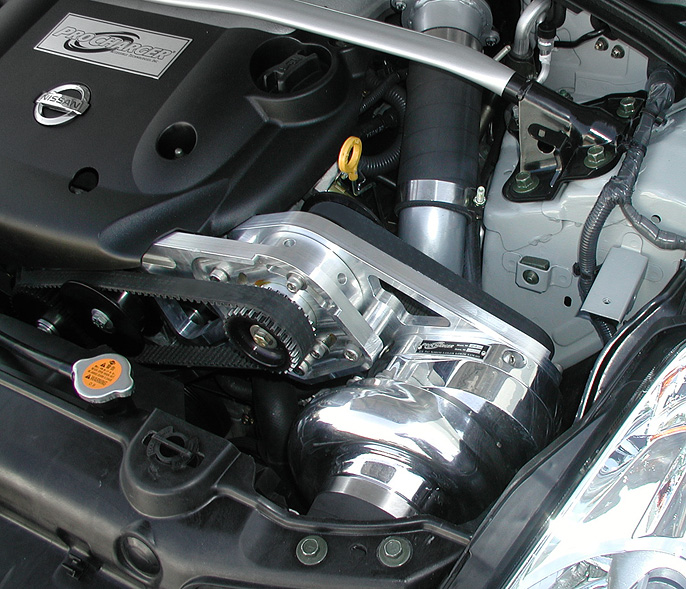 2006-2003 NISSAN 350Z (3.5)
2006-2003 NISSAN 350Z (3.5)
ProCharger's basic objectives were maximizing performance and reliability while minimizing cost and maintenance when we set out to create the ultimate supercharger system for the Nissan 350Z. The result is the most powerful and reliable supercharger system available, and not only the latest technology in supercharging, but the latest in high performance. ProCharger centrifugal supercharger systems are designed by engineers who understand the need for performance, reliability and an extremely attractive OEM installation. With ProCharger, you no longer have to compromise.
THE BEST PERFORMANCE
With the installation of ATI's revolutionary Intercooled ProCharger system, you will experience the largest reliable performance gains available from any power adder for the 350Z. ProCharger's vastly superior performance is possible because Intercooled ProCharger supercharger technology produces the coolest charge air temperatures of any forced induction system available. This advantage not only produces a substantially larger increase in air density and airflow, but also allows more ignition timing than other forced induction systems. With this cooler air, greater air density and more timing, Intercooled ProCharger systems produce more power per pound of boost, as well as safely allowing even higher levels of boost and power. And with Intercooled ProCharger technology, you will get consistent, repeatable performance without the significant power fade suffered by non-intercooled and air-to-water intercooled forced induction systems during daily driving and back-to-back runs.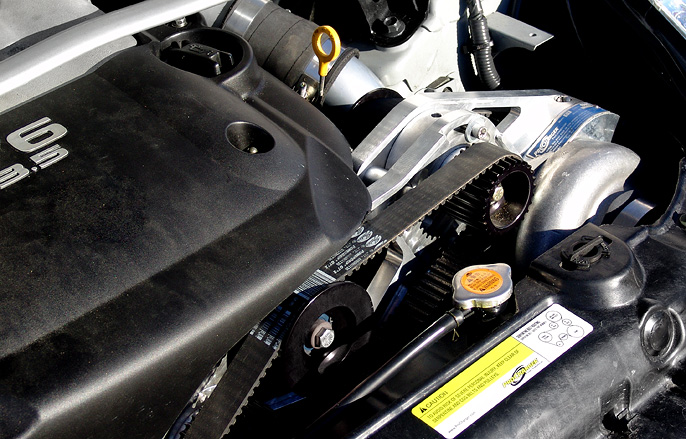 | DESCRIPTION | BOOST | HP GAIN | INTERCOOLER |
| --- | --- | --- | --- |
| High Output Intercooled Tuner Kit with C-2 | specify | specify | 350Z |
TODAY'S TECHNOLOGY FOR HIGH PERFORMANCE
Bolt on a 55-60% power gain and improve the quarter-mile performance of your stock Z by up to 1.5 seconds and 12 mph, with even larger gains available for modified application! ProCharger has become the leader in 350Z high performance because an Intercooled ProCharger supercharger system enables you to retain stock drivability and gas mileage while also outperforming extremely exotic sports cars. A close look at other power adders shows that ProCharger performance and reliability is absolutely unmatched. Other supercharger systems do not contain ProChargers's advanced supercharger and intercooler design, produce lower increases in power, and are more difficult to install. Turbochargers are expensive and very difficult to install, can be unpredictable, and produce limited power gains on pump gas due to exhaust heat. Nitrous is an option, but requires refilling the bottle, is inconsistent, and can seriously shorten engine life.
However, with patented technology which has been endurance tested to the extreme, Intercooled ProCharger systems deliver the largest power gains available for the 350Z. While other companies are now jumping on the intercooling bandwagon, ProCharger was not only the first to offer an intercooled supercharger system for the Z, the company actually pioneered intercooled supercharging more than five years before its nearest competitor. A 350Z with an Intercooled ProCharger system is simply an unbeatable combination.
PROCHARGER QUALITY
ProCharger 350Z systems contain the revolutionary C-2 ProCharger with CNC machined supercharger brackets, a complete air-to-air intercooler system, high flowing surge/bypass system, air filter, belts, hoses and all the premium quality hardware needed for an OEM quality installation. Installation is very straightforward, with no modification of body panels or the oil pan, so the vehicle can be returned to 100% stock if desired. The design, installation, and performance of an Intercooled ProCharger system is unmatched. All we ask is that you fill up with at least 91 octane fuel and change your supercharger oil every 6,000 miles. That's it. ATI is also proud to back ProCharger 350Z systems with the industry's best warranty coverage. And because ProCharger superchargers are so reliable, higher boost and power levels don't void your supercharger warranty, like with other manufacturers.
FIND A DEALER NEAR YOU
Looking to make a purchase or a shop to install? We have a large group of dealers ready to serve you with your ProCharger needs. Click below to find a dealer near you!
BUILD & PRICE
Kits starting at $6,598. Pricing on these units vary by configuration. Configure your purchase now.
PLEASE NOTE: Pricing on this website reflects the June 30, 2022 Application Price Guide. No surcharges are currently in effect.

Get a Catalog
Our catalogs feature much of this detail. You can either download a copy or have one mailed to you free of charge.
SPEAK TO AN EXPERT
Click to call our sales staff or email us if you need any help. We will be happy to assist you with any questions you may have.
Mon – Fri 8am – 5:30pm CST
Phone – (913) 338-2886
Sales Email – [email protected]
EMISSIONS COMPLIANCE
ProCharger offers Executive Orders for Emissions Compliance (EO) from California Air Resources Board (CARB) for many of our most popular car, truck and SUV applications. If you live in California, we can only sell you products with EO certification. Check out our full list of EO offerings.