LS Engine Swap
PROCHARGER MAKES SUPERCHARGING YOUR LS SWAP EASY!
We know LS swaps are as common as bolting on a set of headers these days, and the "one size fits all" approach wouldn't work for supercharging. Now it doesn't matter if you are looking to add some boost to your FoxBody Mustang, Squarebody truck, Crate Motor powered Hot Rod, or virtually anything on the planet with wheels… ProCharger has a way to supercharge it!
There are 3 ProCharger options for LS swap kits:
LS Accessory Drive Kit – our most popular choice
LS Swap Serpentine Kit
LS Swap Cog Race Kit (for higher hp applications)
LS ACCESSORY DRIVE KIT
The ProCharger Accessory Drive offers the compact, sleek design style you expect from ProCharger, combined with a unique supercharger bracket design that offers you the convenience of adding the supercharger kit NOW or LATER. This kit includes everything you'll need to fit the accessories you want with the advantages you can expect from ProCharger.
With different mounting options, it will surely fit your application.
Standard Mount – Lower profile, tucked in closer to the engine, ideal for typical installations.
High Mount – For when aftermarket suspension components or frame clearance issues require more distance.
F-1X/F-2 Mount – Ideal for people choosing to use a F-1X or F-2 supercharger.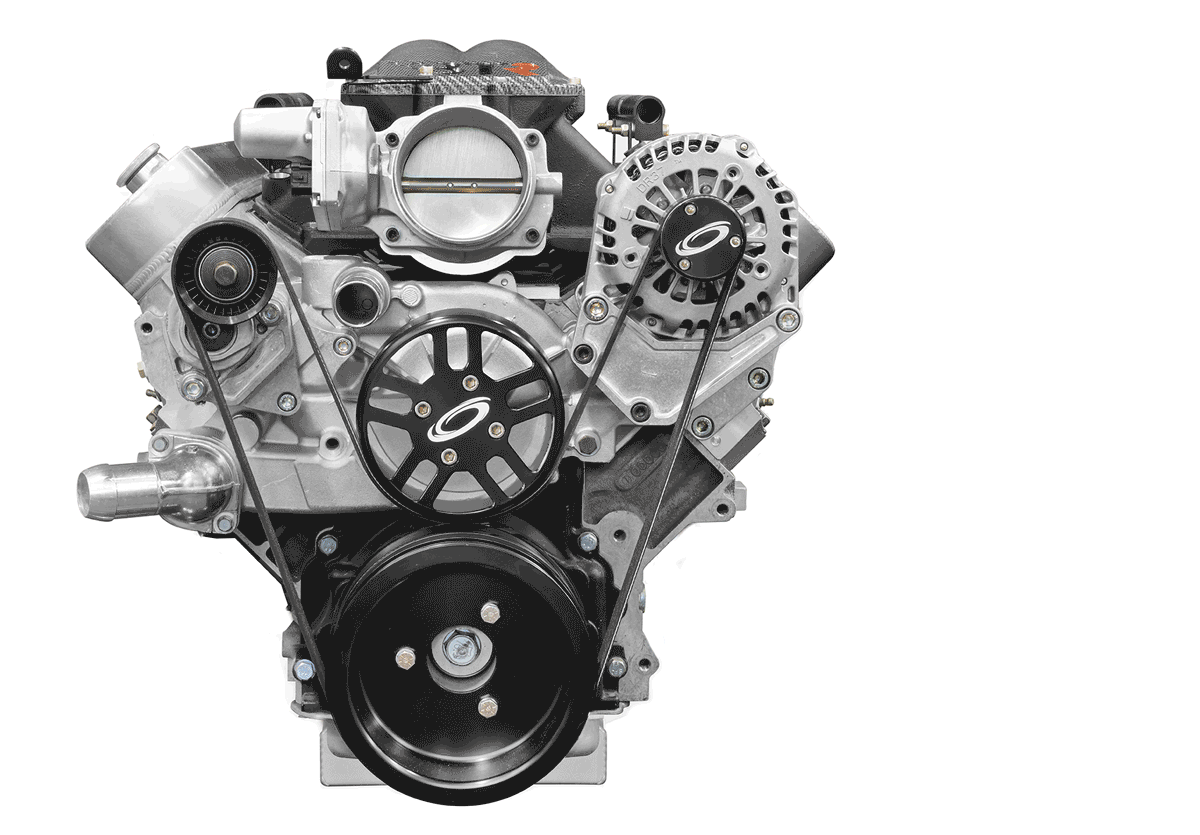 LS SWAP SERPENTINE & COG KITS
Depending on your application, you may choose the LS Swap Serpentine or Cog Race Kit.
Mounting options for LS Swap Serpentine and Cog Race Kits: 
– Conventional drivers side mount (8, 10 rib and Cog)
– Reverse passenger side mount (6, 8 and 10 rib)
– Drivers side truck style mount (6 and 8 rib)
– CrankDrive for ultra-high HP applications
CONVENTIONAL DRIVERS SIDE MOUNT - IDEAL FOR CRATE MOTORS!
ProCharger engineers designed this supercharger system with the LS crate motor swap in mind. This system can be ordered with virtually any combination of streetcar accessories, or without any at all for racing applications.
The bracket location was designed with many muscle car and muscle truck engine bays in mind and have seen them in everything from Chevelles to 3/4 Ton Trucks!   Plus, for those looking for big horsepower and hardcore looks, we even have a "cog / gilmler" belt option.
Versions available: 
– 8 Rib*
– 10 Rib* (Coming Soon)
– Cog*
*= Requires specific accessories and balancer, contact us for details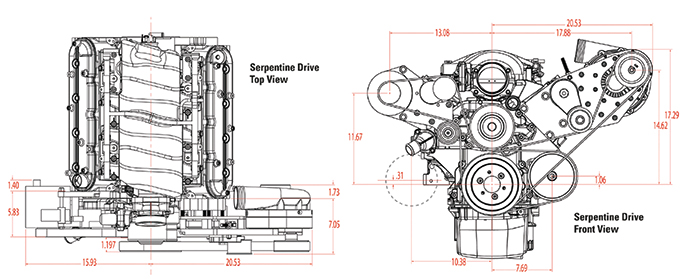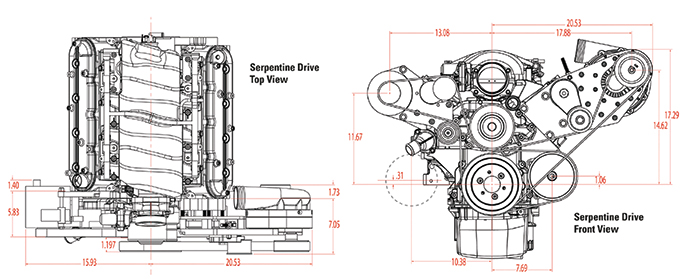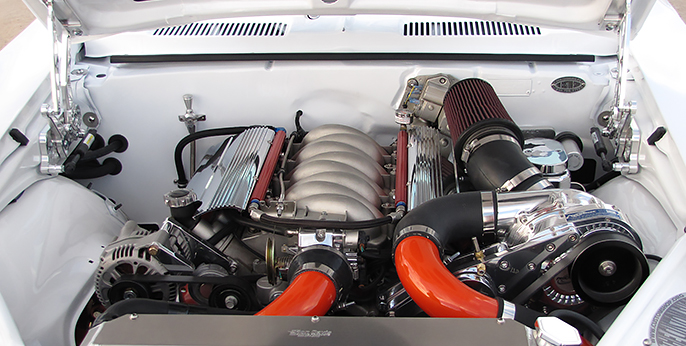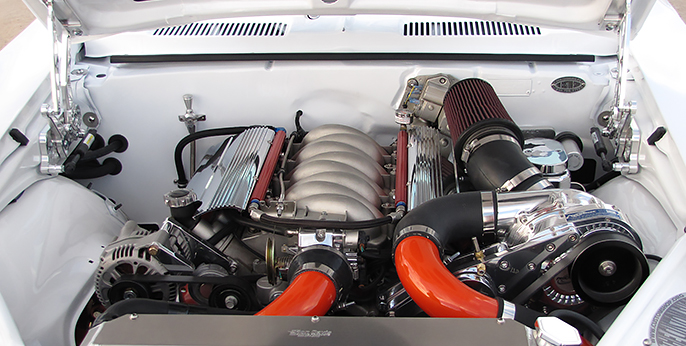 REVERSE PASS. SIDE MOUNT - FROM DRIFTING TO PROTOURING!
One of the most popular versions of the LS family to swap these days is the C5/C6 Corvette style. Cars with low hood lines love the low intake manifold and low mounted accessories. This positioning makes it perfect for a reverse mounted (forward-facing) ProCharger system to be used. We have seen this system being used in everything from the punishing ranks of professional drifting, to SEMA builds.
We even have (4) different drive systems for this kit, which covers a wide range of horsepower, from 650hp to a mind-bending 1,200hp! Those drive system options are as follows.
Versions avaliable: 
– 6 rib (shared drive)*
– 6 rib (dedicated drive)*
– 8 rib (dedicated drive)
– 10 rib (dedicated drive)
* = can be used with factory balancer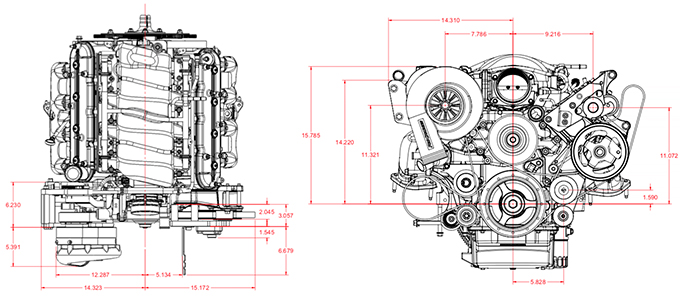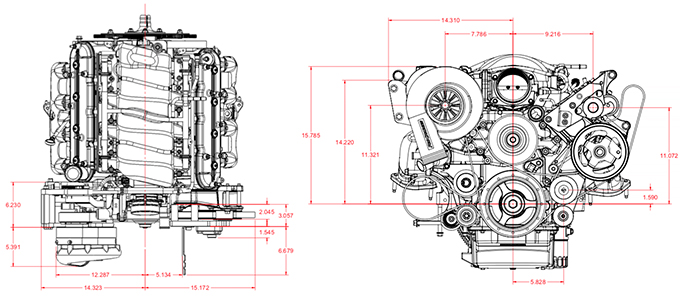 Dedicated Drive: Belt routing diagram (availble in 6,8 and 10 rib)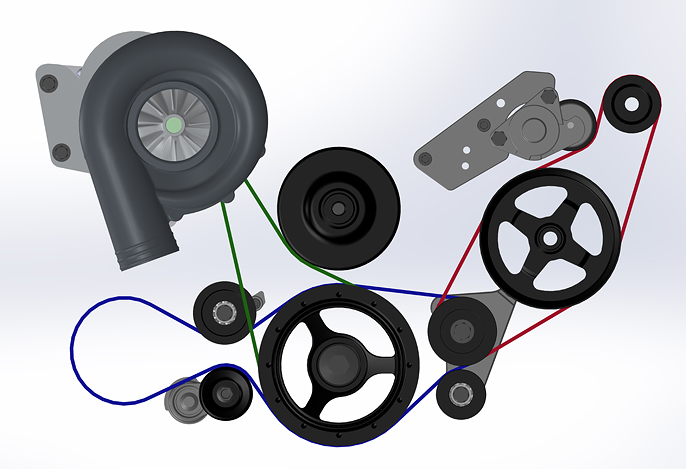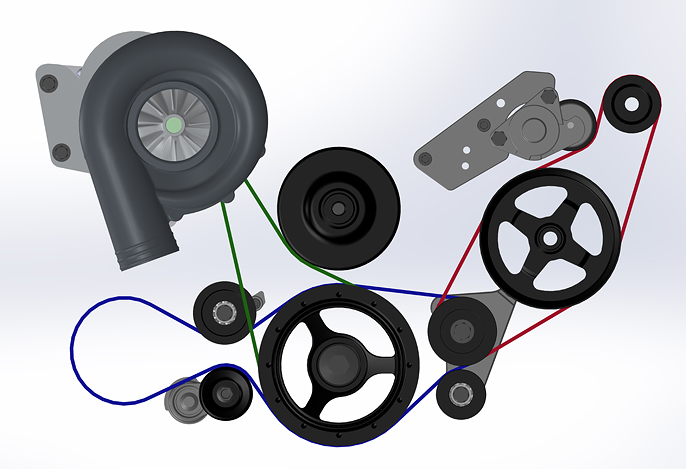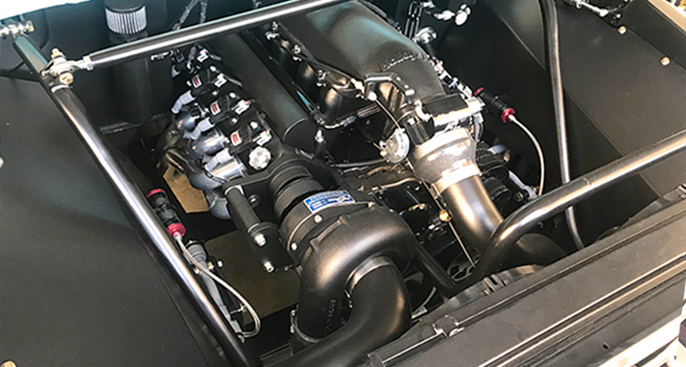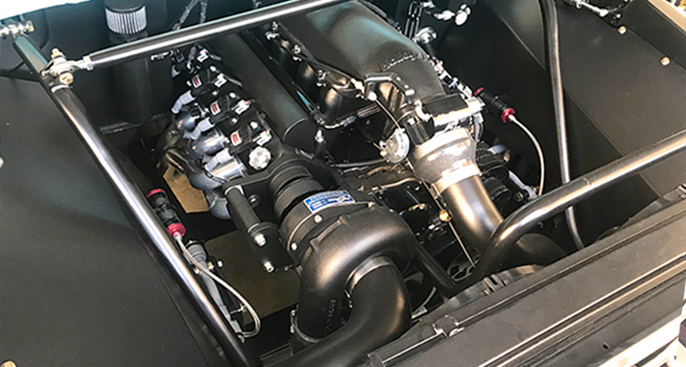 DRIVERS SIDE TRUCK STYLE - FOR USE WITH TRUCK ACCESSORIES!
One of the most plentiful of the LS family of engines to find is that of the 1999-2013 truck engines (4.8/5.3/6.0/6.2). These engines have found their way into virtually almost anything with wheels from every brand on the planet. So for those that want to keep all your truck accessories and add ProCharger boost, here is your ticket.
We have two versions of the system depending on the power level you are after. Most stock engines or stock engines with camshaft changes opt for the shared 6 rib drive system. It saves a little on forward space and runs off the factory 6 rib belt and tensioner.  For those with built engines ready for some serious HP, we have the robust 8 rib dedicated version for even more HP support.
Versions available: 
– 6 Rib Shared Truck Accessories (Stock or ATI Balancer)*
– 8 Rib Dedicated Truck Accessories (Stock or ATI Balancer)*
*= Requires use of electric fan
Example: LS Truck engine into Jeep Wrangler engine bay (ultra small) with ProCharger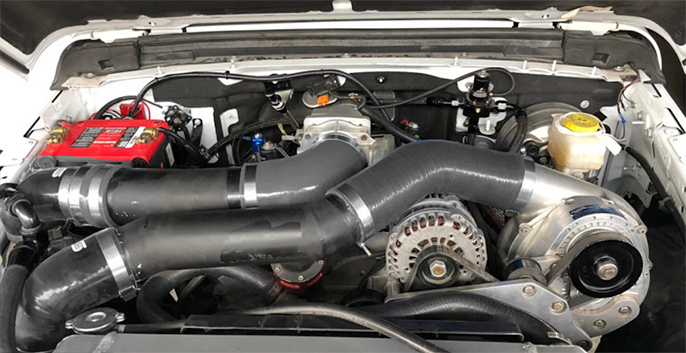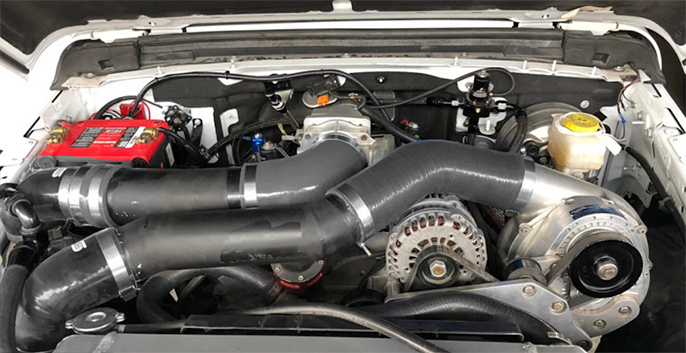 CRANKDRIVE FOR PROCHARGED LS ENGINES - ULTRA HIGH HP!
Just like the baddest supercharged Pro Mods on the planet run ProCharger CrankDrives…now the LS swap racers can as well!  Designed to take the abuse of the 3,500+ HP, yet still have the ability to run alternator, fuel pump, and oil pump if needed.
Compatible with race superchargers from F-1 to F-3X you will have plenty of room to grow with your supercharged LSX.  Speaking of growing, the CrankDrive allows for ultra-fast changes in boost level, thanks to quick change gear sets.  For more information on the ProCharger LSX CrankDrive click HERE.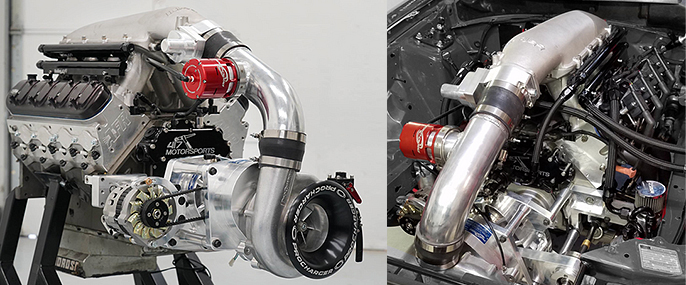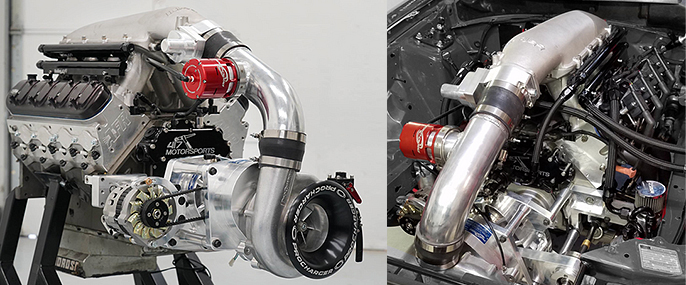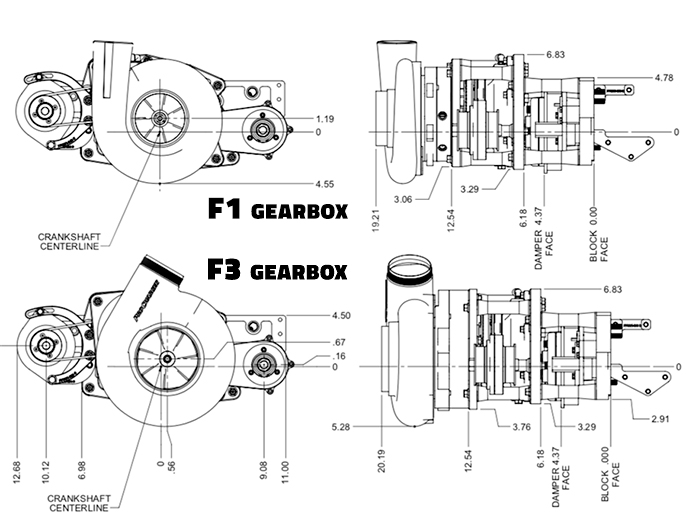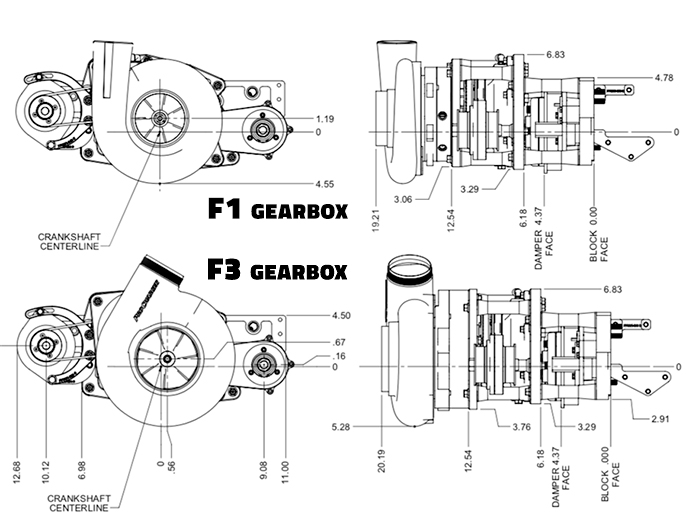 P-1X/D-1X UPGRADE
The ProCharger P-1X and D-1X head units feature the robust, self-contained gearcase that is standard on most ProCharger models, but with a new aerodynamic compressor design that creates cooler charge air temperatures and more horsepower at the same boost level than our industry-standard P-1SC-1 and D-1SC. This higher efficiency design was engineered to be a bolt-in replacement for P-1SC-1 and D-1SC equipped systems and has even greater max-power potential.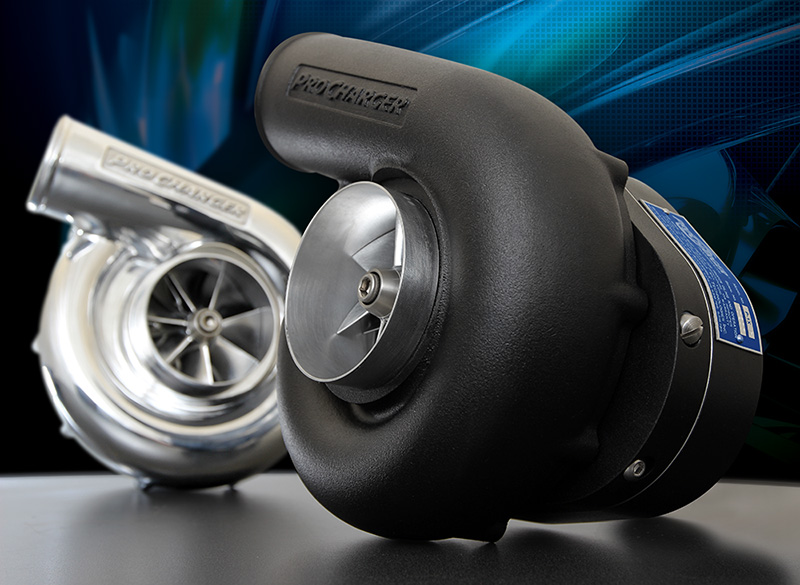 LS ENGINE SWAP RACE ONLY KITS
The LS Engine Swap Cog Drive Kit can be used in both carbureted and EFI applications and is compatible with accessories such as A/C and P/S, making the kit race-rugged while still maintaining excellent street driveability.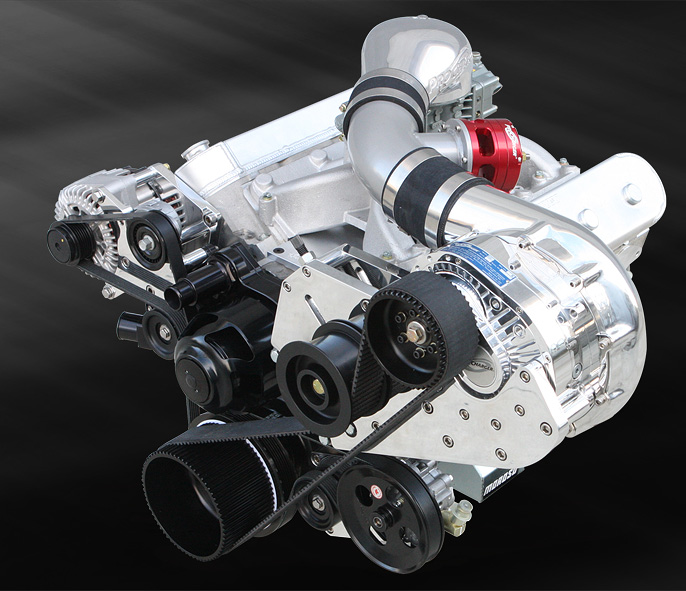 FIND A DEALER NEAR YOU
Looking to make a purchase or a shop to install? We have a large group of dealers ready to serve you with your ProCharger needs. Click below to find a dealer near you!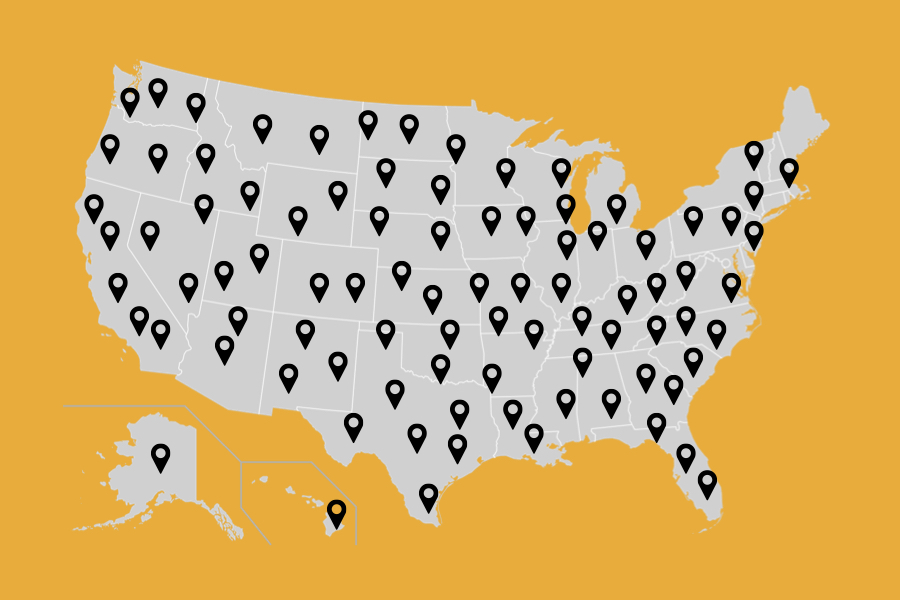 BUILD & PRICE
Kits starting at $4,999. Pricing on these units vary by configuration. Configure your purchase now.
New pricing becomes effective 4/28/23. Order now!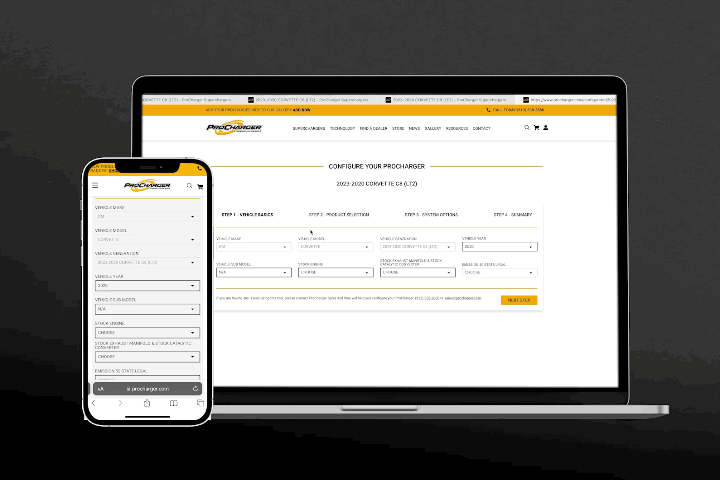 SPEAK TO AN EXPERT
Click to call our sales staff or email us if you need any help. We will be happy to assist you with any questions you may have.
Mon – Fri 8am – 5:30pm CST
Phone – (913) 338-2886
Sales Email – [email protected]
Get a Catalog
Our catalogs feature much of this detail. You can either download a copy or have one mailed to you free of charge.
CALIFORNIA EMISSIONS COMPLIANCE INFO (CARB)
California approved products for street legal use (complete systems) will have an associated CARB EO# for compliance. For a full list of California and 50 state street legal systems, click below.
EMISSIONS COMPLIANCE
ProCharger offers Executive Orders for Emissions Compliance (EO) from California Air Resources Board (CARB) for many of our most popular car, truck and SUV applications. If you live in California, we can only sell you products with EO certification. Check out our full list of EO offerings.