C7 TECHNOLOGY
BRACKET SYSTEM
Starting from GM engine CAD models, ProCharger created a one-piece billet design utilizing existing, robust mounting points on the LT-1 motor for maximum holding force. This system will firmly hold head units ranging in size from a P-1SC-1 up to an F-2 head unit.
No relocation of any OEM parts is needed–no fluid systems are opened up, and the ABS module and lines stay in the factory location. This not only speeds up the install, but it also ensures that all factory braking, cooling, and oiling systems on the car work just as GM intended.
Using a patented crank pulley design, we are able to secure a 8.125″ supercharger drive pulley onto the factory harmonic balancer, without having to drop the steering rack or pin the crank. The ProCharger crank pulley works by using a system of "cam-locks" to securely grip the factory balancer, taking the load off the crank bolt, and ensuring years of service without worry.
Combining this 8.125″ crank pulley with a multi-position, fixed idler near the supercharger pulley, the system was designed for maximum belt wrap. This ensures maximum belt traction as the power levels of these systems get pushed well beyond the factory 7 psi system offering.
With the best belt wrap possible, ProCharger's tensioner is unique in design in that its not only spring loaded, but also allows the customer to add as much pre-load adjustment as they want into the belt. This tensioner has already been proven to support 1300+HP when used with dedicated 8-rib belts, so handling the factory 7 psi is no stress at all.
This system was designed to be the easiest Corvette supercharger system install we have ever offered (4-5 hour install time), and you can change the pulley and 8-rib belt without removing the bracket or the supercharger.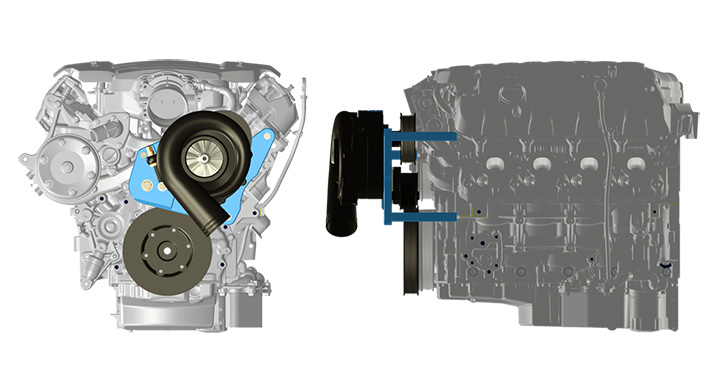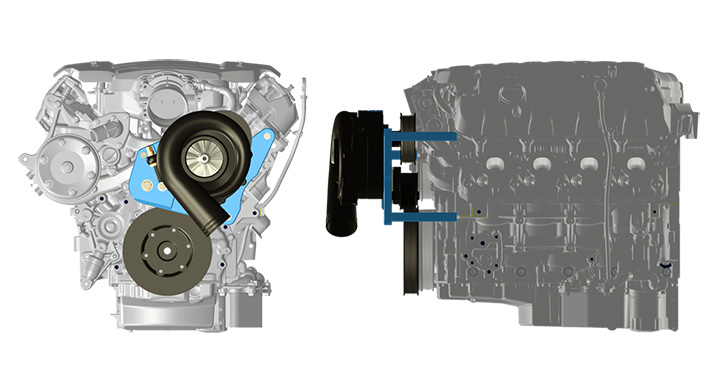 INTERCOOLER SYSTEM
GM spent a great deal of time on the airflow design of this new C7, from the front fascia to the inlets for the coolers on the rear fenders. With this in mind, ProCharger decided that an intercooler specifically designed for the C7's horsepower and cooling needs was in order.
Starting with a fresh core design, the cross flow section of the intercooler core was increased in size to eliminate pressure drop as much as possible, while retaining cooling capacity. Understanding that flexibility in the intercooler mounting would be welcomed by Corvette performance enthusiasts, ProCharger is offering intercooler systems with either Vertical and Horizontal mounting, both with an astounding 972 cubic inches of core volume.
Both intercooler options come with only two pieces of preformed-silicone charge tubing–from the supercharger to the intercooler, and the intercooler to the throttle body. This helps create the best airflow possible, and also eliminates any chance of rattles or vibrations caused by metal tubing.
The vertical intercooler option is recommended for drag racing use, and provides greatest effectiveness and coolest charge air temps. The horizontal option provides the least impact on engine operating temp, and should be utilized for road racing applications.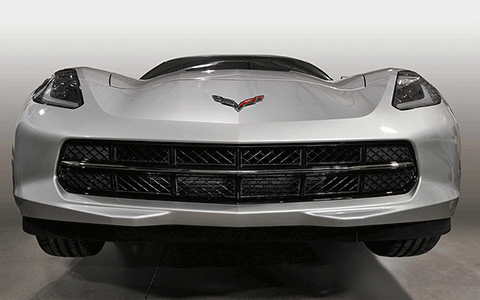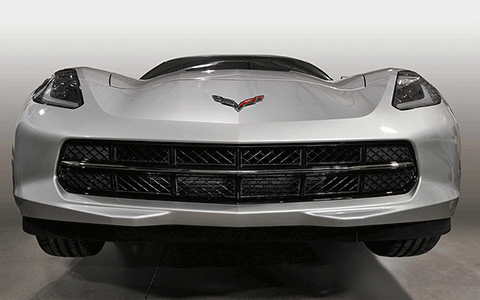 TUNING
Tuning for full systems is included with the 7 psi stock system offering. This comes in the form of a simple-to-use hand held programmer. With long-term reliability in mind, these tunes are set up conservatively from the factory to account for fuel variations across the country. As always, more power can be had from the base system, with custom tuning from your dealer or tuning shop.
REVERSIBILITY
ProCharger knows that there is always a chance that someone might eventually sell their Corvette and want to return it to stock. With that in mind, every piece of OEM plastic that would have to get trimmed is already supplied with the kit. Not only does this drastically speed up the install, but it also ensures that the you can return the car to 100% OEM stock, using the original GM-factory pieces.
EMISSIONS COMPLIANCE
ProCharger offers Executive Orders for Emissions Compliance (EO) from California Air Resources Board (CARB) for many of our most popular car, truck and SUV applications. If you live in California, we can only sell you products with EO certification. Check out our full list of EO offerings.