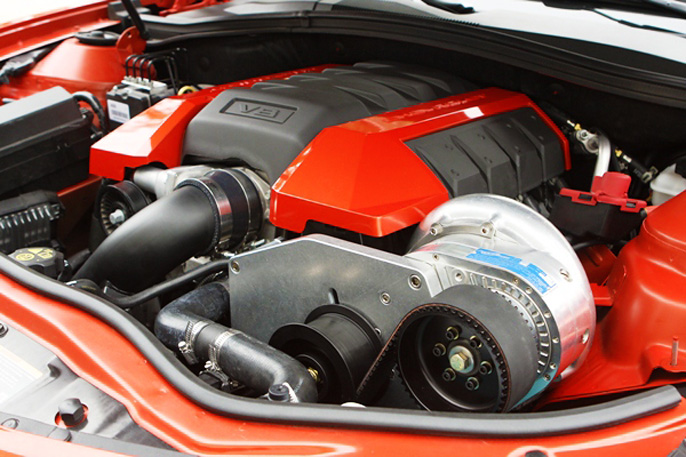 2015-2010 CAMARO SS (LS3, L99) RACE ONLY KITS
COG RACE SUPERCHARGER KITS, WITH AND WITHOUT INTERCOOLER. SUPPORTS UP TO 1300 HP
ProCharger HO and Stage II systems and tuner kits, with dedicated drive system (8 or 12 rib) and unmatched street supercharger and intercooler technology, dominate the competition. For those needing even more, ProCharger cog race kits raise the bar even further.
RACE AND CHAMPIONSHIP WINNING TECHNOLOGY FOR MODIFIED 2012-2010 CAMARO SS
Ready to build your new Camaro SS into a dedicated Mustang-eating race car? An intercooled ProCharger Cog Race Kit is the ultimate power adder for modified and fully "race built" engine builds. As a matter of fact, the very first new Camaro SS to run in the 9's is equipped with a ProCharger supercharger.
| DESCRIPTION | BOOST | HP GAIN | INTERCOOLER |
| --- | --- | --- | --- |
| Intercooled Cog Race Kit with F-1D / F-1 / F-1A | specify | specify | Race |
| Cog Race Kit with F-1D / F-1 / F-1A | specify | specify | - |
LEADING THE WAY ONCE AGAIN
Realizing the performance potential of modified LS-engines, ProCharger is once again leading the way with a Cog Race Kit designed specifically for the 2015-2010 Camaro SS.
Utilizing a dedicated, 50mm-wide cog drive and tensioner system, the heavy-duty bracket provides a solid, stable mounting location for a wide range of ProCharger models, including the F-1 thru F-1R self-contained superchargers. The available 1,300 HP rated intercooler helps to provide the industry's coolest charge  air temperatures and largest power gains.
LEGENDARY PROCHARGER F-SERIES SUPERCHARGERS
Recognized throughout the industry for their legendary power and durability, an F-1R ProCharger is capable of supporting 1,300 HP. Intercooled Cog Race Kits include intercooler tubing as well as a Race Bypass Valve and are intended for installation onto modified engines built for off-road/competition use. The Cog Race Kit requires the purchase of an aftermarket crankshaft damper.
PROCHARGER 2015-10 CAMARO SS COG RACE KIT CHOICES & UPGRADES
With F-1C or F-1R Supercharger Head Unit Upgrade
With F-1X Supercharger Head Unit Upgrade
With 1,300 hp capable Sheet Metal 3 Core Race Intercooler (upgrade from Race intercooler)
With 1,800 hp capable Air-to-Water Race Intercooler (race use only, from non-intercooled Cog Kit)
With 2,500 hp capable Air-to-Water Race Intercooler (race use only, from non-intercooled Cog Kit)


PRICING
View our Application and Specifications Price Guide.
Get a Catalog
Our catalogs feature much of this detail. You can either download a copy or have one mailed to you free of charge.
SPEAK TO AN EXPERT
Click to call our sales staff or email us if you need any help. We will be happy to assist you with any questions you may have.
Mon – Fri 8am – 5:30pm CST
Phone – (913) 338-2886
Sales Email – [email protected]
FIND A DEALER NEAR YOU
Looking to make a purchase or a shop to install? We have a large group of dealers ready to serve you with your ProCharger needs. Click below to find a dealer near you!
EMISSIONS COMPLIANCE
ProCharger offers Executive Orders for Emissions Compliance (EO) from California Air Resources Board (CARB) for many of our most popular car, truck and SUV applications. If you live in California, we can only sell you products with EO certification. Check out our full list of EO offerings.