1,000HP MUSTANG FOR WAY LESS THAN 10K?!?!? (PROCHARGER MAKES IT EASY)
FOUR-DIGIT HP YOU CAN BOLT-ON IN YOUR GARAGE! (IN A WEEKEND)
Not long ago, it was hard work to make 400, 500 or even 600 HP. Nowadays those are rookie numbers, and everyone wants that magic 1000 HP. Yes, we are talking crankshaft horsepower here, same as your car is rated from the factory; however, with a little more RPM and some E85 in the tank likely that could be 1000 to the ground.
THE SUPERCHARGED RECIPE FOR SUCCESS IS SIMPLE!
The foundation was our company-owned bone stock 2019 Mustang GT. And we mean stock like still has the stock exhaust manifolds and mufflers stock, which we know usually are the first things folks change. We then added our standard ProCharger Stage 2 system, upgraded to P-1X head unit, and pieced together a fuel system, threw some good fuel in the tank, and floored it. The results…well, EPIC!
Modifications to this car:
– ProCharger Stage 2 Tuner Kit (with P-1X head unit 3.70″ pulley)
– Home Built Fuel System (95lb injectors, lines/reg, twin hellcat pumps)
Fuel:
– High Octane Race Gas (E85 would also be a good option)
MIND-BENDING 1000 CRANK HP WITH A STREET BLOWER!
What is amazing is that we all know E85 would/could allow this car to make even more power than the 893/905 numbers. But also we know that Coyotes love RPM, and easily could have made power for another 500-1000rpm. However, due to the engine being completely stock and the goals already met with the standard revlimiter in place, there was no reason to push it. Also, we didn't use E85 cause frankly, we didn't have any sitting around the shop, so it just saved us time.
Just imagine a D-1X headunit and some more boost!?!?!
These ProCharger Stage 2 Kits can easily be bolted on in the garage with common hand tools, and so can these fuel systems folks are making (and or purchasing). Another amazing thing is that tuning (even at this power level) can be done via many different mail order tuners across the US. So truly, every aspect of this system is something that can be DIY installed, or installed via one of our amazing ProCharger dealers.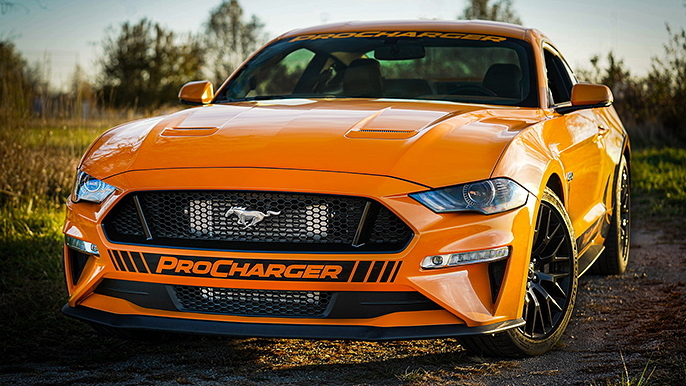 ---
READY TO TAKE YOUR 2018+ TO EPIC HORSEPOWER LEVELS?
Give our sales staff a call or email us at the following contact methods below. Or you can click HERE to find a dealer nearby to help out with your vehicle. We will be happy to assist you with any technical questions about supercharger systems and the results you can expect.
Phone – (913) 338-2886
Mon – Fri 8am – 5:30pm CST
Sales Email – [email protected]
Tech Email – [email protected]