SUPERCHARGER SYSTEMS COMING SOON FOR M8 HARLEY BAGGERS
THE WAIT IS FINALLY OVER FOR M8 BAGGERS!
For all those ProCharger Power hungry riders that have been patiently awaiting the arrival of our Intercooled Supercharger kit for the 2017+ Milwaukee 8-equipped Bagger, feast your eyes on some sexy spy shots! Testing is almost complete, so very soon you'll be able to drop in to your local dealer and pick up one of these hot new systems. As with all our patented and proven supercharger systems, these will be complete with everything needed for installation including the rock solid B-1 ProCharger and the biggest air to air intercooler on the market. Just install, hit the dyno and be on the road in no time. More details to follow on pricing and availability.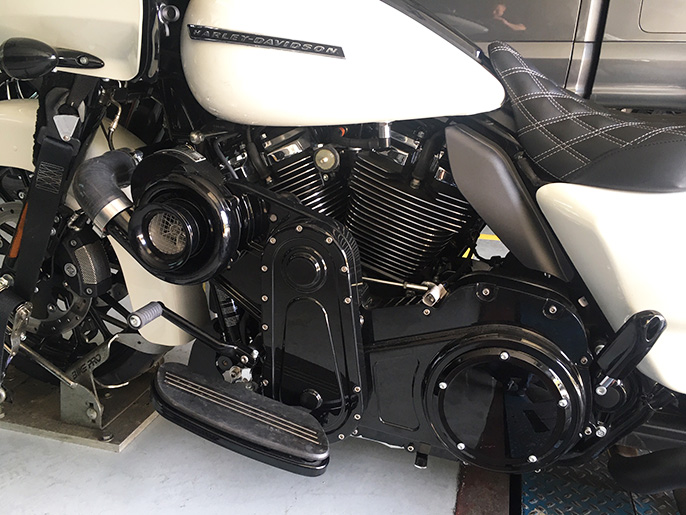 ProCharger has made some drive changes to its latest supercharger systems for late-model H-D Touring bikes ("Baggers") that uses two dry belts (not running in oil within the bike's case) and the same proven and reliable B-1 supercharger head unit and large air-to-air intercooler. Contact us for more details.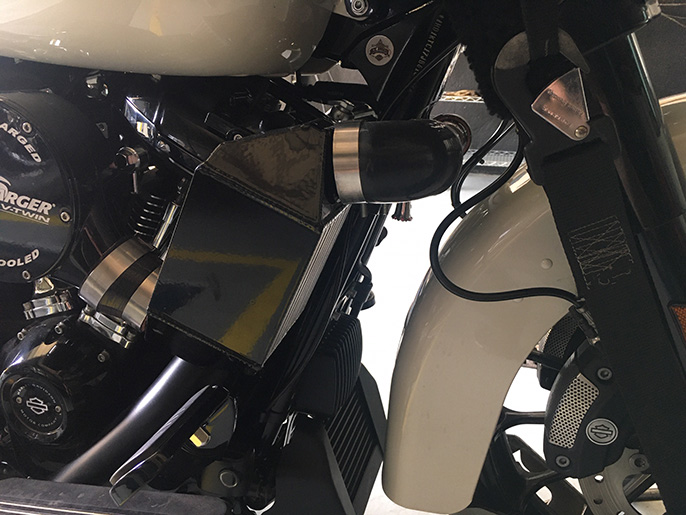 ---
ADD 70-75% MORE POWER TO YOUR V-TWIN HARLEY
A motorcycle and the experience it affords stirs the soul in ways that don't equate to a bunch of stats, and when it comes to bikes the real player in the cruising realm is of course the Milwaukee-built Harley-Davidson. ProCharger and American V-Twins are a perfect match. The compression ratios of most Harley-Davidson® big twins are relatively low, making them ideal for supercharging.
ProCharger technology delivers the industry's coolest air into the engine so modifications are not required. This cool air also allows bolt-on performance and big power gains easily and reliably with higher compression motors up to 11:1. Whether you want arm-stretching low-end grunt, 18-wheeler-passing mid-range torque or dyno shootout-winning top end horsepower, ProCharger boost levels can easily be tailored to the rider's needs. Gas mileage remains largely unchanged. Installation can be completed in 4-6 hours and is so straightforward that dealers provide same-day installation of ProCharger systems at some motorcycle events. You can literally bolt on 70-75% more horsepower in a single day! We currently have supercharger kits for the 1999-2017 Softail and Dyna, and 1994-2016 Touring bikes, plus kits for almost all years and models of Harleys, so check out the website HERE for more information.
"You go out in first gear and smash the throttle, you can't shift to second fast enough as it hits the rev limiter [6500rpm] so quick. It's just 'boom' you're in second, third, fourth and spinning the tire through third gear. It just really goes. For a big, heavy touring bike it's fun, a lot of fun with that horsepower. Five years ago, you would never have thought about that much horsepower out of a bike. It can happen and it's dependable now, too." –Barnett's Magazine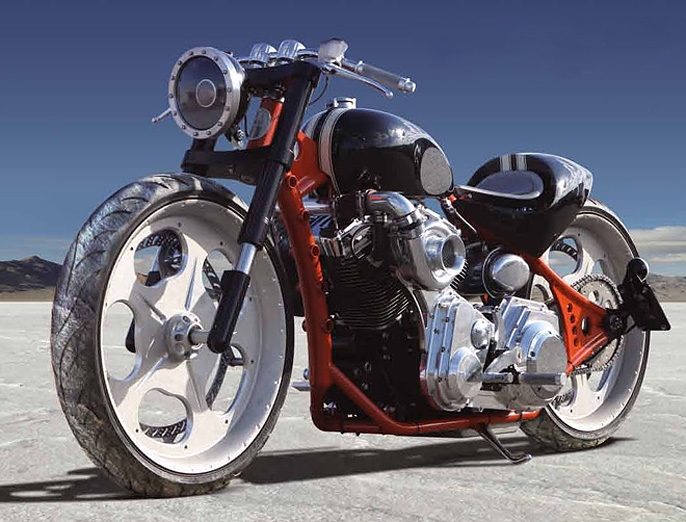 Full Custom Carbureted V-Twin
---
ONE MAN'S PROCHARGED HARLEY OBSESSION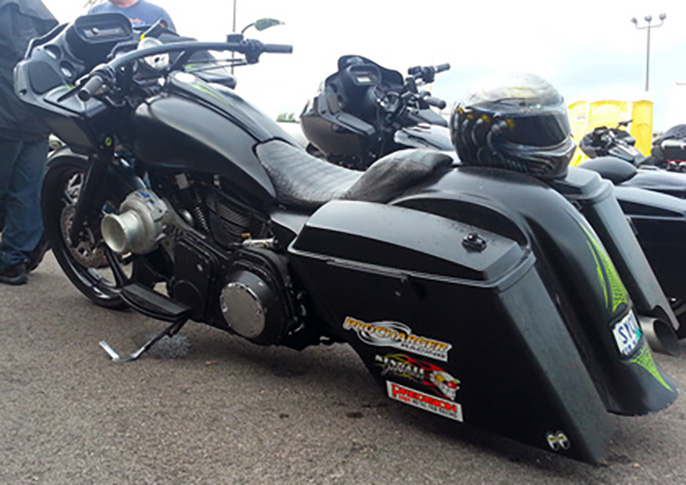 Mark F. from Minnesota has been a long-time ProCharger proponent, having owned five ProCharged bikes over the years. His most wicked two-wheeler was a 2007 Road Glide that made 326hp to the tire, of which he said, "That thing was a beast!" Mark is currently beta-testing our latest supercharger system on his pearl white 2018 Road Glide Special. His bone-stock 107ci engine that made 80 hp stock and 131 hp with the ProCharger. "For bolt-on purposes," he said, "you can't beat the ProCharger kit. If you're going to build a motor for that kind of power, you're going to have $7,000 to $10,000 in it. The ProCharger is very impressive for being on a stock motor, I'll tell you that! It's the best bang for the buck for the average guy that wants a little more 'boom'. It's the cat's meow." Check out this VIDEO of Mark drag racing a Boss Hoss V8-powered bike at the 2013 Sturgis rally. That's him no the right in the yellow T-shirt.
---
TOP SPEED BIKES ON THE SALT
Hiro Koiso is the man behind Hiro Koiso Racing, which has the fastest sit-on Harley-Davidson in history at 251 mph. The team is a regular at the Bonneville Salt Flats and Hiro is a 21-time FIM World & AMA National land speed record holder. Hiro's bike currently runs a C-1R ProCharger Intercooled Supercharger kit on a 135 cubic-inch engine making 378 rear wheel horsepower. Check him out on Instagram HERE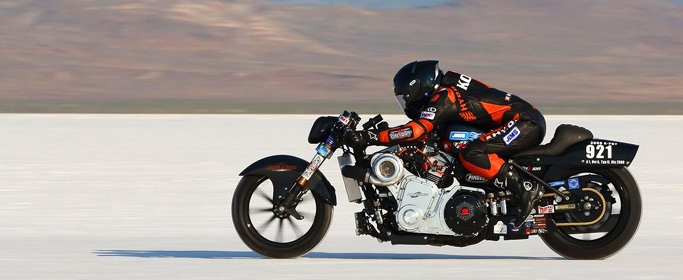 ---
PROCHARGED BIKES ON NITROMETHANE!
Not much is written in mainstream media about nitro-burning Top Fuel Harleys. The bikes have been around for years and we've always known they were cool… but now they command a presence on the main stage of NHRA national event competition. That's because they are amazing works of art and engineering, with rules limiting them to 200 cubic-inches naturally aspirated or 170ci with a blower and weight mandate of around 1,000 lbs including rider. The TFH bikes make about 1,000 hp, meaning a power-to-weight ratio of 1:1 (equivalent to a '69 Camaro making 3,500 hp!). Of course, ProChargers do well in the class, with the reigning ET record holder being Tak Shigamatsu with a 6.101 and Jay Turner the speed record holder with a 237.75, both running ProCharger F-1A superchargers on nitro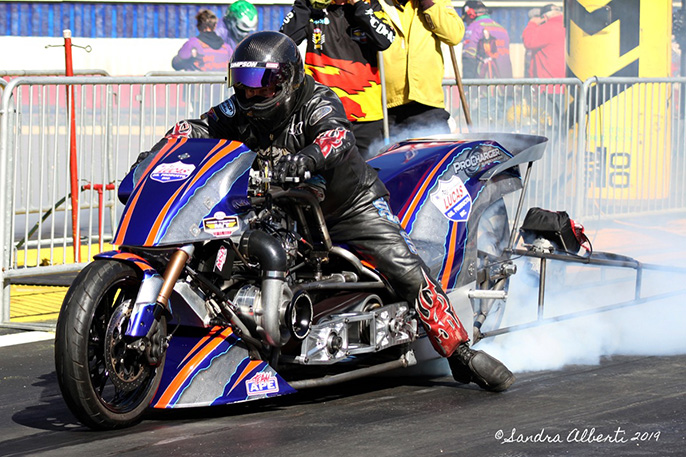 Jay Turner, NHRA TFH
ProCharger F-1A Supercharger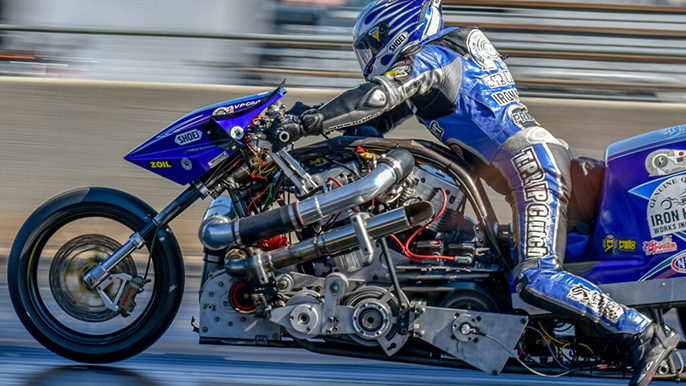 Tak Shigamatsu, NHRA TFH
ProCharger F-1A Supercharger
---
THE ULTIMATE POWER ADDER® FOR INDIAN AND VICTORY V-TWINS–185+ HORSEPOWER
This Stage 1 supercharger kit from LloydZ Motor Works utilizes a highly-efficient ProCharger B-1 self-contained supercharger for maximum forced-induction power and performance. This same intercooled B-1 supercharger and drive system is capable of supporting even higher HP levels with additional engine and fuel system modifications.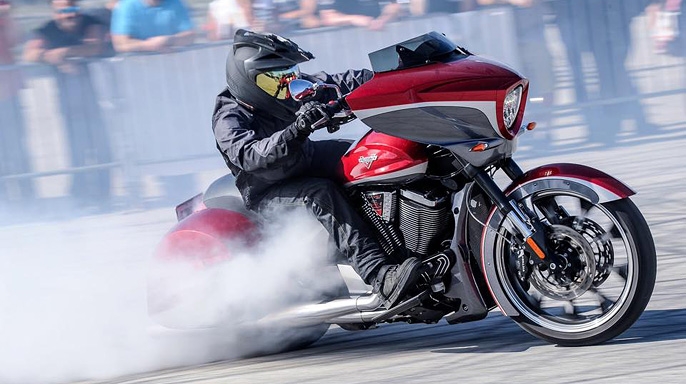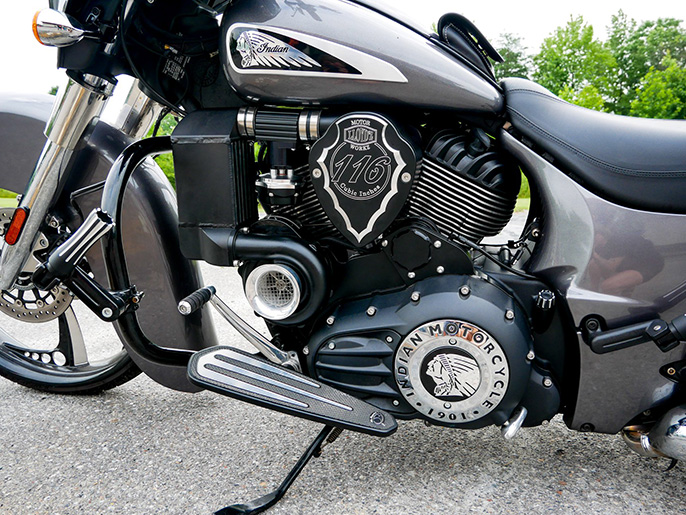 Check out this sweet Vicotry drifting video HERE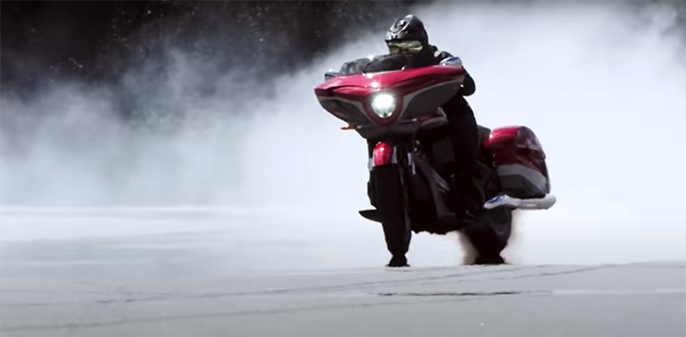 ---
PROCHARGING THE HAYABUSA
Ben Knight Racing and his ProCharger powered Suzuki Hayabusa at the first race on the new combo and comes home with the big check! No bars, No problem…as she knocks on the 6-second door, thanks to the ProCharger-based supercharger kit from DAS Performance.

We even have a supercharger kit for the wicked Suzuki Hayabusa crotch rocket. This DAS-developed Stage 1 supercharger kit utilizes a highly-efficient ProCharger C-1 self-contained supercharger for maximum forced-induction power and performance. This same C-1 supercharger and drive system is capable of supporting even higher HP levels with additional engine and fuel system modifications.
Stage 1: 240-275 rwhp
Stage 2: 275-350 rwhp
Stage 3: 350-550+ rwhp
---
V-TWIN PERFORMANCE PRODUCT OF THE YEAR AWARD!
ProCharger's impressive track record got a boost a few years ago at the V-Twin Expo in Cincinnati, Ohio when we were presented with the V-Twin Performance Product of the Year award, a recognition that is only presented to one manufacturer a year! Want the best V-Twin performance upgrade for your bike? This award makes the choice clear—ProCharger.
---
CALL OR EMAIL US TO GET MORE INFORMATION ON BOOSTING YOUR BIKE
Give our sales staff a call or email us at the following contact methods below. Or you can click HERE to find a dealer nearby to help out with your vehicle. We will be happy to assist you with any technical questions about supercharger systems and the results you can expect.
Phone – (913) 338-2886
Mon – Frid 8am – 5:30pm CST
Sales Email – [email protected]
Tech Email – [email protected]
---