525 (525 HP)
Radical Horsepower
Now that the winter doldrums are finally over, it's nearly summertime, it's time to break out the boats and hit the lakes and rivers all around the country. What better way to get wet again than by radically increasing your boat's horsepower with a ProCharger supercharger system?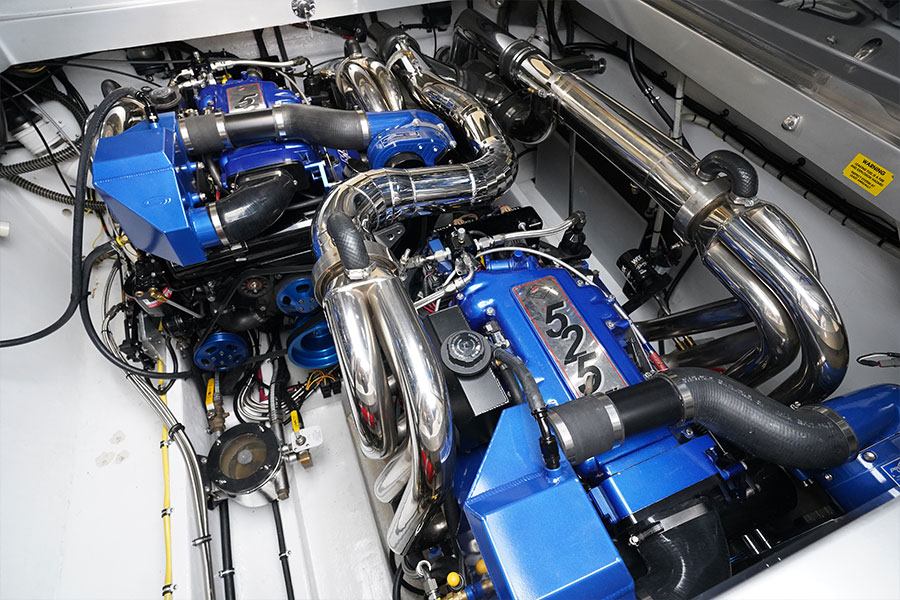 WANT 800+ HORSEPOWER OUT OF YOUR 525EFI?
ProCharger has developed an all-new supercharger system for the Mercury Racing 525EFI engine that delivers 8psi of boost with an M-1SC supercharger, an amazing new fuel system with twin pumps, dedicated surge tank and fuel lines, an air-to-water intercooler and tune for the factory computer. The result is 800+ horsepower and a massive increase in torque across the entire rpm range. That power increase allows a bigger blade for big speed increases, and the incresed torque allows for a massive improvement in planing time.
HERE ARE THE DETAILS
M-1SC head unit standard
Boost level: 8psi
Power level: 800+ HP  825 ft-lbs    50% Increase
Dedicated 8-rib drive system with an H.D. tensioner
Fuel system: Twin high flow fuel pumps with a surge tank, dedicated fuel lines with a boost sensitive regulator, 78LB/HR fuel injectors
High flow air/water intercooler
Supercharger finish options: Satin, Polish and Blue
Intercooler color options: Black, Blue
Optional colors to match engine bay
Tuned factory computer to run on 91 or 93 cotane fuel

FIND A DEALER NEAR YOU
Looking to make a purchase or a shop to install? We have a large group of dealers ready to serve you with your ProCharger needs. Click below to find a dealer near you!
PRICING
Contact ProCharger for current pricing.
SPEAK TO AN EXPERT
Click to contact our sales staff or email us if you need any help. We will be happy to assist you with any questions you may have.
Mon – Fri 8am – 5:30pm CST
Phone – (913) 338-2886
Sales Email – [email protected]
EMISSIONS COMPLIANCE
ProCharger offers Executive Orders for Emissions Compliance (EO) from California Air Resources Board (CARB) for many of our most popular car, truck and SUV applications. If you live in California, we can only sell you products with EO certification. Check out our full list of EO offerings.